Construction begins on Robarts Library expansion
The Robarts Common will add 1,200 study spots to the downtown library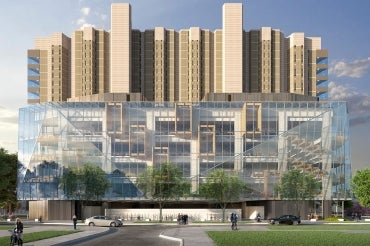 In a couple of years, cramming in Robarts Library won't require cramming into the library. 
Construction is scheduled to begin this month on a freestanding expansion to the downtown library. Robarts Common will increase the number of study spaces by 25 per cent, bringing the total to 6,000. The addition to the library's western side will include a wraparound glass facade and a range of study spots, from carrel desks to amphitheatre-style tiered seating. There will be 32 meeting rooms, and Wi-Fi access and wireless printing throughout the building.
"It's entirely devoted to student seating and study space," says U of T Chief Librarian Larry Alford. The building will open to students by the fall 2019 semester, he said.
The main library building and loading dock serving campus restaurants inside Robarts are expected to remain open throughout construction.
Move the slider left to see the expansion:
Nicknamed "Fort Book," Robarts is the largest of U of T Libraries' buildings, with room for 4.5 million volumes over 14 floors. However, it hasn't been expanded since it was built in 1973, and students are running short of space to hit the books, Alford said.
"It is very badly needed," he said. "At exam times, you see people sitting on the floor in places. There's just not enough seats." 
One challenge for Diamond Schmitt Architects was to complement the architecture of the peacock-shaped Robarts, a heritage building of brutalist architecture so iconic it inspired a video game. Gary McCluskie, a principal at Diamond Schmitt, says the firm incorporated shapes similar to those of Robarts but didn't copy its style. 
"It's typical of doing an addition to a building that you're kind of collaborating with the original designers in a way," he said. 
"But we're doing something very different. In a way, it's a bit of a critique of the original building in that, instead of the massiveness and concrete, we are providing more light and openness."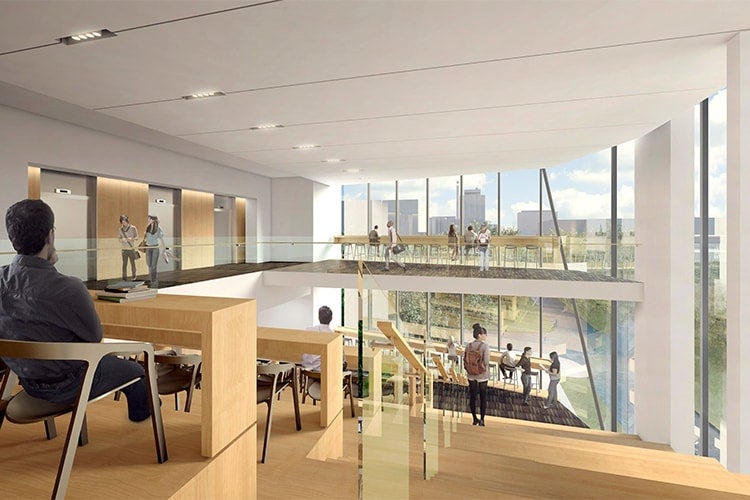 Robarts Common will offer students a variety of study spots in an airy and well-lit building. 
The outer face of the western side of the five-storey building is primarily glass, in contrast to the concrete of Robarts, he added.
The firm's portfolio includes U of T's Bahen Centre, Museum Station and the Maison Symphonique in Montreal, a 2,000-seat auditorium used by the Montreal Symphony Orchestra.
The design for Robarts Common takes environmental factors such as energy conservation into account. It has a rainfall recycling system, green roof and an electronic rolling blind system to control the amount of light and heat coming through the glass facade or emanating from the building at night.
The new building will connect to Robarts Library via bridges on floors two, three, four and five.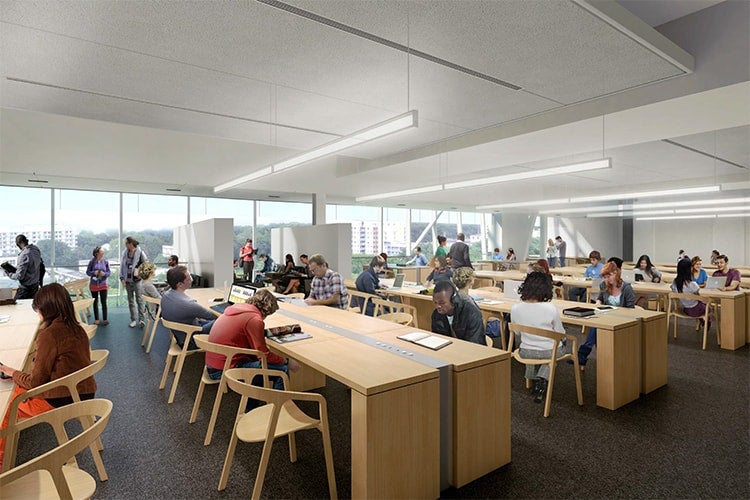 The Robarts Library expansion also includes more traditional seating for studying. 
Students will be able to easily access study spaces from the ground floor so they can get work done, even if they only have a half-hour break between classes, McCluskie said.
The project has been supported by 1,000 donors, including alumni and lead donors Katherine Morrison and the late Russell Morrison.
Alford, the chief librarian, has high hopes for the new building.
"It will be a great space for students, for generations to come," he said.
UTC