#UofTBackToSchool: 10 things you didn't know you could do at U of T's libraries
University of Toronto's libraries are both a haven for bookworms and a hideout for crammers, but there are countless secrets hidden in their stacks.
Considering U of T's library system is turning 125 this year, it's had a lot of time to build up incredible collections (over 12 million volumes!) and unique resources.
So head over to one of University of Toronto Libraries' 44 libraries and check out some of these tools and services you may not have known existed.
1. Get a dose of virtual reality
Starting this fall, the MADLab at Gerstein Science Information Centre will let you rent VR equipment, from Google Cardboards to 360 cameras. If you're developing a VR app, you can also use the in-house HTC Vive.
2. Kid around at OISE Library
When your brain hurts from all that studying, get lost in the Ontario Institute for Studies in Education's third floor library, where you can flip through the massive selection of books for kids and teens or put on a puppet show.  
3. Borrow a board game
Sad season seven of Game of Thrones is over? Take out the GOT board game from Media Commons. If capturing the Iron Throne isn't your thing, there are many other games to choose from.
4. Search for hidden treasures at the Thomas Fisher Rare Book Library
Come visit the greatest rare book library in Canada and request to see a first edition of a classic text – like Jane Austen's Sense and Sensibility or items from some of Fisher's stranger – and spookier – collections. Isn't this what you imagined university to be like?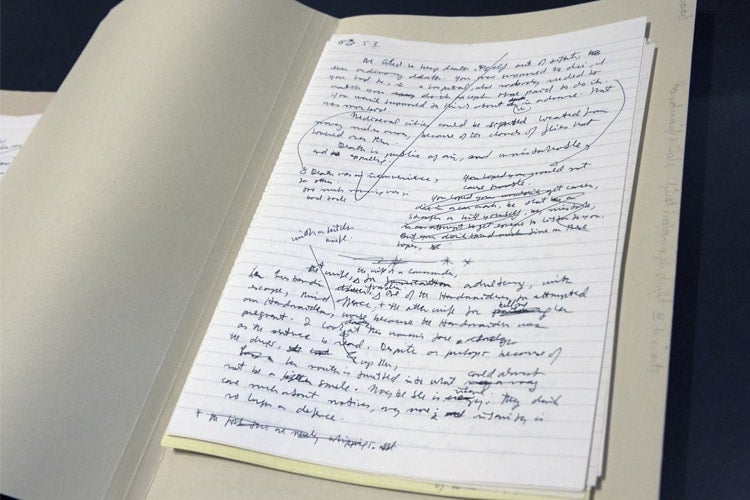 Flip through Margaret Atwood's original draft of The Handmaid's Tale (photo by Romi Levine)
5. Dig deep into the archives
Did you know that U of T has the archives of some of Canada's most iconic writers and poets? Check out the early writings of people like Margaret Atwood and Leonard Cohen.
6. Get by with a little help from a librarian
Schedule a one-on-one appointment for customized research help with a U of T librarian. Save yourself time and minimize stress levels while completing your research papers – on time.
7. Use this tool to manage your assignments
Use this handy assignment calculator from U of T Scarborough to create a task schedule, breaking down your project into small, manageable steps.
8. Get to know a librarian
Use the Ask A Librarian chat to connect instantly with a research and library expert from anywhere using any device (from Sept. 11) to help you find a book or use library tools.
9. Get some inspo for your #ootd
Crafting your fall aesthetic? Search through the massive online collection of runway shows from fashion weeks around the world housed in the Videofashion Library.
10. Stay warm while studying
As the temperature starts to drop, cozy up with a book at the Graham Library fireplace at Trinity College.
UTC