U of T's giant book vault opens its doors to four other universities
U of T Libraries' Downsview high-tech facility has room for about 5 million volumes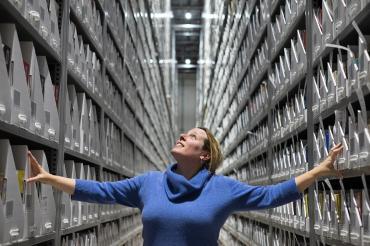 The cavernous University of Toronto preservation facility at Downsview bears a passing resemblance to the top secret warehouse in Raiders of the Lost Ark
Visitors usually are not allowed, but those who are let inside are confronted with row upon row of shelves 35 feet tall. Books on topics ranging from Victorian Britain to classical Japanese poetry are neatly organized in white cardboard trays with barcodes. 
The site in North York is home to just shy of three million volumes – and millions more are expected to arrive.
Soon, four other universities will benefit from the extra space and high-tech storage conditions at U of T Libraries Downsview. U of T reached an agreement this week with the University of Ottawa, Western University, McMaster University and Queen's University to share their collections and preserve them at Downsview for generations.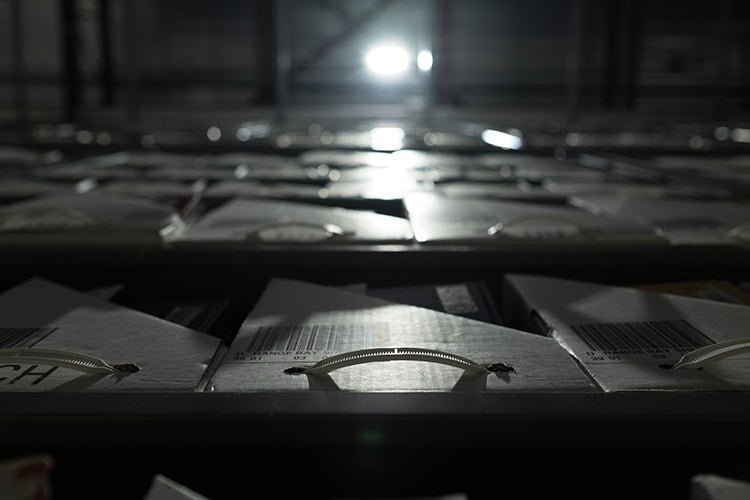 A look up at the racks at the Downsview facility, which hold millions of books (photo by Geoffrey Vendeville)
The libraries are pooling their resources because, like their counterparts around the world, they're handling more and more information – but have less and less space to put it all, said Caitlin Tillman, associate chief librarian for collections and materials management.
"Managing the life cycle of knowledge is incredibly complex," she said. "To have partners in doing it, to share that effort, is really helpful."
After an expansion that more than doubled its capacity, Downsview now has space for a total of five million books – about the same number currently at Robarts library. The recent expansion is estimated to cost $10 million and was partly funded through the Ministry of Training Colleges and Universities Productivity and Innovation Fund. Some capital and all operating costs are to be shared between the five universities.
Tony Horava, associate university librarian (collections) at the University of Ottawa, says the 20-year agreement is a first for the universities.
"Preservation is a core value of libraries," he said, "but it is very challenging to implement on a large scale."
By working together, the libraries have ensured that future scholars will have access to a wide range of books and journals, he added.
They will also be able to put existing space in their systems to better use. 
The Downsview facility is home to some noteworthy Canadian artifacts, namely: prints by the late Toronto photographer John Reeves, the Maclean's photograph collection, cels from the animation company Nelvana and original scripts for The Red Green Show.
But a large part of the collection is made up of older scholarly journals and monographs that have been digitized and materials that have not really circulated in the last 10 years. Most of these items can be checked out after being requested online by library users, but less than 1 per cent of the materials – about 10,000 – circulate in a typical year. 
They may not be read often, but that doesn't mean these books are unloved. A $1-million heating, ventilation and air conditioning system maintains the books under precise conditions – 15 Celsius and 40 per cent humidity. In this environment, a book can survive hundreds of years, according to the facility's manager Mark Phillips.
"These books are the happiest books you will find," Tillman said.
But why go to such great lengths to preserve books, journals and other material that are not often used? 
One reason is that you never know when they will be needed for new research, Tillman said.
"Part of the job of the library and the university is to keep this stuff so that new knowledge can be generated from old knowledge." 
And even if the knowledge in these tens of millions of pages is outdated, the physical objects have historical significance, she added.
For example, the collection includes the very same journals that Frederick Banting and Charles Best used in their research leading to the discovery of insulin. 
"There is historical value in these books," Tillman said. "They were present when great things happened."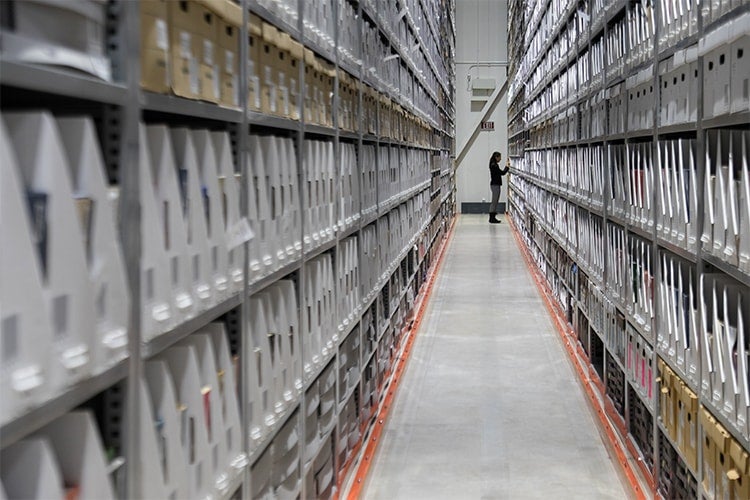 Browsing the shelves at UTL Downsview (photo by Geoffrey Vendeville)
UTC