'They shall not be forgotten': U of T marks first anniversary of Flight 752 tragedy
Hardworking. Smart. Creative. These are the qualities that come to mind when Professor Eyal de Lara remembers PhD student Mohammad Salehe, one of six University of Toronto students killed aboard Ukraine International Airlines Flight 752 one year ago this week.
Salehe was just beginning to make his mark in edge computing – a field that aims to bring computation and data storage closer to the source instead of relying on distant cloud servers – when his life was cut tragically short by Iranian armed forces who shot down the airliner on Jan. 8, 2020, killing all 176 aboard.
Just one year into his doctoral studies, Salehe, one of two computer science students killed in the crash, had already interned at Samsung's AI lab in Toronto and collaborated with researchers at AT&T.
"I think the work he did was quite innovative, quite creative – obviously, you're always left wondering what could have been," said de Lara, a faculty member in the computer systems and network group who came to know Salehe while he was still living in Iran.
"He was probably one of the strongest students I've worked with over the last few years."
U of T and campus groups will join the country in remembering the victims of Flight 752, which included a total of eight U of T community members: Salehe and his wife Zahra Hasani, Mojtaba Abbasnezhad, siblings Zeynab Asadi Lari and Mohammad Asadi-Lari, Mohammad Amin Beiruti, Mohammad Amin Jebelli and alumnus Mohammad Mahdi Elyasi.
In their honour, the federal government, which recently released a report on the crash of Flight 752, has declared Jan. 8 a National Day of Remembrance for Victims of Air Disasters. 
President Meric Gertler said U of T would lower flags to half-mast on Jan. 8 to "pay tribute to these bright and accomplished individuals whose loss remains profoundly felt across our three campuses, our city, and, indeed, the entire national academic community."
Online memorial services, both private and public, are being held across the three campuses, in keeping with COVID-19 public health guidelines.
"Please join me in reflecting upon the memory of our eight promising students and scholars we lost, colleagues who greatly enriched the U of T community. They shall not be forgotten," President Gertler said.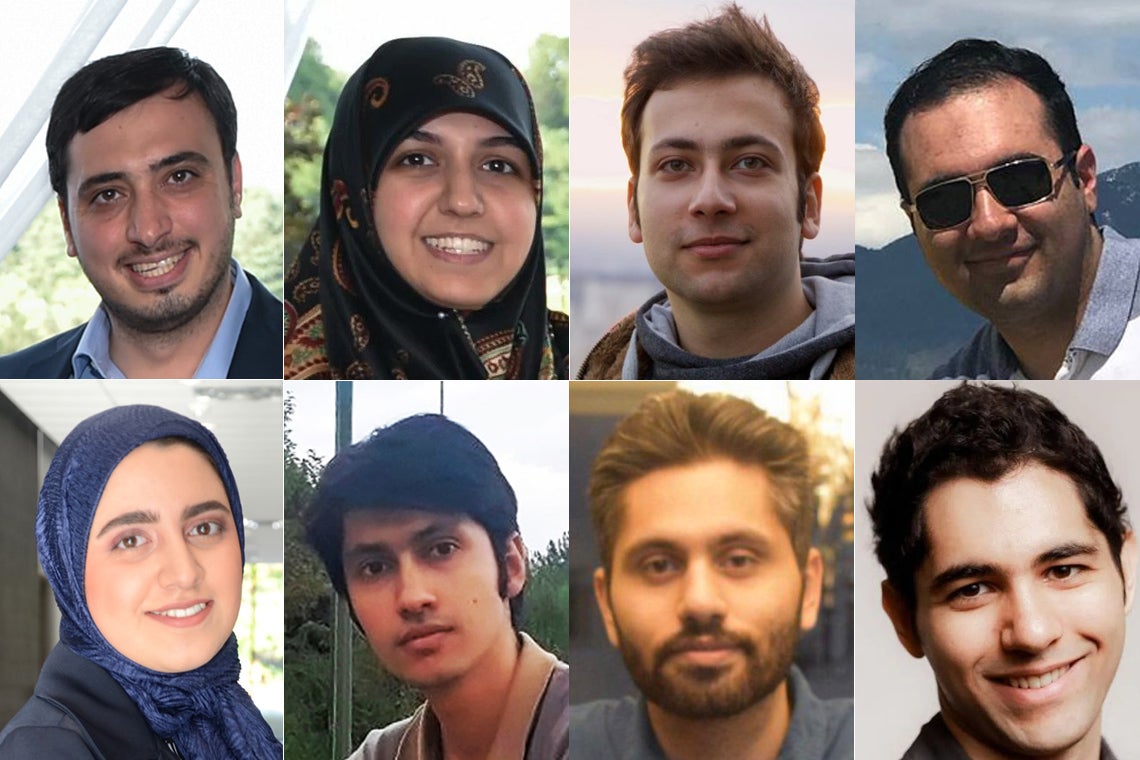 Clockwise from top left: Mohammad Salehe, Zahra Hasani, Mojtaba Abbasnezhad, Mohammad Asadi-Lari, Zeynab Asadi Lari, Mohammad Amin Beiruti, Mohammad Amin Jebelli and Mohammad Mahdi Elyasi.
Dozens of students, professors and researchers from at least 18 universities across the country were aboard the doomed flight, which killed 55 Canadian citizens, 30 permanent residents, and numerous others with ties to Canada. On Friday at 7 p.m., the Iranian Association at the University of Toronto is co-hosting an online memorial event with other student groups from Quebec to British Columbia that features voice recordings about lost loved ones, according to the association's website. There is also a Zoom event on Jan. 10 hosted by Student Life and other groups. It begins at noon.
Many of the U of T students on the flight had already made an impact in their respective disciplines.
Last fall, Salehe was the posthumous co-author of a paper on "Hierarchical Querying for the Edge" that won an honourable mention at an international symposium on edge computing.
In December, Mohammad Asadi-Lari, an MD/PhD student in the Temerty Faculty of Medicine, was awarded a Posthumous Singular Award of Merit by the Canadian Medical Association for "exemplary leadership, initiative and commitment to making a difference at the local, provincial/territorial or national level."
And, eight months after the crash, Zeynab Asadi Lari posthumously co-authored an article in Clinical and Experimental Medicine about a gene that might be targeted in future therapies to treat colorectal cancer.
Fiona Rawle, an associate professor at U of T Mississauga who taught Zeynab in her introductory biology course, said the journal publication was a potent reminder of Zeynab's "hopes and goals, and everything that she planned to accomplish" – as well as of the difference she already made although her life was cut short.
Even in a class of about 900 students, Rawle said Zeynab stood out because of her commitment and enthusiasm, as well as the care she demonstrated toward other students. She recalled Zeynab comforting a classmate who was visibly upset because of a family emergency.
"This student was crying and kept saying 'I'm sorry. I'm sorry for crying.' I remember Zeynab said at that moment "Don't say sorry – you are sad and you are crying and that is OK. It's OK to cry,'" Rawle said.
"I have thought of those words often over the past year. It's OK to be sad. It's OK to feel scared. Zeynab was always pulling people together, helping people establish connection – both inside and outside the classroom."
In a video message, Alexandra Gillespie, vice-president and principal of U of T Mississauga, described Zeynab as "the rarest of leaders – at once competitive, compassionate and collaborative. Full of intelligence and brimming with curiosity, she strove to create positive change advocating for innovative solutions to mental public and global health issues."
As for Zeynab's brother Mohammad, Gillespie said: "He wasn't just a gifted thinker; he was a caring person and he applied his brilliance to help people in need."
Amin Jebelli, who was pursuing a master's degree in the Temerty Faculty of Medicine's Translational Research Program, was another student who was described by faculty and friends as someone who put the needs of others ahead of his own.
"He did everything for everybody, and didn't think of himself," Joesph Ferenbok, the program's director, told U of T News last year.
Similarly, in the aftermath of the tragedy, friends of Abbasnezhad, a PhD student and teaching assistant in the Faculty of Applied Science & Engineering, remarked on his unusual intelligence and kindness.
Deepa Kundur, chair of the Edward S. Rogers Sr. department of electrical and computer engineering, talked about the impact on the community as she reflected on the anniversary of the crash.  
"This singular tragedy was devastating to our ECE and engineering community, and I know the profound loss echoes across this country this week, as it will for decades to come," Kundur said.
In the weeks after the plane crash, scholarship funds were established to honour the victims and support current and future Iranian scholars at the university, as well as students taking Iranian studies.
The Iranian Student Memorial Scholarship Fund was the brainchild of David Palmer, U of T's vice-president, advancement, and alumnus Rahim Rezaie, associate director of the International Virtual Engineering Student Teams Initiative at the Institute for Studies in Transdisciplinary Engineering Education & Practice at the Faculty of Applied Science & Engineering, and Mehrdad Hariri, CEO and president of the Canadian Science Policy Centre.
All donations to the Iranian Student Memorial Scholarship Fund are matched by the university at a 3:1 rate until it reaches $250,000.
To date, nearly $156,000 has been donated to the Iranian Student Memorial Scholarship Fund and the Dr. Razgar Rahimi, Farideh Gholami, and Jiwan Rahimi Award, which is named for a young family who perished in the crash.
Mehrdad Jafari Raad, a doctoral student in the Faculty of Music and composer of concert music, was among the first recipients of the U of T scholarship for Iranian students. When he learned of the tragedy at the beginning of 2020, he was overcome with shock and sadness at the loss of students who had come to Canada to achieve their ambitions, just like him.
"Along with pursuing my dreams, I hope in some way, we are fulfilling some promise of those whose dreams were dashed," he said.
UTC