Renewable energy research, clean-tech startups from U of T take centre stage
Toronto Sustainability Summit
If Silicon Valley is where big minds fixate on small problems – a better way to hail a taxi or swap photos on your smartphone – then the University of Toronto may soon be known as the place where the world's biggest, most intractable issues are solved. 
That was the underlying message at U of T's recent Toronto Sustainability Summit, held at the MaRS Centre in downtown Toronto. 
The sold-out event brought together leading U of T researchers, key government officials and senior industry executives to discuss ways to work together to tackle planet-threatening climate change. Reza Moridi, Ontario's minister of research, innovation and science, took the opportunity to announce a new, $7 million competition designed to develop breakthrough technologies to help the province's industrial plants reduce greenhouse gas emissions. 
"Universities have a crucial role to play," said Meric Gertler, U of T's president, offering a long list of research areas, from biofuels research to environmental law, where U of T excels. "In fact, among universities worldwide, I was delighted to recently discover that U of T is the seventh leading producer of research and scholarship in environmental research and environmental sciences – and we're third in North America behind Berkeley and Harvard."
Over the past three years alone, U of T attracted more than $300 million in funding for clean technology and renewable energy research. The university boasts more than 550 faculty working in the space, including 11 Canada Research Chairs. 
The breadth of U of T's sustainability research, focusing on subjects both large and small, was on full display at the summit. 
Professor David Zingg, the director of the University of Toronto Institute for Aerospace Studies, talked about trying to overcome the challenges of reducing airplane emissions – namely the sky-high price of developing new aircraft types – by applying high-fidelity aerodynamic shape optimization to aircraft designs.
At the other end of the spectrum, David Sinton, a professor in the Faculty of Applied Science & Engineering, explained how the study of small-scale fluid dynamics is yielding big insights by turning harmful carbon dioxide into useful products like fuels. 
U of T is not just creating climate change and sustainability knowledge. It's implementing it, too. Many of U of T's researchers are working in partnership with industry or launching their own companies. Some 14 startups in clean tech and renewable energy were launched over the past three years.
Cynthia Goh is the founding director of U of T's Impact Centre development hub, the academic director of University of Toronto Entrepreneurship and a professor of chemistry in the Faculty of Arts & Science. She cited one young one company with a potentially bright future that she co-founded with Cheng Lu. It's called Phantin and it makes nano-coating that repels dust from solar panels, boosting their energy production. 
The hurdles new clean-tech companies face are particularly daunting. Alumnus Darren Anderson is the founding president of Vive Crop Protection, which uses nanotechnology to improve the delivery of fertilizer and pesticides to farmers' crops. Anderson told the panel it takes far longer to build a clean-tech company than one based on a smartphone app. 
"We launched our first product literally a month before our tenth anniversary," said Anderson, who started Vive in 2006 from U of T's chemistry department. 
Clean-tech also tends to be expensive, which can turn off venture capital, or VC, investors.  
"Anytime I say we're a clean-tech company that's focused on sustainability, the VC just cringes," said Gimmy Chu, the CEO of green lighting company Nanoleaf and another U of T alum. "So the question is: how do you [build] the business model?" 
Nanoleaf's solution: make a LED light bulb that's both eye-catching and two times more efficient than those already on the market – and then follow it up with modular lighting panels that look more like art installations than light fixtures. 
Fortunately, there's an expanding universe of accelerators and incubators on the U of T campus to help guide today's budding entrepreneurs. One of those programs is the Rotman School of Management's Creative Destruction Lab. The nine-month program pairs startups with experienced technology entrepreneurs and investors to help them scale up their businesses. 
Richard Blundell, an adjunct professor at Rotman, said the biggest challenge facing startups in the clean-tech space is seldom technology-related. Rather, it's finding an innovative way to succeed in a crowded marketplace.
"If the business doesn't make money," said Blundell, "then it will fail."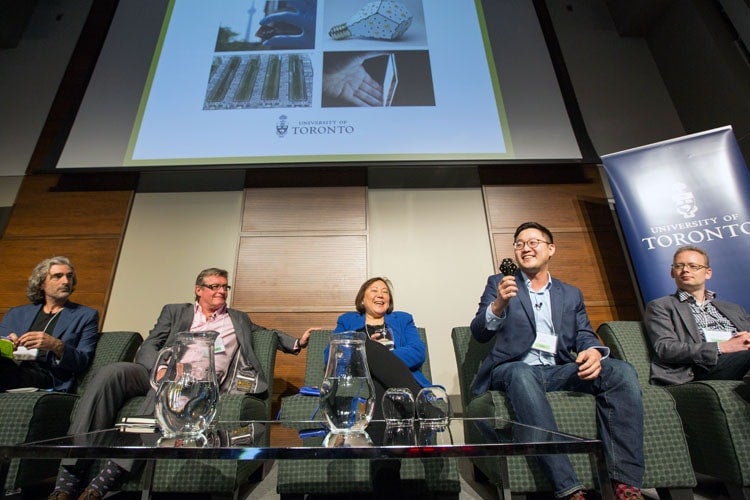 (Gimmy Chu shows one of the Nanoleaf light bulbs to, from left: Tom Rand, Richard Blundell, Cynthia Goh and Darren Anderson) 
UTC