Panelists at the summit included (from left to right) city of Toronto's chief planner Jennifer Keesmaat, U of T's John Robinson and Sara Hughes, Waterfront Toronto's William Fleissig and Ron Swail from university operations (all photos by Johnny Guatto)
"The university is a critical partner"
As Toronto continues to grow, so does its carbon footprint.
Enter the Toronto Sustainability Summit.
As part of U of T's commitment to taking action on climate change, the university brought together U of T's green experts, government leaders and the city's sustainability champions today for a summit that explored opportunities for collaboration and partnership, and highlighted the work U of T is already leading.
Guests included Glen Murray, Ontario minister of environment and climate change, Andrew Bowerbank, global director of sustainable building services at construction company EllisDon, Jennifer Keesmaat, the city of Toronto's chief planner, and John Robinson, the university's first-ever presidential adviser on the environment, climate change and sustainability. They were joined by leaders from some of the successful sustainability-focused startups that have come out of U of T, such as green technology company Nanoleaf. 
"The University of Toronto is a global leader in research and innovation in fields related to climate change and sustainability, energy, environment, clean tech, biofuels and environmental policy, and law, just to name a few fields," U of T President Meric Gertler told the full house at the MaRS Discovery District.
Keesmaat, who moderated a panel called Green City, Green Campus, agreed.
"When we bring policies forward to City Council, we need to make an argument. We need data and evidence. We need analytics to ensure we are defining problems in a way that is based on a sound logic," said Keesmaat. "The university is a critical partner in these kinds of projects."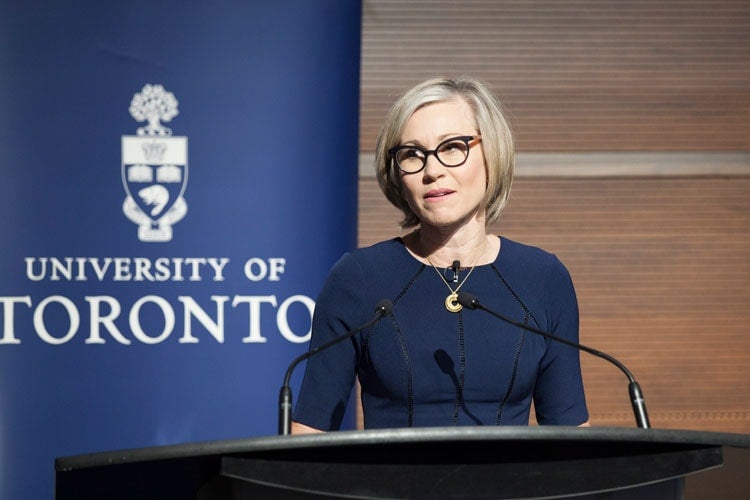 The city of Toronto's Chief Planner Jennifer Keesmaat moderated a panel at U of T's Sustainability Summit, titled Green City, Green Campus
The university is contributing to a number of sustainability projects around the city, including Waterfront Toronto's large-scale development.
President Gertler's appointment to the board of Waterfront Toronto brings the expertise of "one of the world's leading scholars around this idea of urban clusters and creating economic opportunity" to the waterfront, as well as the university's wealth of resources, said Waterfront Toronto CEO William Fleissig.
"It's just wonderful to have that kind of a partnership of opportunity and to have not only the mental acuity but also the intention," he said.
Robinson is among faculty members who are working with the city on a large-scale engagement strategy, with plans to reach out to communities across the city on climate change issues.
"The world is changing, and the university has a real responsibility and opportunity to deeply engage with that process of societal transformation," said Robinson. "We're not talking about incremental change but transformative change, and the university can play a crucial role because we have characteristics unique to us."
The biggest contribution U of T can make is its students, he said.
"They are the most engaged, the most interested. They're already often the most creative. We have an opportunity to take our students and attach them to everything we do across the campus," said Robinson.
Sustainability can be applied to all aspects of the university, he said.
"Sustainability is not a subject area we want to build at U of T. Sustainability is a stance – it's a way of being in the world," Robinson said. "It permeates every single faculty, every single department. There is no component to the academic and operational side of the university that does not relate to sustainability."
Through its own on-campus green building initiatives, U of T has seen the real, tangible impacts of change, said Ron Swail, U of T's chief operations officer of property services and sustainability.
"Over the last 10 years, we've been able to reduce the university's environmental footprint by over 50,000 metric tons of greenhouse gas and save the university approximately $40 million in utilities," Swail said.
And U of T is taking its commitment to sustainability to the neighbourhoods surrounding the downtown Toronto campus through ambitious initiatives like the laneway housing project, Swail said.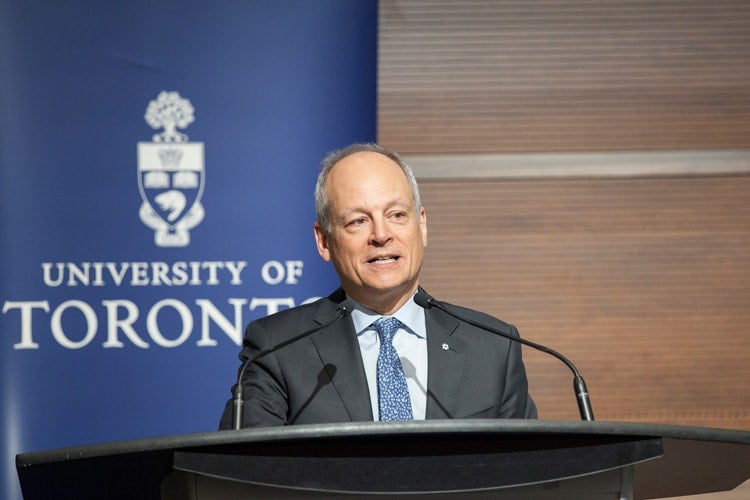 U of T President Meric Gertler told summit participants that U of T is a global leader in research and innovation in fields related to sustainability