Remembering U of T's Natalie Zemon Davis, a renowned social historian
"I have tried my best to be not only a truth-teller about the past, but also to be a historian of hope"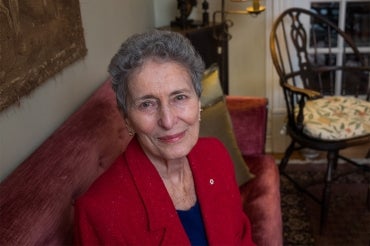 The University of Toronto is joining others around the world in remembering Natalie Zemon Davis, a renowned social historian who brought to life the lesser-known lives of workers, women and peasants.
The New York Times described Zemon Davis – a professor emerita of history in U of T's Faculty of Arts & Science who died Oct. 21 at age 94 – as a researcher who drew insights from anthropology and literary criticism, as well as meticulous archival digging.
"Professor Davis both represented and inspired an emerging approach to history in the second half of the 20th century, often by filling in gaps in the historical record with informed speculations based on deep immersion in the period under study," the Times said.
Zemon Davis chose not to focus on the history of royalty or aristocrats but rather on populations previously ignored by historians – workers, peasants, women and outsiders. Her work originally focused on France, but later broadened to include other parts of Europe, North America and the Caribbean.
She told U of T News in 2017 that she believed traits such as daring, a sense of wonder and passion were essential for a researcher to do their job well.
"That's really something quite important: the unexpected, the surprise that satisfies or nourishes one's curiosity," she said.
One of the first female humanities professors at U of T, Zemon Davis was a mentor to a generation of historians. Her teaching career took her to Brown University, the University of California, Berkeley and Princeton University. Zemon Davis was also president of the American Historical Association in 1987 – the second woman to hold the position. 
She was a prolific writer, with more than a dozen books and essay collections. Her best-known book, The Return of Martin Guerre (1983), is the story of a 16th-century French peasant who abandoned his wife and lands – and later returns to discover an imposter has taken his place. The book generated worldwide attention and was translated into more than 20 languages. (A year earlier, she consulted on the French film of the same title.)
Her book of essays, Society and Culture in Early Modern France (1975), is regarded as a landmark in historical anthropology and the history of women and gender. It combined her intensive archival research with the study of cultural rituals, violent chapters of religious wars and social work of women's religious groups.
At U of T, Zemon Davis was a supporter of fundamental research, joining a group of experts in 2017 who called on the federal government to implement the recommendations of Canada's Fundamental Science Review.
For her contributions to academic scholarship, Zemon Davis received several honorary degrees from universities around the world, including U of T, Harvard University, Yale University, the University of Edinburgh, Hebrew University of Jerusalem and others.
Among her many accolades and prizes, she was awarded the prestigious Holberg Prize established by the Norwegian parliament in 2010 and was named Companion of the Order of Canada in 2012.
In 2013, she received the National Humanities Medal from U.S. President Barack Obama.
"The president spoke of the humanities and hope, and his words rang in my ears as he put the medal around my neck," said Zemon Davis in an interview with the Faculty of Arts & Science that year, "for I have tried my best to be not only a truth-teller about the past, but also to be a historian of hope."
Arts & Science