Natalie Zemon Davis on the importance of curiosity in humanities research
Historian Natalie Zemon Davis has long been a nonconformist. In the 1950s, when it was fashionable to study the ideas or great figures of periods like the Enlightenment, she focused on the illiterate working classes – for her dissertation, she wrote about the printers and artisans in 16th-century Lyons. Some of her contemporaries might have bristled at her unconventional approach, but she persisted and earned international acclaim.
In 2010, she won the Holberg prize, worth more than $760,000, awarded by the Norwegian parliament. She is "one of the most creative historians writing today," the award citation says. Three years later, she received the National Humanities Medal from U.S. President Barack Obama.
How did she come to look at aspects of the past that were overlooked by other historians?  Daring, a sense of wonder, passion – all these traits are essential to any kind of research, Zemon Davis says in an interview at her Toronto home. "That's really something quite important: the unexpected, the surprise that satisfies or nourishes one's curiosity," she told U of T News.  
But researchers in any discipline would have trouble innovating or addressing gaps in their field without support. Zemon Davis has joined a chorus of experts, including Nobel Prize-winning chemist John Polanyi, urging the Canadian government to move on the recommendations of Canada's Fundamental Science Review. A panel, chaired by U of T President Emeritus Dr. David Naylor, calls for a $1.3-billion boost in funding for university-based research over four years – an increase they say amounts to only 0.4 per cent of the government's annual budget.
"The panel recommends the support of work that is not necessarily able to be commercialized right away or right away translated into something practical," Zemon Davis says. "It recommends the support of the work of young people who might be overlooked in the quest for number of publications. It supports the work of Indigenous people and especially the life and past of Indigenous people in Canada. These are marvelous ideas."
Academic research often has benefits that go far beyond a circle of experts. In addition to writing books, Zemon Davis has brought her work to a wide audience through film and theatre. In 1982, she consulted on the French movie, The Return of Martin Guerre, starring Gérard Depardieu. She wrote a book on the subject, the tale of a 16th-century French peasant who abandoned his wife and lands – and returns later to discover an imposter has taken his place. "It's such a dramatic, surprising story, so full of visual possibilities," she told The New York Times in 1983. "I just thought, 'What a marvelous way to bring this story to millions of people.'"
This year, she advised the Lebanese-Canadian playwright Wajdi Mouawad on his latest production, Tous des oiseaux, which opened in Paris's Théâtre national de la Colline to glowing reviews. The play was inspired by Zemon Davis's book Trickster Travels, a biography of al-Hasan ibn Muhammad al-Wazzan al-Fasi, a 16th-century Muslim diplomat captured by Christian pirates, imprisoned by the pope, baptized and allowed to pursue a life of scholarship as a Christian.
Her research career may have taken a vastly different turn had she and her husband, math professor Chandler Davis, not received a surprise visit from the U.S. State Department long ago. During the Red Scare of the 1950s, the FBI traced a pamphlet criticizing the House Committee on Un-American Activities to the Davises.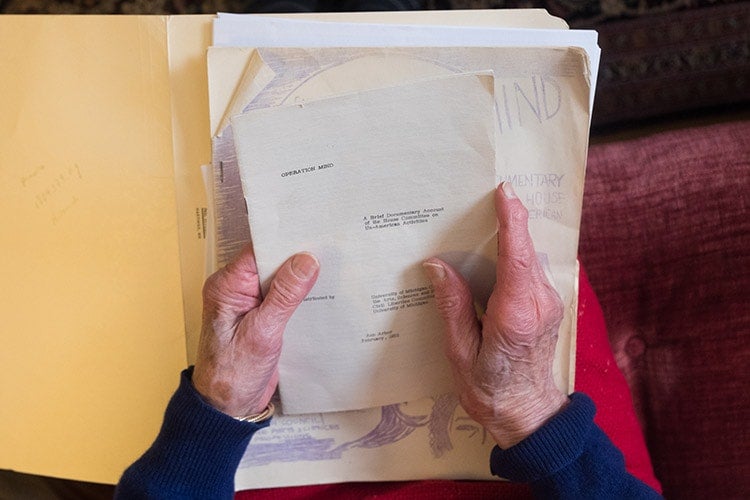 Zemon Davis holds a copy of "Operation Mind," the pamphlet criticizing the House Un-American Activities Committee, which got her in trouble with the FBI in the 1950s (photo by Laura Pedersen)
Agents came to their door and seized their passports. "All I remember is that it was frightening and crushing because I was three months pregnant with our first child, and I didn't need this," she recalls. Without her travel papers, she couldn't return to the archives of Lyon to continue her research. Her husband was jailed for six months and, after his sentence, no American university would hire him. They were offered jobs at U of T in the 1960s. Zemon Davis taught at University of California Berkeley and Princeton before returning to U of T.  
She didn't let these events derail her career. Although the FBI could prevent her from going to France, they couldn't stop her from completing her dissertation using materials in American rare book libraries.
Decades later, when she was fêted at the White House, the irony wasn't lost on her. "The justice department building wasn't that far away," she says.
Whatever obstacles were thrown in her path, she says the love of her topic kept her going. "It's the work, the theme, the people you're writing about which are important," she says. "If you keep working on it, and finding you're getting results, then you just go for it." 
UTC