Indigenous grads share stories of self-discovery at First Nations House ceremony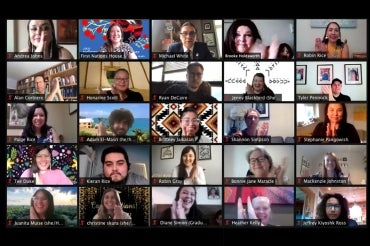 With drums, song and air hugs, the University of Toronto's First Nations House celebrated Indigenous students who are either graduating next month, or who have completed another important milestone in their academic careers. 
Students and their families cheered and applauded as the names and photos of the Class of 2021 appeared on screen during a virtual celebration this week.
Robin Rice, who completed U of T's transitional year program designed for adults aiming to qualify for university, said she was grateful to First Nations House for supporting her return to school after she dropped out at age 16.
"I started TYP in 2018 and it was a journey all about who I am, where I come from, what I'm supposed to do in life and where I'm supposed to be," said Rice, who is Ojibway and whose family comes from Wasauksing First Nation.
"This journey has opened up my voice so much."
Rice added that she plans to continue her education at U of T in Indigenous studies and social work, with the long-term goal of working in child welfare.
While the annual ceremony was held virtually for the second year in a row due to ongoing pandemic restrictions, Michael White, the director of First Nations House, said it was essential to keep the tradition going.
As a band member of M'Chigeeng First Nation who became the first in his family to graduate from university when he earned a degree in anthropology from U of T, White says he is well aware of the significance of convocation for many Indigenous students.
"When I was a kid in Toronto and I walked through U of T, not in my wildest dreams did I think I would've attended this school, graduated from this school," he said. "It's very common for Indigenous students not to feel a sense of inclusion in this space." 
Next year, staff at First Nations House hope to welcome students back to a building, which has received significant upgrades over the past year. Carpets and windows have been replaced, walls were repainted and the kitchen equipped with new appliances. Space was also created on the first floor for workshops and other events. 
The virtual convocation event for the Class of 2021 was organized by Tash Naveau, interim student life co-ordinator, and was emceed by Tyler Pennock, a writer, poet and U of T graduate of Cree and Métis heritage. 
The ceremony's keynote address was delivered by Alan Corbiere, a M'Chigeeng historian, U of T alumnus and assistant professor at York University. He reminisced about his time at U of T, where he met Kahontakwas Diane Longboat, the founder of First Nations House.
"After attending the programming offered by [Indigenous] student services as well as First Nations House and listening to the Elders and visiting scholars, I left U of T to continue my journey to discover more about being an Anishinaabe," Corbiere said.
Before he joined York University, he set up an Anishinaabemowin revival program at M'Chigeeng's Lakeview School, the Manitoulin Expositor reported. 
For Andrea Johns, who graduates this June with a degree in Indigenous studies, book and media studies and creative expression and society, studying at U of T also involved a process of self-discovery.
She said her great-grandparents were placed in residential schools and made to feel ashamed of their heritage. So, with the help of classes taught by Ryan DeCaire, an assistant professor in the Centre for Indigenous Studies and the department of linguistics in the Faculty of Arts & Science, Johns became the first in two generations of her family to learn her ancestral language: Kanien'kéhai. She founded the Indigenous Languages Club, which offers drop-in lessons on Mohawk and Anishinaabemowin. She also discovered a passion for beading and taught her sister. 
With her five-year-old niece watching the graduation ceremony on Zoom, Johns said, "We're setting up the next generation to do the things that our ancestors would have wanted for us."
UTC