U of T's Ryan DeCaire learned Kanien'kéha, the Mohawk language, and now teaches it to others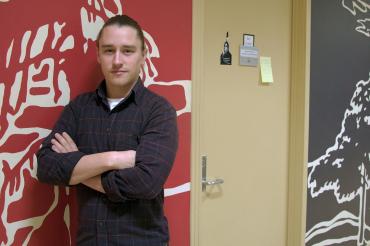 Many adult language learners rely heavily on phrase books and the patient ears of others to get by. Learning a new language is very hard work.
Just ask Ryan DeCaire, assistant professor at the University of Toronto's Centre for Indigenous Studies and the department of linguistics.
As an adult, he chose to learn Kanien'kéha, the Mohawk language, which today has as little as a few hundred speakers, most of them elderly.
DeCaire, who is Mohawk from Wáhta Kanien'kehá:ka Territory, located just east of Georgian Bay, went relatively quickly from no knowledge of the language, "other than a few basic words like 'hello', 'goodbye' and '1, 2, 3'," to speaking and teaching it to others.
At the Faculty of Arts & Science, he teaches Introduction to the Mohawk Language, Revitalizing Languages and Indigenous Environmental Science and Practice.
That he learned to speak and teach Kanien'kéha to others so quickly is impressive. What makes it inspiring is why he did it.
"In my late teens I began to realize that speakers are dwindling at a catastrophic rate and without strong and appropriate measures to revitalize the language at the community level, I would see my language gone within my lifetime," he said. "I wanted our future generations to live again with Kanien'kéha as their first language."
Learning Kanien'kéha was not easy, he says.
"Of course it was [difficult to learn], but what is easy is rarely of great value," said DeCaire. "The language is more challenging because it is much different than English and other Indo-European languages thus requiring a different approach to learning it."
DeCaire says one of the challenges is that Kanien'kéha, like many Indigenous languages, is polysynthetic, meaning that words are built from many parts – morphemes – that when put together make up words that are equivalent to entire sentences in English.
"For example, we could say Wa'khenenstaienthokwennì:rene' — 'I was on my way to harvest corn for her.' That's one word, where in English, we need 10," said DeCaire.
He says another thing is that Kanien'kéha is not concerned about nouns as the majority of the language is made up of verbs, leading second-language learners to have challenges in shifting their way of thinking.
"For example, when we say cup in Kanien'kéha we say iehnekihrà:tha' —  'the thing one uses to drink with,'" said DeCaire.
DeCaire believes that when people lose their language, they lose the essence of who they are as a people.
"Today less than five per cent of our people speak the language at an advanced level or higher, providing much less opportunity to use it and hear it compared to colonial and heritage languages," DeCaire said. "I think people in general, even our own, often do not see the severity of the situation.
"Language is not just a means of communication. It holds within it an entire worldview that connects us to our land base, our ancestors, and our communities today and in the future. Language is at the heart of social cohesion within our communities and helps to perpetuate and maintain our collective ethos of life affirmation."
Even with the revitalization efforts of Indigenous language programs, like the one he took at Onkwawenna Kentyohkwa (Our Language Society), DeCaire says the Kanien'kéha language renaissance still has a way to go.
"There seems to be more interest in learning the language even since I started just seven years ago," said DeCaire. "Unfortunately, though, it is not yet enough. It won't be enough in my opinion until at least half of the population of Indigenous people speak their language at a highly proficient level."
DeCaire says it's especially important for young people to learn their language as it's a "critical piece in supporting identity, a sense of purpose and belonging, mental and emotional health, and social cohesion in a community."
He says that studies show that young people who learn and speak their language have higher high-school graduation rates, are more likely to succeed in postsecondary education and are less likely to have mental health problems.
"It is also something that is necessary to connect youth to their traditional land base, their history, their stories and their culture as a whole," said DeCaire. "This means that young people who speak our language strengthen our families, clans, communities, and nations as a whole."
Currently DeCaire is doing his part by inspiring students here at U of T.
"What I enjoy the most is that all of the students that I am teaching at U of T have great care and interest in learning about the language and its importance to Indigenous people," said DeCaire.
He says he can see U of T playing an important and strong role in forming greater partnerships between academia and Indigenous communities.
"There is so much work that is creating exponential positive change in Indigenous communities that many are unaware is happening," said DeCaire. "With U of T's involvement in these projects, I believe that this work can be even more successful and our Indigenous studies and linguistics programs can be strengthened. This, for example, is a strong and meaningful means that U of T can be a leader in manifesting the recommendations offered by the Truth and Reconciliation Commission."