Mixing novelty and tradition, U of T gears up for virtual convocation this spring
Ever Imafidon's upcoming cameo in this June's virtual convocation ceremony gave her an inside glimpse of the carefully orchestrated event – not to mention a crash course in the art of acting.
"We had very simple lines to memorize, but as soon as the crew said, 'Action,' I forgot all of mine," said the U of T Scarborough student who is bound for law school following graduation.
Imafidon was one of three tri-campus welcome ambassadors who donned ceremonial regalia to participate in the university's virtual spring convocation. She was joined by Hamza Chatila, who is representing U of T's St. George campus, and Anushka Sokhi, who is representing U of T Mississauga. There are also 26 student ambassadors representing the university's various faculties and divisions.
U of T's virtual spring convocation ceremony – necessary because of ongoing public health guidelines preventing in-person gatherings – will air on the university's convocation hub at 12 p.m. EDT on June 23. More than 15, 500 students from 105 different countries – from Afghanistan to Zimbabwe – will graduate in absentia at the event, including the first-ever cohort of students with bachelor of information degrees from the Faculty of Information.
U of T President Meric Gertler said the Class of 2021 demonstrated incredible resilience for making it to the finish line during a challenging year.
"These are truly unprecedented times and U of T students have repeatedly shown their strength of character and unwavering commitment – both in their studies and in their communities," he said.
"They are a source of inspiration for all of us. I am delighted to celebrate this important milestone in their lives and I look forward to seeing what they will accomplish next."
Chatila had similar praise for his fellow graduands.
"The future is bright," he said. "We persevered, kept our heads down and pushed through it. We made it."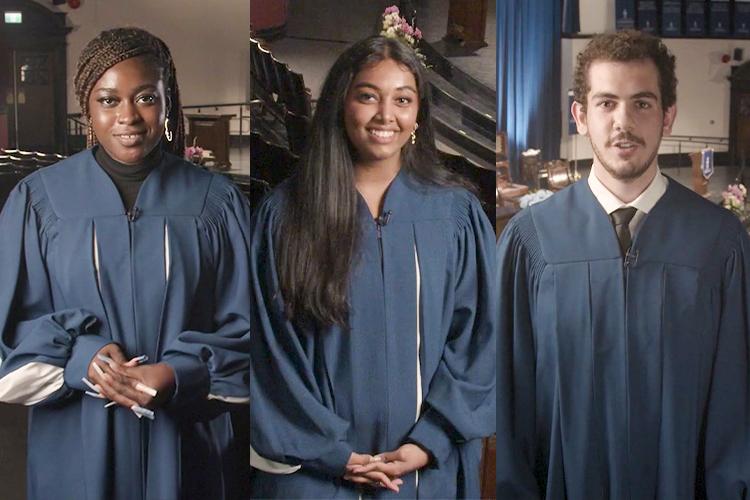 Tri-campus welcome ambassadors (from left to right):  Ever Imafidon, Anushka Sokhi and Hamza Chatila.
Graduating students who want to incorporate an air of tradition to their at-home celebrations can rent an academic gown and hood corresponding to their degree from the university's supplier, Gaspard. The three-week rental – students are being reminded not to rent their regalia too early – includes a cap and tassel, which graduates are free to keep. Graduating students in the Greater Toronto area have the option of curbside pick-ups and drop-offs.
The Office of Convocation has created an online photo booth that will allow the graduating class to take pictures with family and friends, choosing from a selection of backdrops that depict scenic campus locations. The photo booth will be free to use both prior to, and following, the convocation event.
Graduating students who want to share their own convocation photos and video on social media can use the hashtag #UofTGrad21. There is also a convocation-themed AR filter, designed by alumna Lianne Tokey, that can be accessed through U of T's account.
Samantha Smith, U of T's assistant director of the Office of Convocation, said the university strived to recreate the look and feel of the in-person ceremony. That includes: an academic procession, led by the bedel carrying U of T's historic mace; a short exchange in Latin as President Gertler presents U of T's newest graduates to Chancellor Rose Patten, who will affirm the granting of the degrees; and a rendition of O Canada performed by music students in the U of T Symphony Orchestra. Last, but not least, a list of all 15,537 graduates' names will scroll across the screen in alphabetical order by division along with the degree they earned.
At the same time, volunteers are working behind the scenes at Simcoe Hall – while respecting physical distancing and mask guidelines – to prepare parchments for shipping to addresses around the world.
Smith said she hopes the Class of 2021 takes pride in their accomplishment and celebrates in style.
"Now more than ever, I think it's important to recognize your achievements and find moments of joy," she said. "We've just gone through a long and dark tunnel. I'm hopeful students who have worked hard the last few years will find creative ways to mark their convocation day." 
The graduation festivities won't end in June. Faculties and divisions across the university are planning in-person celebrations for their graduates when it's safe to do so. 
As for Imafidon, who will earn a degree in political science, African studies and women and gender studies, the tentative plan for convocation day includes an online movie night with friends after watching the ceremony.
"I'm definitely going to watch with my family. They would kill me if I didn't," she said.
Chatila, a University College and political science, planning and social sciences student from Dubai, said he will be back in the United Arab Emirates by the time the ceremony airs. He plans to begin a master's degree in community and regional planning at U of T this fall.
Sokhi, who's graduating from U of T Mississauga in biology and psychology, plans to apply for work in the health-care field. The international student from Mumbai encouraged current and future students to make the most of extra-curricular activities while they can so they leave U of T with more than just a piece of parchment.
"I tried to get involved in everything that I could, and it really made an impression on me," said Sokhi, who was on the executive team of the U of T Mississauga Students' Union.
To the graduating class of 2021, she said now's the time to take a moment to relax and savour their success.
"The four years haven't been easy, especially for folks who studied during COVID-19," she said. "Take a minute to genuinely appreciate your hard work."
UTC