Hoping to collaborate on research with world's most innovative firms? In Canada, pick U of T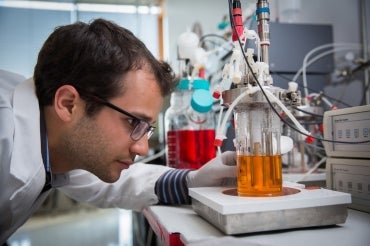 The University of Toronto is the only Canadian institution to break into Times Higher Education's first-ever analysis of top universities working with the world's most innovative companies.
The study, which examined universities that have co-authored the most papers with organizations on the Top 100 Global Innovators, ranked U of T 18th in the world, the only Canadian university on the list.
Using the Web of Science database for papers published since 1980, THE found U of T had published 513 papers with 25 top companies identified among Clarivate Analytics' list of the Top 100 Global Innovators. That list includes global heavyweights in a number of fields such as 3M, Apple, Google, Johnson & Johnson, Honda, Merck, Symantec and Xerox. 
"We're extremely proud to see U of T recognized for the quality of its research and its collaborative partnerships with some of the world's top innovative companies," said Vivek Goel, U of T's vice-president of research and innovation. "U of T is consistently named the top Canadian university and ranked among the top 10 global public universities by international surveys, and these latest results underscore the excellence and global impact of our faculty and students' research."
U of T is known for its culture of innovation, research partnerships that span the globe, a diverse array of collaborations with private sector and public sector organizations and a vibrant entrepreneurship culture supported by a network of campus-linked accelerators and incubators, Goel said.
The THE survey placed U of T one notch ahead of Johns Hopkins University and four above the University of Cambridge. The results are even more impressive when looking only at public universities: U of T falls within the top 15 public institutions in the world when it comes to research partnerships with the world's most innovative firms.
The survey found that U of T's collaborative papers had a citation impact of 2.79, compared to a world average of 1.0.
Eindhoven University of Technology in the Netherlands, home of Philips and other multinational headquartered firms, placed first.
U of T has done well in 2016-2017 in several international rankings, consistently ranking among the top 10 global public universities:
placing 21st in U.S. News & World Report's ranking of top universities
22nd on the prestigious THE annual rankings of top universities
32nd in the QS World University Rankings
27th in the Academic Ranking of World Universities report by Shanghai Jiao Tong University