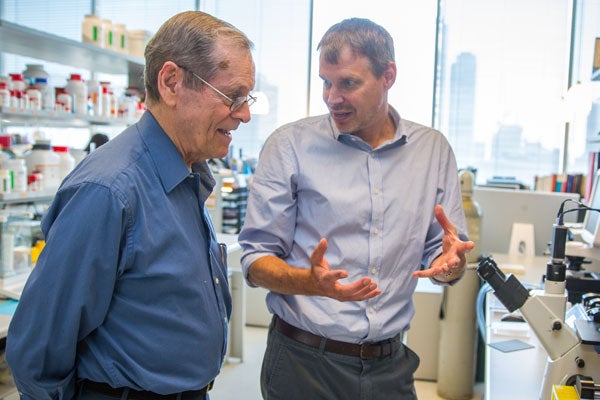 U of T to transform regenerative medicine thanks to historic $114-million federal grant
The University of Toronto is set to cement its position as one of the world's leading centres for the design and manufacture of cells, tissues and organs that can be used to treat degenerative disease, thanks to a $114-million grant from the federal government.
"Our government is investing in research and innovation to create jobs, strengthen the economy and improve the quality of life of Canadians," said the Honourable Ed Holder, Minister of State (Science and Technology). "This legacy investment in Medicine by Design will harness Canada's strengths in regenerative medicine to treat and cure serious injuries and diseases that impact every Canadian family while creating new opportunities for Canadian health-related businesses."  
The research grant, the largest in U of T's history, is the first to be awarded under the Canada First Research Excellence Fund (CFREF), established by the federal government last year. Spread over seven years, the funding will allow U of T and its partners, which include the Hospital for Sick Children, the University Health Network, and Mount Sinai Hospital, to deliver a new program called Medicine by Design.The initiative and the new funding build on years of support for U of T's regenerative medicine researchers from federal granting councils, the Canada Foundation for Innovation and support from the Canada Research Chairs and Canada Excellence Research Chairs programs.  
The mandate of Medicine by Design is to undertake transformative research and clinical translation in regenerative medicine, enhance capability in synthetic biology and computational biology and foster translation, commercialization and clinical impacts.
U of T President Meric Gertler thanked the government for its support of the university's Medicine by Design initiative, and for its leadership in the advancement of globally competitive Canadian research and innovation. He also thanked and congratulated all those involved in the project at the university and its partner hospitals. "Our brilliant researchers and clinicians are doing cutting-edge work that is making Canada a world leader in regenerative medicine. I applaud them, and all those who helped prepare U of T's successful application for this historic research award."
"This program will allow us to take regenerative medicine to the next level," said Peter Zandstra, a professor in U of T's Institute for Biomaterials and Biomedical Engineering, Canada Research Chair in Stem Cell Engineering and one of the researchers involved with the Medicine by Design project. "We'll be able to design cells, tissues, and organs from the ground up, hopefully with benefit to patients and benefit to the Canadian economy. 
"Stem cells offer avenues to treat – and perhaps cure – devastating and costly illnesses such as cardiovascular disease, diabetes, blindness, lung disease, neurodegenerative disorders, and diseases of the blood and musculoskeletal system," he added. "Medicine by Design provides a framework to design the cells, the materials and, ultimately, the clinical strategy needed to reach this goal."
Medicine by Design will allow Canada to lead the transformation of the global medical industry and become a major international supplier of regenerative medicine technologies – a market that is predicted to grow to $50 billion by 2019. The strategy is expected to generate several new startup companies and to attract established international companies to Canada, eager to take advantage of U of T's expertise.
The program will have three divisions, Cells by Design (to create cells whose fate and function can be controlled to ensure safer and more effective therapies), Tissues by Design (to create complex tissues for use in research, drug discovery and replacing lost or damaged tissue in humans) and Organs by Design (create and repair organs outside the body and demonstrate how those organs can be successfully transplanted into human patients). The three divisions will be supported by technology platforms such as genomic engineering, immune engineering and a program to manufacture stem cells on demand.
Medicine by Design builds on a rich legacy of U of T contributions to regenerative medicine, beginning with the demonstration of the existence of stem cells by biophysicist James Till and hematologist Ernest McCulloch in 1960. As Gertler noted, "Their breakthrough has led to an entirely new field of biomedical research; to the wonders of regenerative medicine; to a global industry responsible for many thousands of high-tech jobs, and ultimately, to better health and new hope for patients and their loved ones, across Canada and around the world."
Till, who attended the CFERF grant announcement, said he is thrilled by Medicine by Design's potential. "It's marvellous that the Canada First Research Excellence Fund has chosen to assign a very high priority to regenerative medicine/stem cells. This announcement means that research on stem cells and on regenerative medicine in Canada will move to another level and it will be the University of Toronto that will provide leadership for that."
U of T has a very long and impressive history of accomplishments, both in biomedical engineering and in stem cell biology, such as the discovery of cancer stem cells, the development of the first artificial endocrine pancreas, and combining living cells with synthetic polymers to create artificial organs and tissues. From 2009-2013, U of T researchers published more articles than any university in the world except Harvard in top scholarly journals for regenerative medicine and stem cells, biomedical engineering, and cell and tissue engineering.
More than 50 researchers and clinicians from U of T and its hospital partners are involved in the Medicine by Design program, as well as hundreds of graduate students and postdoctoral fellows. Additional researchers and graduate students will be recruited over the next few years. Medicine by Design's inaugural international partners include Peking University, Technion Israel Institute of Technology, the UK Regenerative Medicine Program and Sweden's Karolinska Institutet.
Additional CFREF grants will be announced shortly, noted Ted Hewitt, president, Social Sciences and Humanities Research Council of Canada and chair, Canada First Research Excellence Fund steering committee.
"The Canada First Research Excellence Fund has provided Canadian universities with an unparalleled opportunity to take their leading-edge research and make it the best in the world. This will set them on course to make the ground-breaking discoveries that will enhance prosperity and change the lives of Canadians and millions around the world forever," Hewitt said.