Innovation depends on the four C's, says U of T President Meric Gertler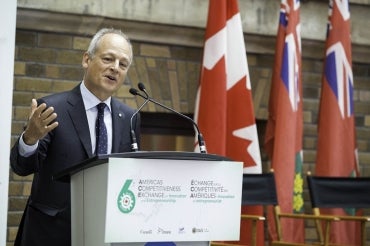 What is about some places that become hotbeds of innovation? What's their secret ingredient? Can it be replicated elsewhere?
The recipe for success relies on the "disruptive and unpredictable forces at the intersection of four C's: cities, connections, collaboration and commitment," University of Toronto President Meric Gertler told delegates attending the sixth annual Americas Competitiveness Exchange (ACE) on Innovation and Entrepreneurship.
This is the first time Canada has hosted the weeklong event, which has attracted almost 50 participants from governments in the Americas, as well as India, Israel, Germany and Korea.
The ACE seeks to strengthen personal and professional relationships among the growing economies in the Western Hemisphere. After previous visits to the American Midwest and Argentina, this time around participants are visiting successful centres of innovation in Ontario hoping to spur greater commerce and trade, as well as collaboration.
Among the first stops in Ontario is MaRS and the newly opened JLABS @ Toronto, which officially opened in May. Here, delegates will learn first-hand how Toronto has become one of the largest life sciences clusters in the hemisphere and the strides all of the contributors involved in the field, from the university to hospitals and corporations, are making in the commercialization of science innovations.
This area of Toronto, with its hospitals, tech startups and Canada's largest research university, is an example of how a concentration of talent and a clustered network of connections can spur, drive and make innovation thrive.
But it didn't happen overnight – and it's required a great deal of collaboration between a number of partners to make the environment for innovation possible.
For example: JLABS, a research centre designed to advance bio/pharmaceutical, medical device, consumer and digital health programs, is the result of a unique collaboration between the University of Toronto, global giant Johnson & Johnson Innovation LLC, the Government of Ontario, Janssen Inc., MaRS Innovation and several hospital partners.
"Cities with their universities, institutions, and enterprises of every description are magnets for talent," Gertler said in his speech on innovation and place. "But innovation does not happen overnight.
"Commitment is often the highest hurdle in modern democracies, whose leaders must regularly face anxious electorates with high expectations and short-term timelines. But success requires commitment, along with sustaining investments, as well as a tolerance for risk taking and failure as part of an overall strategy. This strategy must recognize and leverage those unique competitive advantages that are increasingly clustered in a relatively small number of urban regions.
"Undeniably, such commitment takes political courage, a fifth 'C' perhaps."
Governments have an important role to play in fostering innovation, said Navdeep Bains, federal Minister of Innovation, Science and Economic Development. In Canada, that means ensuring infrastructure connects people, from roads to internet access, training to help people of all ages engage in the next wave of the economy and that critical research is supported. This helps "plant the seeds for the next great companies to come from this country."
By working together, "we can build a more successful community of nations," he said to applause.
Navdeep Bains, Canadian Minister of Innovation, Science and Economic Development, joined ACE delegates from around the Americans in a traditional indigenous dance at MaRS. 
Canada is deeply involved in the Americas region. Since 2007, bilateral trade between Canada and countries in the region has increased more than 37 per cent and Canadian direct investment in the region has doubled. Most Canadians don't realizes that along with NAFTA, Ottawa also has free trade agreements in force with Chile, Colombia, Costa Rica, Honduras, Peru and Panama and is engaged in ongoing negotiations with the Caribbean Community (CARICOM), Guatemala, Nicaragua, El Salvador and the Dominican Republic.
On Tuesday, ACE will visit the U of T campus to discuss advancements in big data, artificial intelligence and robotics, and their impact on innovation and the economy.
They will also learn how Canada is making great strides in encouraging more women to get involved in science and entrepreneurship — which is the focus of a special "fireside chat" at Rotman between federal Science Minister Kirsty Duncan, Ontario Premier Kathleen Wynne, U.S. diplomat Stephanie Foster and U of T Engineering Dean Cristina Amon.
The ACE tour will then travel to Kitchener-Waterloo, Hamilton and Niagara before wrapping up on October 1.