Faces of leadership: U of T welcomes its newest deans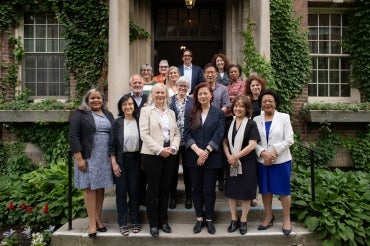 Like many during the pandemic, Vice-Provost, Faculty & Academic Life Heather Boon spent a lot of time interacting with her colleagues through the rectangle of her computer screen.
It struck her that many of the more recent additions to the University of Toronto's senior leadership had probably never even met one another. So, Boon organized an event at the Faculty Club in late June where new and long-standing deans – an increasingly diverse group of leaders – could get together in-person.
"It's really exciting," Boon says. "Deans at U of T are responsible for defining and implementing the academic vision and priorities for their units, including academic programs for students and faculty hiring.
"Their leadership decisions have a tremendous impact on the university."
She adds that deans also play a significant role in advancing a culture of inclusive excellence at the university, which contributes base funding for Black and Indigenous faculty through the provost's Diversity in Academic Hiring Fund.
Here is a snapshot of the diverse range of backgrounds and scholarly experience that U of T's newest deans are bringing to the university's senior ranks:
---
Jutta Brunnée
Faculty of Law
Brunnée, a well-known scholar of international and environmental law, has been at the helm of the faculty since January, 2021.
She taught a course at the Hague Academy of International Law and was elected to the renowned Institut de droit international based in Geneva. She taught at McGill University and the University of British Columbia before joining U of T, in 2000.
"I am eager for the faculty to be as visible and engaged as possible across Canada and around the globe," she said.
Catherine Chandler-Crichlow
School of Continuing Studies
Chandler-Crichlow joined U of T from the Ivey Business School at Western University in the fall of 2021.
At Western, she was the executive director of career management and corporate recruiting and she helped forge strategic alliances with corporate partners, industry, government and alumni to accelerate career opportunities for students.
With more than 25 years of experience as a human capital professional, Chandler-Crichlow has a track record of advocacy for equity, diversity and inclusion. She holds a PhD from U of T's Ontario Institute for Studies in Education, as well as degrees from Harvard University and the University of the West Indies.
"I know well the life-changing impact education can have. I'm thrilled to grow SCS as an accessible, inspiring, and effective launchpad where our learners can prepare for their next exciting steps forward." she said.
Susan Christoffersen
Rotman School of Management
The William A. Downe BMO chair in finance and a leading researcher of mutual funds, asset management and the role of financial institutions in capital markets, Christoffersen was named dean of the Rotman School of Management in summer 2021.
She was previously the vice-dean, undergraduate and specialized programs at Rotman and is credited with making improvements to Rotman Commerce, including expanding academic advising, career and professional skills resources for students and a new curriculum for undergraduate business education, among other changes.
Christoffersen's research has been published in The New York Times, Bloomberg News and The Wall Street Journal, among others.
"Rotman is in an incredible place, being part of a university where we have close proximity to leaders in various different disciplines, so we will continue to use that to our advantage to try and approach some of these big societal problems," she said.
Juan Du
John H. Daniels Faculty of Architecture, Landscape, and Design
Du, an internationally recognized scholar whose work focuses on urban development and marginalized youth, took over as dean of the John H. Daniels Faculty of Architecture, Landscape and Design last summer after 15 years at the University of Hong Kong's Faculty of Architecture.
In addition to holding leadership roles in Hong Kong, she has practised architecture in the U.S., Europe and China.
"What I look forward to the most is getting to know the students," she said. "I have felt a genuine enthusiasm from the students I've met so far. It is clear that the Daniels Faculty is very much a physical and intellectual home for them."
Ellie Hisama
Faculty of Music
Hisama, an internationally recognized scholar of music, joined U of T from Columbia University last year. Her research looks at ethnicity, gender, sexuality and the social and political dimensions of music, including the work of musicians who have been largely overlooked.
Hisama is also the founding director of "For the Daughters of Harlem: Working in Sound," a multi-year workshop that pairs girls and young women of colour from New York public schools with Columbia music faculty, graduates and other mentors to produce and record music.
"I'm a firm believer in shared governance and of listening closely to many voices, and warmly welcome the opportunity to work together with all who make up the faculty, to share my research and ideas and to connect to the city," she said.
Gretchen Kerr
Faculty of Kinesiology & Physical Education
Kerr, a leading researcher in areas such as safe sport in Canada, ethical coaching practices and women in sport, assumed the role of dean of the Faculty of Kinesiology & Physical Education in July 2021.
With a bachelor's degree and PhD degree from U of T, Kerr's research on the treatment of women and youth in sport includes collaborations with the Canadian Olympic Committee, Canadian Paralympic Committee and the Canadian Centre for Ethics and Sport, among other organizations.
"Becoming the dean of KPE after being a student and professor in the faculty is a bit like closing the circle," she said.
"I'm fortunate that my background in the faculty has afforded the benefits of understanding its developments across time, including how the faculty has built upon its strengths and has adapted and grown to meet various challenges."
Erica Walker
Ontario Institute for Studies in Education
Walker, currently a professor of mathematics education at Columbia University, is due to begin a five-year term as dean of the Ontario Institute for Studies in Education (OISE) in January.
An award-winning researcher and educator, she will also join the department of curriculum, teaching and learning.
The dynamism and energy at OISE were apparent, Walker said, even from initial Zoom meetings.
"I think any good leader gets to know the institution first so everyone can get on board with a shared vision," she said. "But very broadly, I think it's clear that OISE has a commitment to dynamic research, improving educational practice and connecting in creative ways to the community – all in service of realizing more equitable education.
UTC