International and environmental law scholar Jutta Brunnée named dean of U of T's Faculty of Law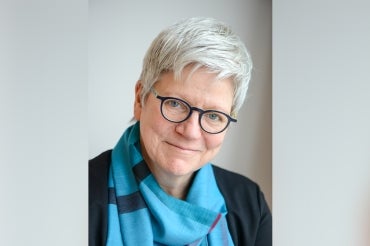 Jutta Brunnée, a renowned scholar of international and environmental law, has been named dean of the University of Toronto's Faculty of Law for a five-year term starting Jan. 1.
A University Professor, Brunnée brings to the role years of senior leadership at the university, having previously served as interim dean of the Faculty of Law and associate dean of graduate studies. Her many accomplishments include being invited to teach a course at the Hague Academy of International Law and being elected to the renowned Institut de droit international based in Geneva.
Brunnée will succeed Dean Edward Iacobucci, who in February announced his intention to step down at the end of this year. She plans to build on the faculty's initiatives for inclusive excellence, citing her experience as interim dean of the law school.
"It gave me a really good sense of how important it is to talk to people, listen to people and build support for what you're hoping to do," she says.
Brunnée has written more than 100 articles, book chapters and reviews and has authored, co-authored or edited seven books, including the 2017 textbook International Climate Change Law, which was awarded a certificate of merit by the American Society of International Law.
As the faculty's associate dean of graduate studies, Brunnée helped launch the Global Professional Master of Law Program, a course of study tailored toward executives – lawyers and non-lawyers alike – with a focus on business law, Canadian law in a global context and other streams. Brunnée also helped revitalize the June Callwood scholarship program for Indigenous graduate students, which is named after the journalist, author, and activist dubbed "Canada's Conscience" for her advocacy related to homelessness, drug addiction and other social issues.
Cheryl Regehr, U of T's vice-president and provost, says Brunnée possesses the qualities necessary to ensure the faculty's continued success as one the world's top law schools.
"Professor Brunnée is known globally for her influential contributions to public international law, environmental law and international legal theory," Regehr says. "At U of T, she is also known for her leadership and commitment to fostering inclusivity, community and excellence.
"I can't think of a more qualified person to lead the Faculty of Law now and into the future."
Brunnée arrived at U of T's Faculty of Law in 2000 after teaching at McGill University and the University of British Columbia. Originally from Germany, she holds a law degree and doctorate in law from Johannes-Gutenberg Universität in Mainz and a master of laws degree from Dalhousie University.
She first developed a fascination with environmental law as a student in Germany at a time when cross-border acid rain and air pollution were growing concerns.
"That basically led me to discovering international environmental law because it was a rapidly evolving field and you could really study what legal options exist to deal with such issues," she says.
In the late 90s, Brunnée acquired first-hand, practical experience in the field as a scholar-in-residence in the legal bureau of Canada's department of foreign affairs and international trade. She advised on matters that fell under the international conventions on biodiversity and climate change, including aspects of the Kyoto Protocol.
Iacobucci, meantime, will step down as dean of the law school on Dec. 31 to devote more time to research and teaching after leading the faculty since 2015. His many accomplishments include: a successful fundraising campaign with a focus on student experience and financial aid; expanded co-curricular programming, including fostering leadership development opportunities and paid summer internships; and growing the Global Professional Master of Law Program.
He also expanded student mental health services within the faculty, boosted student financial aid and launched the Black Future Lawyers program for undergraduate students intent on pursuing a legal career.
Brunnée says it was "very, very exciting and a little daunting" to learn that she would be taking on the role of dean at the law school.
"I am eager for the faculty to be as visible and engaged as possible across Canada and around the globe," she says.
"Our faculty boasts world-leading thinkers and outstanding students, offering an amazing array of diverse scholarship and perspectives to bring to bear on the many issues and challenges of our time."
UTC