Erica Walker, an expert in math education, appointed dean of OISE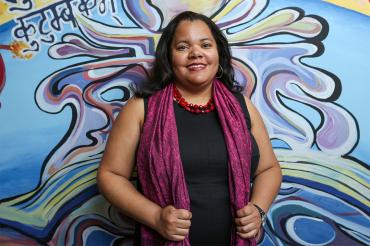 Erica Walker, an award-winning researcher, educator and professor of mathematics education at Columbia University's Teachers College, has been appointed dean of the Ontario Institute for Studies in Education (OISE) at the University of Toronto.
A 2022 American Education Research Association Fellow, Walker will assume her new role as OISE's dean on Jan. 1, 2023 for a five-year term. She will also join the faculty as a full professor in the department of curriculum, teaching and learning.
Walker – who is currently the Clifford Brewster Upton Professor of Mathematical Education and director of the Edmund W. Gordon Institute for Urban and Minority Education at Teachers College – said she is eagerly looking forward to taking on a leadership role at OISE.
"From my first conversations with the search committee to my later visits to Toronto, OISE felt warmly familiar," Walker said. "There is an exciting energy here; it is a testament to OISE that its collegiality and dynamism were immediately apparent – even through those initial Zoom meetings.
"I'm very much looking forward to being in Toronto, working with everyone, and leading OISE."
While Walker sees exciting opportunities to build on OISE's many strengths, she says her first priority is to get to know the organization and its people.
"I think any good leader gets to know the institution first so everyone can get on board with a shared vision," she said. "But very broadly, I think it's clear that OISE has a commitment to dynamic research, improving educational practice and connecting in creative ways to the community – all in service of realizing more equitable education.
"I hope to deepen and expand that work and leverage enthusiasm about the institution and its broad reach to advance OISE's mission in exciting, impactful ways."
Cheryl Regehr, U of T's vice-president and provost, welcomed Walker to U of T and said she looks forward to supporting her work at OISE.
"I am delighted to welcome Professor Erica Walker to the University of Toronto as dean of OISE," Regehr said. "Her commitment to education – inside and outside the classroom – her academic leadership, public engagement and vision for the future will be key to ensuring OISE's continued excellence in the years ahead."
Regehr also thanked Professor Normand Labrie for agreeing to continue serving as interim dean of OISE until Dec. 31, 2022.
Walker completed a bachelor of science degree in mathematics at Birmingham-Southern College and a master's degree in mathematics education from Wake Forest University before earning master of education and doctor of education degrees from Harvard University. She then completed a post-doctoral fellowship at Teachers College before embarking on a professorial career there that spanned 20 years – a period she said has been "incredibly enriching for me as a faculty member, researcher and leader."
During her time at Teachers College, Walker served as chair of its department of mathematics, science and technology.
Walker's research explores the social and cultural factors, as well as educational policies and practices, that facilitate mathematics engagement, learning and performance – particularly for underserved students. Her current research, funded by the U.S. National Science Foundation, focuses on the role of storytelling in math education.
A former public high school mathematics teacher from Atlanta, Ga., she is known for her collaborative leadership and outreach, which has included working with teachers, school districts and organizations to promote mathematics excellence and equity for young people.
Walker's work has been published in leading journals such as the American Education Research Journal, Educational Leadership and the Urban Review. She is also the author of two books – Building Mathematics Learning Communities: Improving Outcomes in Urban High Schools and Beyond Banneker: Black Mathematicians and the Paths to Excellence – and serves on the Committee of Education in the American Mathematical Society, the Julia Robinson Mathematics Festival Advisory Board and the Public Math Advisory Board, as well as several editorial boards.
Walker says she sees tremendous opportunity to build on her research agenda at OISE by engaging with colleagues across disciplines and tapping into the diverse array of perspectives at U of T.
"Much of my work centres on urban education," she said. "OISE's commitment to Toronto schools and Canadian education, as well as its commitment – and the larger University of Toronto's commitment – to equity and diversity, helps to foster this kind of work.
"It is evident in the outstanding research that emerges from OISE."
UTC