Ellie Hisama named dean of U of T's Faculty of Music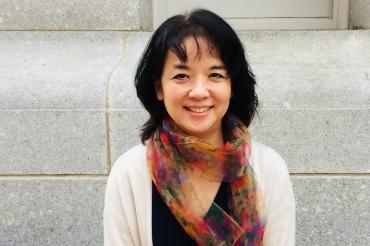 Ellie Hisama, an internationally recognized music scholar, has been named dean of the University of Toronto's Faculty of Music for a five-year term beginning July 1.
Hisama brings a wealth of leadership experience to the role. She joins U of T from the department of music at Columbia University, where she served as the music department's vice-chair, music theory area chair and, most recently, chair of the academic review committee in the Faculty of Arts and Sciences.
Her scholarly work focuses on ethnicity, gender, sexuality and the social and political dimensions of music, including the work of musicians who have been largely overlooked.
"I'm very excited to lead U of T's Faculty of Music, which enjoys a stellar international reputation," Hisama said. "I'm a firm believer in shared governance and of listening closely to many voices, and warmly welcome the opportunity to work together with all who make up the faculty, to share my research and ideas and to connect to the city.
"I feel very fortunate to be moving to Toronto this summer with my family – we are all looking forward to exploring its vibrant arts and cultural scenes and natural beauty, and to living in a great city."
At Columbia, Hisama was named a Provost Leadership Fellow in a program for senior faculty that enhances academic governance and leadership and nurtures inclusive excellence. She serves as a humanities representative on the Faculty of Arts and Sciences' committee on equity and diversity. She was also twice nominated for the Mark Van Doren Award, an honour bestowed by Columbia students on a single professor each year for excellence in teaching. She is an inaugural recipient of the Provost's Faculty Mentoring Award, which recognizes senior faculty's work mentoring tenure-track and mid-career faculty.    
Hisama is also the founding director of "For the Daughters of Harlem: Working in Sound," a multi-year workshop that pairs girls and young women of colour from New York public schools with Columbia music faculty, graduates and other mentors to produce and record music. "We felt that the best way to connect with the students about music was to discuss how it impacts us personally," Hisama told Columbia News in 2019.
"In every leadership role she has taken on, Professor Hisama has demonstrated an ability to bring communities together," said Cheryl Regehr, U of T vice-president and provost.
"Taken together with her dedication to inclusive excellence and record of path-breaking scholarship, it is clear that she has all the qualities to ensure the Faculty of Music's success in the years ahead."
Hisama's passion for studying music and music history – particularly musicians whose work isn't as widely appreciated as it should be – sprang from her early interest in poetry while majoring in English at the University of Chicago.
"The act of reading poems closely drew me to the field of music theory, and my interest in music's deep impact on its listeners led to my exploration of its history and social contexts," she said.
Much of her academic writing focuses on musicians who have been left out of the canon, including the composer Ruth Crawford Seeger (mother to folk singers Peggy and Mike Seeger and stepmother to Pete Seeger).
For Hisama, listening to Crawford's String Quartet 1931 for the first time was nothing short of life changing. "She wrote so beautifully, especially for voice, piano, winds, and strings, and was a brilliant music educator," Hisama recalled.
Crawford's music prompted Hisama to reflect on the many other artists whose work has fallen under the radar despite its potential to "enrich people's lives, as [Crawford's] music did for me and so many others."
Julius Eastman, whose work was not widely recognized until years after his death in 1990, is another composer who caught Hisama's interest. She discovered his music through his posthumous CD Unjust Malaise.
"He was certainly a 'musician to the fullest'" – Eastman's words – "with a remarkable ability to reimagine musical time and to invent new forms of graphic notation," Hisama said.
Hisama will take the reins at U of T's Faculty of Music from Dean Don McLean, a professor of music theory and musicology who has overseen a period of curricular renewal and innovation at the faculty since his leadership began in 2011. During McLean's tenure, the faculty launched the Music and Health Science Collaboratory in 2012, formed closer ties with European conservatories and received a $1-million donation from alumna Elaine Keillor. 
"I admire Don's many accomplishments over his career and at U of T, and I'm eager to build on the strong foundations he's established," said Hisama, adding that she first met McLean nearly two decades ago while on sabbatical in Montreal.
Hisama is the author or editor of three books: Gendering Musical Modernism: The Music of Ruth Crawford, Marion Bauer, and Miriam Gideon; Ruth Crawford Seeger's Worlds: Innovation and Tradition in Twentieth-century American Music, co-edited with Ray Allen; and Critical Minded: New Approaches to Hip Hop Studies, co-edited with Evan Rapport.
In 2019, she delivered the Kenneth H. Peacock Lecture at U of T, named after the pioneering Canadian ethnomusicologist, composer and U of T alumnus. Her lecture, "Lost Voices, Found Histories: On Silences and Soundings," focused on how exclusions in the sphere of music could be corrected by students and scholars.
"As dean, I look forward to opening and leading conversations about how students, staff, faculty, alumni and administrators can work together towards greater diversity, equity, and inclusion in the Faculty of Music with regard to curriculum, programming, community engagement, and more," Hisama said.
"With the current intense focus on issues of equity, now is the time to press forward towards lasting change – change that will positively affect those at the Faculty of Music, U of T, in Toronto and beyond."
UTC