Juan Du named dean of U of T's John H. Daniels Faculty of Architecture, Landscape, and Design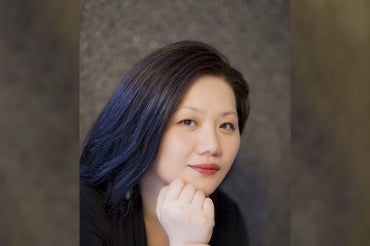 Professor Juan Du, an internationally renowned architectural scholar whose work focuses on urban development and marginalized groups, has been named dean of the University of Toronto's John H. Daniels Faculty of Architecture, Landscape, and Design.
Du joins U of T after spending 15 years at the University of Hong Kong's Faculty of Architecture, where she has served in a variety of academic and leadership roles – and is currently associate dean (international and mainland China affairs).
She begins her new role on July 1, 2021 for a five-year term and plans to deeply engage with both the U of T community and city at large.
"The appointment is a great honour, and I am especially excited to join the Daniels Faculty during a historic moment for the school with the recent merging of the Faculty of Forestry. Here is an opportunity for us to combine the studies of the natural environment with the built environment – and view the city as one environment," Du said. "What I look forward to the most is getting to know the students. I have felt a genuine enthusiasm from the students I've met so far. It is clear that the Daniels Faculty is very much a physical and intellectual home for them.
"I am energized by U of T's direction to be not only an institution for intellectual pursuit but also one of societal pursuit. I look forward to both bring our students out into the community through experiential projects, and to invite the community onto campus and into the classrooms to foster the kind of cross-disciplinary, cross-sector dialogue that I believe is fundamental to addressing some of the world's most pressing social and environmental challenges."
Having practised architecture in the U.S., Europe and China, Du brings to her new position a wealth of professional and scholarly experience and a track record of using urban theories and architectural designs to address the social and environmental impacts of rapid urbanization.
Her work has often focused on the marginalized groups who often comprise a large but unseen segment of city populations.
She is the founder of IDU_architecture, an award-winning Hong Kong-based design and research practice with an emphasis on socially and environmentally responsible urban planning and architectural designs. Du has also worked with resident communities to improve living conditions in informal settlements in collaboration with non-profit organizations and governmental agencies.
Her projects have included a community centre for a Hakka Urban Village in Shenzhen, "Home Sharing" housing units in tenement buildings and "Friendship Homes" of transitional housing for the working homeless of Hong Kong.  The most recent is a long-term social impact project with Habitat for Humanity Hong Kong to provide new demonstration affordable housing units, as well as to improve the existing resident home environment of those living in Hong Kong's subdivided units, which are often plagued by cramped, substandard living conditions.
Du worked directly with the residents on the designs of their units.
"We call this a co-design process," she said. "This way, they feel empowered and an ownership over their rented home environments."
She added that the methodology allows researchers, designers and students to learn directly from residents and improve their quality of living through design and building improvements – even if it is one home at a time. "The importance of the individual is something we can incorporate into our designs and our policies," Du said.
"Through her years of innovative architectural practice and scholarship, Professor Du has consistently advocated for communities on the margins and demonstrated her dedication to using knowledge to improve society," said Cheryl Regehr, U of T's vice-president and provost.
"I'm confident the Daniels Faculty will continue to flourish under her leadership, given her passion for interdisciplinary design philosophies and investment in student success in all aspects of her work."
Du holds a bachelor's degree from the University of Florida, a master's degree from Princeton University and a PhD in architecture from the Swiss Federal Institute of Technology (ETH Zurich). She is a former Fulbright Fellow and has served as a lecturer and visiting assistant professor at the Massachusetts Institute of Technology, as well as a senior visiting scholar at Tongji University.
She is the author of The Shenzhen Experiment: The Story of China's Instant City, a widely-lauded book published last year by Harvard University Press. The book uncovers the previously overlooked cultural and environmental history of the region as contributing factors for Shenzhen's unprecedented speed of urbanization and economic growth. Her articles and research have been featured in architectural journals such as e-flux, The Architectural Review and the Journal of Architectural Education. Du was also recently recognized in the book New Chinese Architecture as one of 20 leading female architects "building the future."
Du will succeed Associate Professor Robert Wright, who has been the interim dean since July.
"Dean Wright deftly steered the Daniels Faculty through its COVID-19 response while working to improve social equity practices," Regehr said. "We are forever grateful for his leadership."
Wright took over from Professor Richard Sommer, who served as dean for more than a decade beginning in 2009. He led a profound transformation of the Daniels Faculty, leaving behind a legacy that includes an inventive undergraduate foundation in architectural studies and the creation of a unique PhD in Architecture, Landscape, and Design.
Notably, Sommer spearheaded the construction of the Daniels Building at One Spadina Crescent, a civic landmark that has been reinvigorated as the Daniels Faculty's permanent home.
Through her people-centric approach to architecture, Du likewise aims to implement learning opportunities that orient students within the city's multitude of diverse communities.
"Cities of migration like Toronto are wonderfully exciting and vibrant – both culturally and economically," she said.
"I very much look forward to experiencing the city and contributing to its ongoing history with the students and faculty at Daniels."
UTC