From exploring immigrant identities to treating cancer: U of T awarded 31 Canada Research Chairs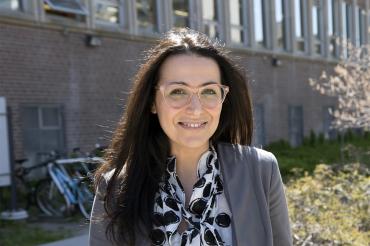 The University of Toronto's Neda Maghbouleh seeks to better understand how borders, wars and other geopolitical forces influence the formation of immigrants' identities.
"My work is fundamentally motivated by unresolved questions about integration, assimilation, and racialization," says Maghbouleh, an associate professor in U of T Mississauga's department of sociology.
"Through a strategic focus on Syrian refugees and others from the Middle Eastern/North African region, I am building a multilevel analysis of the evolving identities of newcomers to Canada and the U.S. today.
"The goal is to advance new theories that explain the influence of geopolitics, borders, war, sanctions and surveillance on everyday people's racial identifications and attachments." 
An international expert on the formation of racial identity, Maghbouleh is one of 31 new or renewed Canada Research Chairs at U of T. Her tier two chair in migration, race and identity will allow her to further expand her scholarship on how racial identities traffic across borders and categories.
The Canada Research Chair Program was established in 2000 to fund outstanding researchers in this country. It provides approximately $295 million annually to universities to help retain and attract top minds, spur innovation and foster training excellence in Canadian post-secondary institutions.
"Congratulations to the University of Toronto's new and renewed Canada Research Chairs," says University Professor Ted Sargent, U of T's vice-president, research and innovation, and strategic initiatives. "This investment will further strengthen and build on the exceptional research environment at U of T.
"The Canada Research Chairs Program enables our nation's researchers to make ground-breaking discoveries, create new knowledge and attract talent that ultimately benefits all Canadians."
Maghbouleh is among those emerging researchers who are making their mark. Her 2017 award-winning book The Limits of Whiteness: Iranian Americans and the Everyday Politics of Race explored the culture and identity of Iranian Americans as well as the discrimination they face. It has been adopted in courses at over 30 universities in North America and the U.K.
Since she became a faculty member at U of T Mississauga in 2015, Maghbouleh's research has received consistent funding from the Social Sciences and Humanities Research Council of Canada (SSHRC), including a major Insight Grant for the project "Settlement, Integration, & Stress: A 5-Year Longitudinal Study of Syrian Newcomer Mothers & Teens in the GTA." She recently presented early findings from the project to the research and evaluation branch of Immigration, Refugees and Citizenship Canada.
Maghbouleh says the research chair will help fuel her ambitious research program and further communicate her findings.
"The CRC will turbo-charge my work," she says. "And most excitingly, it solidifies the status of UTM, U of T and the Greater Toronto Area as a premier North American hub for research on migration and race."
Kent Moore, U of T Mississauga's vice-principal, research, said he was thrilled with the campus's success in securing three Canada Research Chair designations. In addition to Maghbouleh, they include Sonia Kang in the department of management, who is a newly named tier two chair in identity, diversity, and inclusion, and Iva Zovkic in the department of psychology, who is a tier two chair in behavioural epigenetics.
"This recognition exemplifies the innovative work being undertaken by our researchers," says Moore.
"With the impressive and exceptional breadth of work Professors Kang, Maghbouleh and Zovkic are doing, they continue to forge new ground in many areas of research and elevate UTM to a higher level of excellence. This support and validation of their work by the Canada Research Chair program demonstrates the outstanding caliber of their scholarly leadership."
---
Here are the new and renewed Canada Research Chairs at U of T:
New Canada Research Chairs
Jeffrey Ansloos, in the Ontario Institute for Studies in Education, tier two in critical studies in Indigenous health and social action on suicide
Isabelle Aubert, in the department of laboratory medicine and pathobiology in the Faculty of Medicine and Sunnybrook Health Sciences Centre, tier one in brain repair and regeneration
Gisele Azimi, in the department of chemical engineering and applied chemistry in the Faculty of Applied Science & Engineering, tier two in urban mining innovations
Hilary Brown, in the Interdisciplinary Centre for Health & Society at U of T Scarborough, tier two in disability and reproductive health
Ann Burchell, in the department of family and community medicine in the Faculty of Medicine and Unity Health Toronto, tier two in sexually transmitted infection prevention
Arthur Chan, in the department of chemical engineering and applied chemistry in the Faculty of Applied Science & Engineering, tier two in atmospheric chemistry and health
Maria Drout, in the David A. Dunlap department of astronomy and astrophysics in the Faculty of Arts & Science, tier two in time-domain and multi-messenger astrophysics
Katherine Duncan, in the department of psychology in the Faculty of Arts & Science, tier two memory modulation
Benjamin Haibe-Kains, in the department of medical biophysics in the Faculty of Medicine and University Health Network, tier two in computational pharmacogenomics
Björn Herrmann, in the department of psychology in the Faculty of Arts & Science and Baycrest Centre, tier two in auditory aging
Sonia Kang, in the department of management at U of T Mississauga, tier two in identity, diversity, and inclusion
Neda Maghbouleh, in the department of sociology at U of T Mississauga, tier two in migration, race, and identity
Maryam Mehri Dehnavi, in the department of computer science in the Faculty of Arts & Science, tier two in parallel and distributed computing
Sharmistha Mishra, in the department of medicine in the Faculty of Medicine and Unity Health Toronto, tier two in mathematical modeling and program science
Michelle Murphy, in the department of history in the Faculty of Arts & Science, tier one in science and technology studies and environmental data justice
Catherine O'Brien, in the department of surgery in the Faculty of Medicine and University Health Network, tier two in translational research in colorectal cancer
Myrna Simpson, in the department of physical and environmental sciences at U of T Scarborough, tier one in integrative molecular biogeochemistry
Janet Smylie, at the Dalla Lana School of Public Health and Unity Health Toronto, tier one in advancing generative health services for Indigenous populations in Canada
Darrell Tan, in the department of medicine in the Faculty of Medicine and Unity Health Toronto, tier two in HIV prevention and STI research
Paaladinesh Thavendiranathan, in the department of medicine in the Faculty of Medicine and University Health Network, tier two in cardiooncology
Teresa To, at the Dalla Lana School of Public Health and the Hospital for Sick Children, tier one in asthma
Kimberley Widger, in the Lawrence S. Bloomberg Faculty of Nursing, tier two in pediatric palliative care
Andrei Yudin, in the department of chemistry in the Faculty of Arts & Science, tier one in medicine by design
Iva Zovkic, in the department of psychology at U of T Mississauga, tier two behavioural epigenetics
Renewals of Canada Research Chairs
Morgan Barense, in the department of psychology in the Faculty of Arts & Science, tier two in cognitive neuroscience
Anver Emon, in the Faculty of Law, tier two in Islamic law and history
Larissa Katz, in the Faculty of Law, tier two in private law theory
Julie Lefebvre, in the department of molecular genetics in the Faculty of Medicine and the Hospital for Sick Children, tier two in developmental neural circuity
Matthew Roorda, in the department of civil and mineral engineering in the Faculty of Applied Science & Engineering, tier two in freight transportation and logistics
Leonardo Salmena, in the department of pharmacology and toxicology in the Faculty of Medicine, tier two in signal transduction and gene regulation in cancer
Aristotle Voineskos, in the department of psychiatry in the Faculty of Medicine and the Centre for Addiction and Mental Health, tier two in neuroimaging of schizophrenia
UTC/UTM