'A culture of discovery': U of T Entrepreneurship Week spotlights innovation and inclusion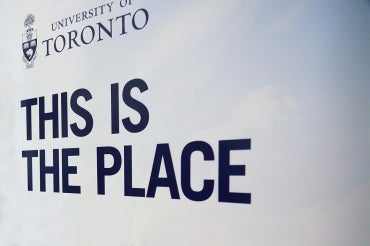 From showcasing startups and highlighting the achievements of women in business to fostering discussions on mental health, organizers of Entrepreneurship Week managed to pack a wide array events into this year's virtual calendar.
The fifth-annual celebration of U of T's vast entrepreneurship ecosystem, which wrapped up late last week, featured several Entrepreneurship Week mainstays, including: the RBC Prize for Innovation and Entrepreneurship pitch competition, offering $50,000 in prizes; the RBC Speaker Series, featuring biologist-entrepreneur Derrick Rossi, who co-founded biotechnology firm Moderna and laid the scientific groundwork for the company's COVID-19 vaccine; and the True Blue Expo, which featured virtual booths from dozens of startups, U of T's campus-linked accelerators, NGOs and government programs.
But there were also several additions to this year's roster: the Scale-up Showcase, highlighting the stories of 10 of U of T's fastest-growing companies; "Celebrating Leaders, Black Women in Business," a panel discussion exploring the experiences of three Black women in the business world; and a session on mental health awareness for entrepreneurs.
In many cases, the events took advantage of the online format to offer interactive elements to increase engagement, drawing attendees from around the world.
"This year's festival is unprecedented for obvious reasons, as we're coming together virtually to recognize and celebrate innovation across the U of T ecosystem," U of T President Meric Gertler said in remarks delivered before RBC Speaker Series. "And yet, as we've seen all week, notwithstanding these challenges, entrepreneurship activity is at an all-time high in spite of – or perhaps, because of – the pandemic.
"Many of U of T's brightest innovators are building solutions that respond to the health and economic challenges posed by COVID-19."
President Gertler also noted that this year marks the 100th anniversary of the discovery of insulin at U of T: "From this illustrious beginning, U of T together with our hospital and industry partners has created a culture of discovery, innovation and collaboration that has helped transform industries from health care to finance, to computing and much more."
ALT TEX is one example of a U of T startup that's eager to shake up the status quo.
The company, co-founded by U of T Mississauga alumna Avneet Ghotra, is seeking to transform the fashion industry by replacing polluting polyester with a biodegradable fibre made from converted food waste – an endeavour that earned the company the $25,000 top prize in the late-stage category of the RBC Prize for Innovation and Entrepreneurship. Ghotra not only impressed the panel of judges with her pitch, but also captured the imagination of the audience, which awarded ALT TEX the $4,000 Dongjun Wang Family True Blue Prize – a people's choice award voted on by attendees.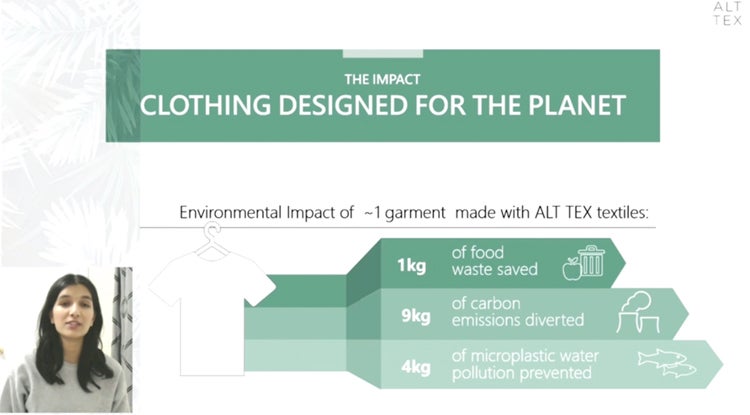 Avneet Ghotra, an alumna of U of T Mississauga, delivers a pitch on behalf of ALT TEX, a sustainable fibres startup. 
The $10,000 second-place prize in the RBC competition's late-stage category was awarded to Revolve Surgical, whose novel platform reduces the size, cost and training time associated with surgical robots.
In the early-stage category, meanwhile, the top prize went to NerveX Neurotechnologies, which won $10,000 for a medical implant that can control the nervous system to treat canine epilepsy. The $5,000 second-place prize was awarded to Elaya, which is developing a medical device that can deliver neuromuscular electrical stimulation to treat patients with ICU-acquired weakness.
Fyyne, a startup that helps hair artists connect with customers and run their business more efficiently, took home the people's choice award in the early-stage category.
One of the most highly anticipated events at Entrepreneurship Week this year was the RBC Speaker Series, featuring Rossi as its keynote speaker. Rossi is a U of T alumnus, former Harvard Medical School professor and serial entrepreneur who co-founded several biotechnology firms including COVID-19 vaccine-maker Moderna.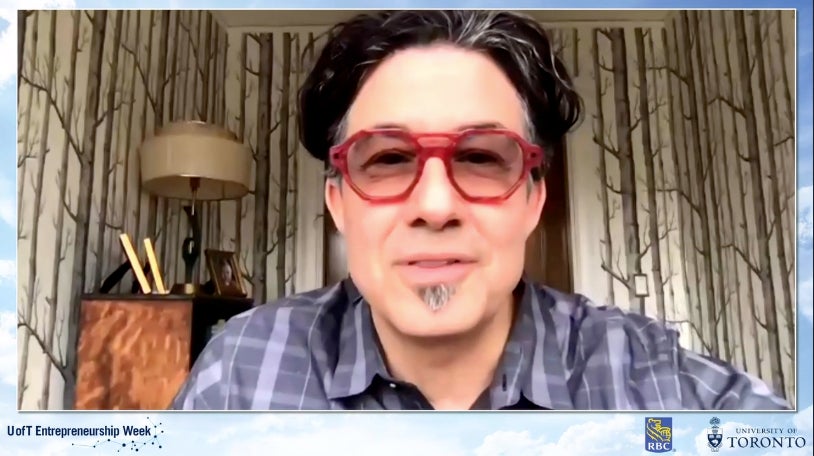 Derrick Rossi, a U of T alumnus and co-founder of COVID-19 vaccine-maker Moderna, was the keynote speaker during the RBC Speaker Series event.
In a conversation moderated by BNN Bloomberg anchor Amber Kanwar, Rossi outlined his journey as a biologist-entrepreneur, the science behind Moderna's modified RNA technology and COVID-19 vaccine, the growth of the biotech industry and his thoughts on what the future holds for stem cell therapy and vaccine development.
He revealed that Moderna had big ambitions from the get-go, even if they revolved around applying mRNA therapeutics towards genetic diseases rather than a pandemic. After running in "stealth mode" for the first four years, Moderna filed for intellectual property rights that "imagined tackling anything and everything with mRNA therapeutics."
"That was the type of ambition we had at Moderna," Rossi said. "So, it doesn't actually shock me to see that it went on to this type of bent. I always believed in mRNA therapeutics. Did I believe that the first application would be a global pandemic? No."
Following the conversation, Rossi took questions from several U of T entrepreneurs. Seray Çiçek, co-founder and CEO of LSK Technologies – which won the top early-stage prize at last year's RBC pitch competition – asked what it would take to be able to develop therapeutics and vaccines in advance of virus outbreaks, rather than retroactively.
"I think to really pre-empt every possible virus ... that's probably a challenge that nobody's going to pay for, and that's the problem," Rossi said. "Rather, I would say that if we continue to push the technology envelope such that we have technologies that can really turn on a dime to address challenges quickly, I think that's our best hope."
Rossi noted that as novel technologies like mRNA-based vaccines continue to develop, the time needed to create future vaccines will shrink. He cited the flu vaccine as an example. "We don't run vaccine trials for the influenza vaccine every year – we've done it so much, we're so comfortable with the safety profile [that] you get your influenza vaccine every year without a clinical trial," he said. "I think that that will eventually happen with these types of technologies."
Following Rossi's talk, it was on to the Scaleup Showcase and further inspiration and insights – this time, from the entrepreneurs behind 10 of U of T's fastest-growing startups. Speakers included Nuha Siddiqui of plant-powered plastics startup Erthos (formerly Ecopackers); Helen Kontozopoulos of ODAIA, which developed an AI-powered customer analytics platform; and Albert Tai of Hypercare, a communication app for health-care professionals that has helped streamline care for COVID-19 patients.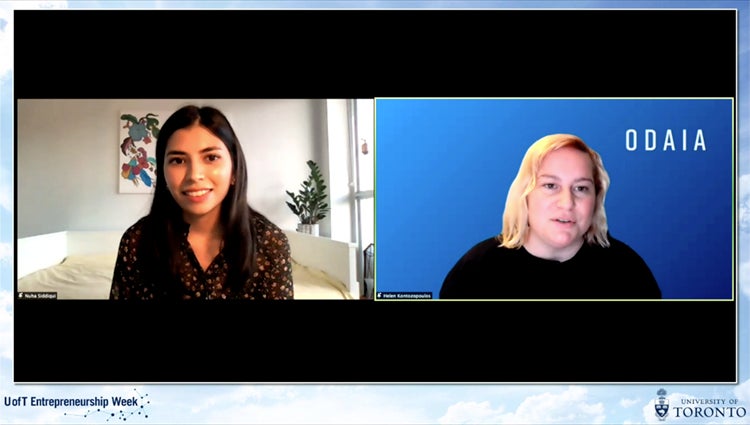 Nuha Siddiqui, a co-founder of plant-powered plastics startup Erthos (formerly Ecopackers), and Helen Kontozopoulos of ODAIA, which developed an AI-powered customer analytics platform, particpated in the Scaleup Showcase, which featured 10 of U of T's fastest-growing startups.
Earlier in the four-day celebration, there were a series of sessions that celebrated women innovators, fostered discussions on gender biases and challenges facing women of colour and shared ways to make the entrepreneurship world more inclusive and equitable.
The women-focused events included Pitch with a Twist, a competition hosted by U of T Mississauga's ICUBE accelerator that saw 10 women-led startups compete for $10,000 in cash prizes and $10,000 in in-kind legal services from law firm Cassels. The top prize in the late-stage category went to Joella Almeida of MedEssist, which created a platform to help pharmacies manage COVID-19 vaccination, testing and screening as well as regular tasks like managing prescriptions and patient records.
The prize kicked off an eventful week for MedEssist. On Thursday, the Ontario Pharmacists Association announced that it reached a partnership agreement with the startup to deploy its platform to manage pharmacies' COVID-19 vaccination drives. MedEssist's tool was previously used to help pharmacies across Canada manage their 2020 flu vaccination campaigns, the association said in a press release.
The top prize for the early-stage category went to Mommy Monitor, a mobile app for maternal health support founded by Elsie Amoako.
The Hub, U of T Scarborough's startup incubator, hosted a panel discussion on Wednesday featuring three Black women who shared their journeys in the business world and offered advice to racialized women entrepreneurs.
The panel consisted of Naki Osutei, associate vice-president, social impact at TD; Fennella Bruce, a media consultant at FKB Media Solutions; and Daphne Magna, a management consultant at Professional Passport and founder of Tough Convos, a network devoted to conversations around equity, diversity and inclusion.  
Among the questions posed to the panel: What advice would you give to budding entrepreneurs?
"In my younger days, I thought a lot about failure. I thought, 'What if I try this and it doesn't work? What if I try this and I lose money? What if I try this and it fails?'" Osutei said. "And now, with more of an abundant mindset, I say 'I'm going to try this and I'm going to learn something.'
"We have to tell our younger folks: 'If you are passionate about something and you have the capacity for it, but you don't see anybody there – it might be you that people need to see. It might be you that people need to see so they can dream bigger."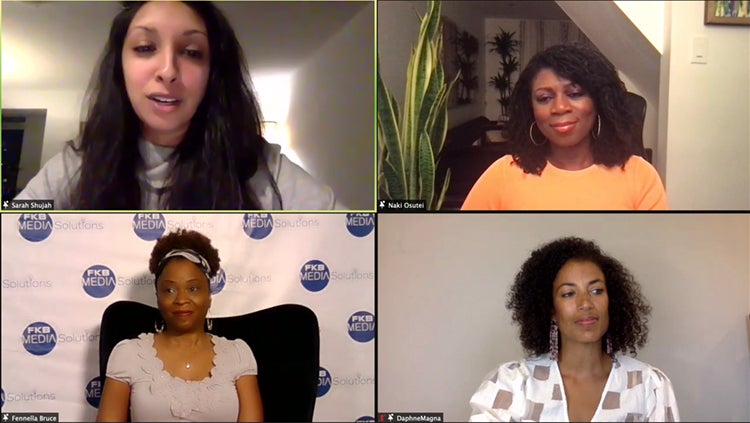 (Clockwise from top left) Sarah Shujah, Naki Osutei, Daphne Magna and Fennella Bruce participate in the Celebrating Leaders, Black Women in Business panel, organized by U of T Scarborough's The Hub accelerator. 
Soror Sharifpoor, director, strategy and translation at the Ted Rogers Centre for Heart Research, echoed the message during her remarks at Fireside at FemSTEM, a conversation series hosted by the Health Innovation Hub (H2i) accelerator.
"I feel like while it's important to do risk management, do your due diligence and think through before you make a decision, it shouldn't get to a point where it paralyzes and debilitates you from moving forward," Sharifpoor said.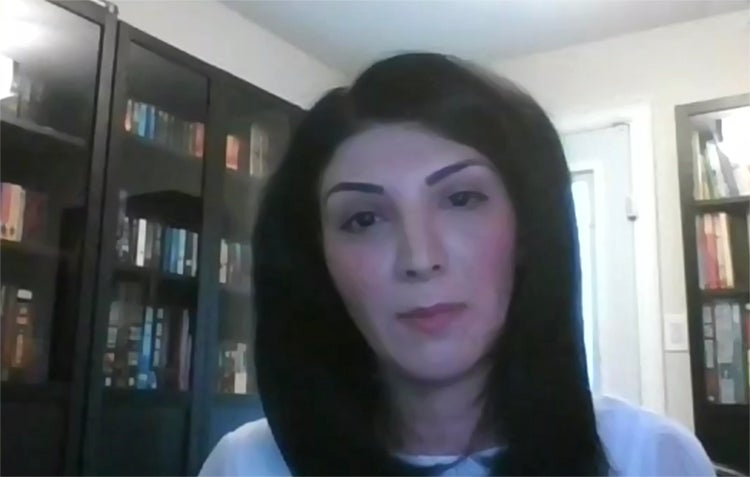 Soror Sharifpoor, director, strategy and translation at the Ted Rogers Centre for Heart Research, offered several pieces of advice on navigating gender bias in the STEM and business worlds during the Fireside at FemSTEM event.
Sharifpoor also offered several pieces of advice on navigating gender bias in the STEM and business worlds – one of which was to caution women not to internalize biases inherent in society.
"Careers and paths have become more diverse, inclusive and equitable, so we're improving," she said. "But until we live in this perfect world where there are no biases, I think there are things that we can do ourselves to help us move forward when we face either obstacles or failures.
"One of the key first things to acknowledge is that as women, we have certain unconscious biases ourselves with regards to our own capabilities – and the last thing we want to do is inadvertently feed into or adopt the biases in our society.
"These biases can really define the boundaries that we're willing to push ourselves past – and I think we have to make a conscious effort to push the boundaries as much as we can."
The next big event on U of T Entrepreneurship's calendar is the annual Collision conference, which will run virtually from April 20 to 22. An estimated 40,000 people are expected to attend the conference and speakers will include U of T's Geoffrey Hinton and alumnus Allen Lau.
UTC