'A community of care': First Nations House celebrates Indigenous grads at U of T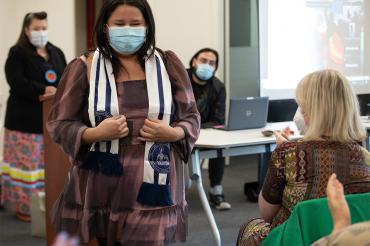 Angelique Belcourt and Kristine Keon recently took the stage at a graduation event, held at First Nations House, that celebrated Indigenous students who completed their studies at the University of Toronto.
Tears of joy flowed almost immediately.
"We've gone through a lot together," said Belcourt, who will receive her master's degree in adult education and community development from U of T's Ontario Institute for Studies in Education (OISE) next month.
The pair, who have known each other for eight years, met during their undergraduate years at the University of Guelph, but parted ways shortly thereafter. They reconnected when they both came to U of T to do their master's degrees.
"We did quite different things for our graduate degrees, but what kept us together is doing really fun things with First Nations House," said Keon, who is graduating with a master's in medical biophysics from U of T's Temerty of Faculty of Medicine on June 2.
"Going to workshops, seeing each other on Zoom – and getting very excited that we're both on there."
Belcourt and Keon were among 13 students who attended the celebration at First Nations House earlier this month. The hybrid event marked the first time in two years that First Nations House was able to celebrate Indigenous grads in person. Graduates from the Class of 2020 and 2021 – when First Nations House hosted virtual-only celebrations due to pandemic restrictions – were also invited to take part.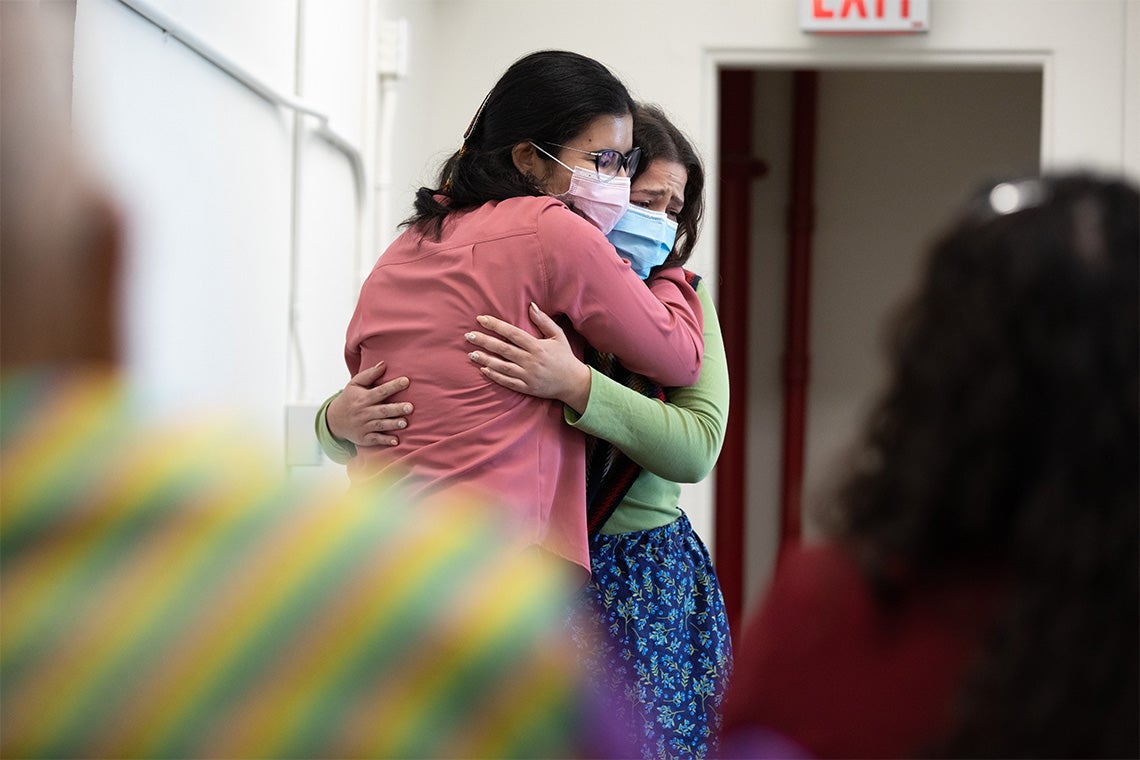 Friends Kristine Keon and Angelique Belcourt embrace during the Indigenous graduation celebration at First Nations House (photo by Johnny Guatto)
"First Nations House Indigenous Student Services has been hosting Indigenous graduate ceremony for years because it is important to give Indigenous graduates a space to celebrate their own hard work and accomplishments, as well as supporting their Indigenous peers and colleagues," said Jenny Blackbird, Indigenous Student Life co-ordinator and co-organizer of the event.
"It was wonderful to witness family, friends, faculty and staff celebrate in the new event space on the first floor."
Elder-in-Residence Andrew Wesley began the graduation celebration with a smudging ceremony. Heather Kelly, executive director of Student Life programs and services, and Michael White, director of First Nations House, welcomed the attendees with opening remarks.  
The students were gifted scarfs in U of T colours that were designed by Shane Kelsey of Neechi by Nature, an Indigenous fashion brand. White explained that the scarfs were inspired by the Two Row Wampum, which is one of the oldest treaty relationships between the people of Turtle Island and European immigrants.
"It's part of the concept of Indigenous law and it's something that's introduced to Indigenous students early on – to talk about how we do sovereignty in this country," said White, who graduated from University College in 2005 with a specialization in general anthropology and a minor in Indigenous studies. He attended the Indigenous graduation ceremony that year.
White added that he was excited to offer this year's celebration in-person.
"First Nations House is a place we can connect and even though people are graduating, they still have a place to belong and come back to," he said.
Michael White, director of First Nations House, speaks at the lectern while event organizer Jenny Blackbird, Indigenous Student Life co-ordinator, stands to his left (photo by Johnny Guatto)
Brittney Jaikaran, who graduated in 2021 with a master's degree in adult education and community development from OISE with a specialization in Indigenous health, said she felt like she found a home at First Nations House after being introduced to the space by a friend.
Half Indigenous and half Guyanese, Jaikaran immigrated to Canada from Guyana with her father. The move to a new country wasn't easy, she said.
"Like many Indigenous youth in Canada that I've worked with, you feel imposter syndrome," said Jaikaran, who works as an Indigenous academic adviser and provides career support services at U of T Scarborough. "They feel like they're not Indigenous enough; they don't know what Indigenous means."
While she's still working on reconnecting to her roots, Jaikaran said First Nations House played a pivotal role during her studies at U of T.
"It helped me feel more grounded in myself. It was a great place to vent, to cry, to find joy, to find Indigenous excellence," she said. "It's important to have spaces where you see Indigenous success. I learned all of that from this wonderful place."
Jaikaran also says she was guided by the late Lee Maracle, a celebrated writer, activist and mentor to students at U of T. "She really helped me on my journey," Jaikaran said.
She recalled asking Maracle: How can I be more Indigenous? How will I know if I'm Indigenous enough? "She looked at me straight in the face and said you're Indigenous enough. That brief sentiment stayed with me and everything I do." 
Caeley Genereux, who is graduating on June 10 with an honours bachelor of science degree from U of T Scarborough specializing in mental health and minoring in sociology, hopes to use her degree to provide consistent mental health support in Indigenous communities.  
Genereux, along with her siblings and other youth in their community – Sheshegwaning First Nation on Manitoulin Island – launched the Land First Youth Initiative. Genereux's older sister, who lives on the reserve, did a lot of the groundwork while Genereux and her brother were in Toronto. The programming focuses on cultural revitalization, traditional teachings and ceremonies, land-based learning and food sovereignty.
"We're now focusing on gardening Indigenous plants and medicine," Genereux explained. "We'll also be doing kayaking, canoeing, more teachings.
We want to look into art revitalization, our traditional ways of making paint and dyes."
The project recently received a $30,000 grant and Genereux is looking forward to expanding the programming this year.
"We need to get back to who we are and our traditional ways and honour all forms of health, and that will also help in mental health."
On top of her work with the Land First Youth Initiative, Genereux will help conduct research on Indigenous language revitalization this summer with Jed Meltzer, an associate professor in the Faculty of Arts & Science.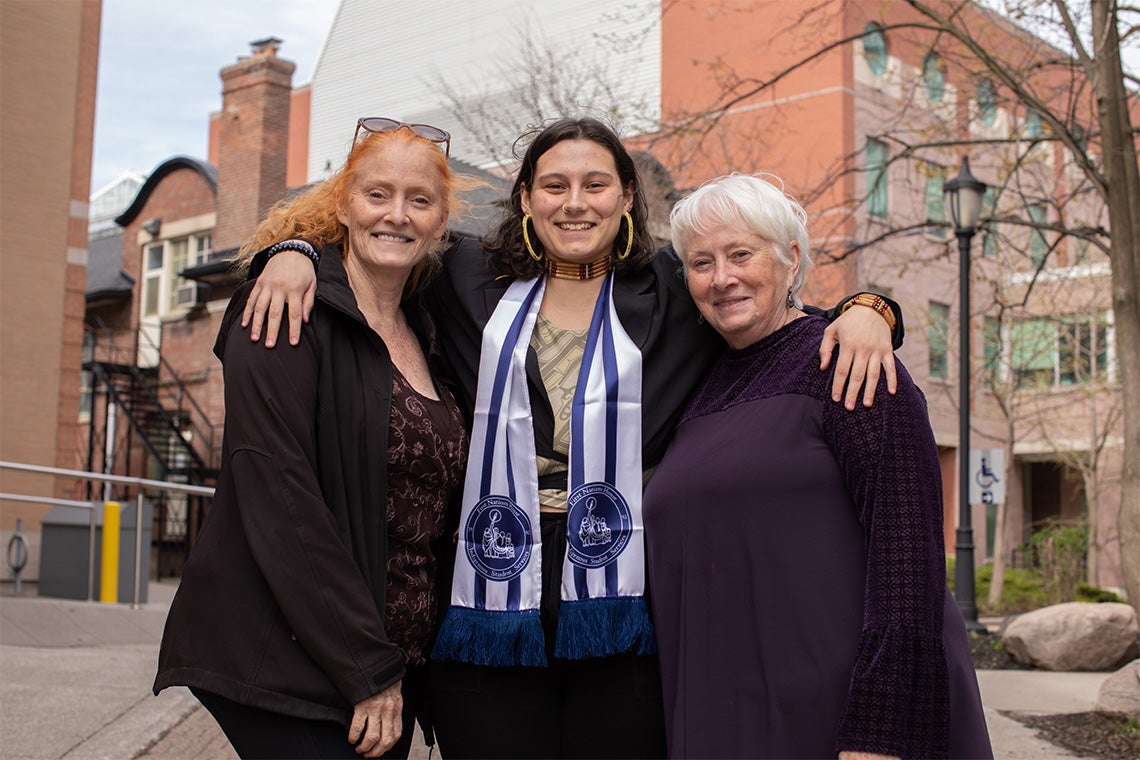 Caeley Genereux, who is graduating this year from U of T Scarborough, poses with her family (photo by Johnny Guatto)
Diane Hill, who graduated last year with a master's degree in social justice education from OISE, said she was happy to be able to celebrate her graduation in-person at First Nations House.
"It's nice to be here, to see other people and see what other people have accomplished during this time," she said.
Hill has been a long-time U of T student. She completed her undergrad at U of T Scarborough in 2019 and is now in her first year of the PhD program in the social justice education department at OISE.  
Growing up outside of London, Ont. as a member of the Oneida Nation of the Thames, Hill said she experienced education disparities firsthand.
"Education has always been a passion of mine. Not just education in a Western sense, but multiple kinds of educations – Indigenous education or cultural education," she said.
"Through colonialization we were forced to lose so much of our knowledge, so I think it's important to help create generative ways of restoring and regenerating knowledge."
As for Keon's post-graduation plans, she wants to continue her education and attend medical school. She isn't sure if she wants to become a family doctor or specialist, but she hopes to combine traditional Indigenous methods with Western medicine.
"I hope to become a physician and provide culturally-competent care to Indigenous patients should they wish to receive care in that manner, and to ensure that Indigenous people feel safe accessing health care," she said.
Belcourt, who is from the Georgian Bay Métis community, highlighted her research which focuses on Métis youth from her community and how they form their own identities. She said was proud to bring that work to First Nations House. 
"First Nations House is a place where any Indigenous student can feel welcome and at home regardless of where they're at in their journey," she said. "Kristine and I had some knowledge of our backgrounds, but this space really reinforces the cultural teachings, cultural values, and a sense of community.
"First Nations House was, for me, a safe space where I can be authentically Indigenous and however I see so fit, knowing that I have a community of care and my really great sister friend that I could see at events."
UTC