Writer, teacher, 'knowledge carrier': U of T joins country in remembering Lee Maracle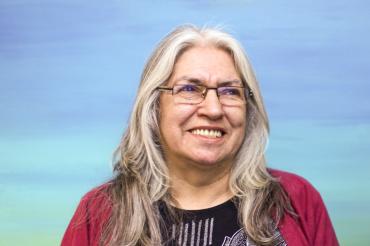 Lee Maracle, the celebrated writer, is being remembered by the University of Toronto as an inspirational instructor, adviser, activist and mentor to students – and as someone whose pen helped draw attention to the need for decolonization in Canada.
A member of the Stó:lō Nation, Maracle – who died Thursday at age 71 – was one of the first Indigenous fiction authors to be published in Canada in the mid-1970s. Known for her innovative, genre-defying style of storytelling that blends autobiography, poetry and fiction, she was named an Officer of the Order of Canada in 2018 for launching "a dialogue that has been instrumental in promoting social justice in Canada."
In a recent interview with CBC, Maracle reflected on her four-decade literary career and the impact of Indigenous writing on Canadian politics.
"Native writers generally have influenced Canadians to start building the bridge toward us and some of the new Canadian attitude is to make sure the street crosses both ways, instead of constantly pillaging Native lands and Native territory and not giving something back and seeing us as parasites," she said.
At U of T, Maracle was a member of the university's Elders Circle, a former traditional teacher-in-residence at Indigenous Student Services and a former instructor at U of T's Centre for Indigenous Studies and Transitional Year Programme. She advised the university's Truth and Reconciliation Steering Committee, which released its recommendations in early 2017. The same year she helped Indigenous studies students at the university organize the first pow wow at U of T in decades and was honoured with a Bonham Centre Award for her contributions to the public's understanding of sexual diversity in Canada.
Upon learning that Maracle had fallen ill, U of T's Indigenous community, supported by First Nations House, said it would burn a ceremonial fire in the writer's honour from sunrise to sunset on Thursday.
The university, meanwhile, is planning to lower its flags across the three campuses to half-mast on Nov. 15.
"Lee's words are among her greatest legacies, not only to the University of Toronto community, but also to this world," Kelly Hannah-Moffat, U of T's vice-president, people strategy, equity and culture, said in a statement Thursday. "Her words alternately prompt our conscience, open our imaginations, leave us breathless with their impact, and make us accountable to each other as human beings.
"On behalf of the University of Toronto, I extend my deepest sympathies to Lee's family, friends, and community, and hope that all of us will continue to listen to – and act upon – the words she has left us.
U of T President Meric Gertler was quoted in the statement saying the following: "Lee Maracle was a remarkable and much-loved member of our community. Her warmth and humour were infectious. Her achievements as an author and poet were justly celebrated. Her commitment to making the University of Toronto a more inclusive and welcoming place for Indigenous students, staff, faculty and librarians was unwavering. She leaves a lasting impact for the better, and her loss will be acutely felt. Our deepest sympathies go out to her loved ones and the many friends and colleagues affected by her passing."
Maracle was known on campus for being an approachable teacher who was keen to offer guidance.
"She was very much the grandmother, the auntie that a lot of us didn't have access to," said Jennifer Sylvester, a PhD student at the Ontario Institute for Studies in Education.
As an undergraduate student in Indigenous studies, Sylvester says Maracle's classes influenced the way she understood teaching and encouraged her to pursue a career in education.
Sylvester said Maracle tended to personalize her lectures, pulling from her experiences to bring her lessons to life.
"It was a very storytelling way of teaching and that really struck with me," Sylvester said. "She taught me how to be an effective professor or teacher – a knowledge carrier."
Maracle was born on July 2, 1950 in Vancouver, the daughter of a Métis mother and Salish father. She was also granddaughter to Chief Dan George of the Tsleil-Waututh Nation, a writer, musician and actor.
Maracle's first book, Bobbi Lee, Indian Rebel, was an autobiographical narrative exploring racism and sexism facing Indigenous women in Canada that was first published in 1975. In My Conversations with Canadians (2017), Maracle recalled how foreign the publishing world felt to her in her early years as a writer. "Book writing and publishing is definitely a Canadian cultural phenomenon," she said. "My editor told me I would have to 'tour the book.' 'And do what?' I asked. 'Read from it.' 'Do you really think that people who cannot read are going to buy a book?' I asked. 'No,' he answered, chuckling, 'they can all read.' 'Then they can read it their own damn selves,' I snipped."
After Bobbi Lee was re-released in the 1990s, Maracle said she gained an appreciation for its significance. "At the time, I didn't know what the book had done," she told the Globe and Mail in 1991. "Now I've met so many young people who had a tattered copy of it, and they read it and they say it inspired them. Not only to become writers, but to pursue education."
Maracle is the author of more than a dozen books, including I Am Woman: A Native Perspective on Sociology and Feminism, Ravensong and Celia's Song, which was a finalist for the 2020 Neustadt International Prize for Literature, which is nicknamed "the American Nobel."
Yet, despite her many accolades, Maracle told the Globe that awards weren't high on her list of priorities. "I don't know if I write for awards so much as for what I want changed," she said, in 2019.
Maracle's most recent book, Hope Matters, is a poetry collection that was released in 2019 and was written with her daughters Columpa Bobb and Tania Carter. "Hope frees, hope relieves; hope moves us," they wrote. "Artists move people from inspiration to action and direct hope toward a new reality that can be shared by everyone."
Fellow writers paid their respects to Maracle on social media Thursday.
Alicia Elliot tweeted that Maracle "bulldozed space for NDN women," while Tanya Talaga noted in a tweet that Maracle "spoke pure power" at the recent Margaret Laurence Lecture, an annual event commissioned by the Writers' Trust of Canada.
Anishinaabe writer and journalist Waubgeshig Rice described Maracle as a passionate advocate for Indigenous stories and voices. "Today there is a wave of revolutionary Indigenous literature because of the splash Lee Maracle created decades ago," he tweeted. "I am forever thankful for her writing, guidance, and friendship."
Similarily, Jesse Wente, an Ojibway journalist, activist and public speaker, called Maracle an inspiring leader and mentor. "She was always there for a reassuring word or wise correction and guidance," he wrote on Twitter. "I will miss you Lee. Chi miigwetch."
Shannon Simpson, U of T's director of Indigenous Initiatives, said Maracle will leave a lasting legacy at U of T and across Canada.
"Lee was a legend," Simpson said. "She inspired and supported so many in the U of T community and well beyond. My sadness runs deep but I am forever grateful for the decades we were able to work together and she will continue to inspire us to do better and continue the work that is ahead of us."
UTC