Canada a leader in student-founded startups: OECD working paper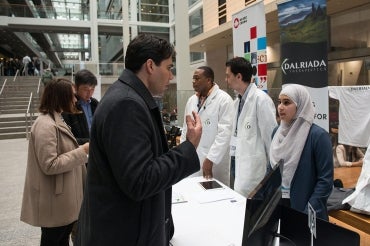 Students attending Canadian universities have emerged as world leaders when it comes to launching startup companies – a trend that bodes well for the future of the country's economy.
A recent working paper by the Organization for Economic Co-operation and Development suggests Canada leads other countries when it comes to "student entrepreneurship," ahead of Australia, India and even the United States.
The OECD report, based on data from Calif.-based startup database Crunchbase, defines a student entrepreneur as someone who has launched a company within four years since starting a bachelor of science degree. 
Though the report didn't break down the contribution of invididual Canadian institutions, the University of Toronto has played a major role when it comes to turning innovative ideas and inventions into research-based startups.
"Increasingly, many of our students want to create their own jobs of the future" said Derek Newton, U of T's assistant vice-president of innovation, partnerships and entrepreneurship. 
 
"So U of T, with the help of our partners, has built an expansive network of entrepreneurship support programs which are turning innovative ideas and research into successful companies."
That network now includes nine U of T incubators and accelerators spanning U of T's three campuses. Together, they've helped produce more than 150 companies over the past five years, generating more than $500 million in investment.
In the case of the Creative Destruction Lab at the Rotman School of Management, the seed-stage accelerator model developed at U of T proved so successful it's been adopted by other universities in Canada and the United States. 
U of T Entrepreneurship's efforts were recognized earlier this year when it was ranked among the world's top five university-managed business incubators by Stockholm-based UBI Global. It was the first time U of T participated in the ranking. 
The OECD report suggested Canada is launching startups with staying power. It ranked Canada fourth behind the U.S., Great Britain and India – but ahead of China, Germany and France – when it comes to the overall number of startups created between 2001 to 2016 that were still in operation as of 2016.
The goal of OECD working papers are to describe preliminary results or research in progress, while also stimulating discussion. In the case of this paper, the authors sought to analyze the differences between countries when it comes to driving innovative startup activity. 
"Recent OECD work has shown that new and young firms contribute disproportionately to job creation across OECD countries," the authors wrote. "Start-ups may also be more effective in exploiting new technologies and introducing radical innovations, which can help address some of the major policy challenges of our times."
UTC