Anna Kennedy succeeds Janet Ecker as chair of U of T's Governing Council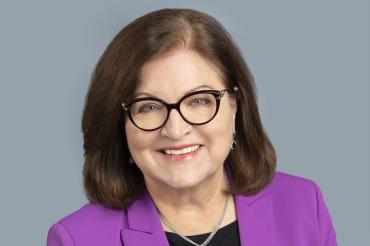 A leader in Toronto's real estate industry, Anna Kennedy says her four-decade career of organization-building has laid the foundation for her new role as chair of the University of Toronto's Governing Council.
From 2011 to 2022, Kennedy was chief financial officer and chief operating officer of KingSett Capital, one of Canada's leading real estate private equity firms. Prior to that, she enjoyed a 25-year tenure at Oxford Properties Group, progressing to the role of executive vice-president and chief financial officer.
She is board director and chair of the audit committee of the C.D. Howe Institute, a board member of Jona Capital and an advisory board member of the KingSett Canadian Real Estate Income Fund. This builds on her previous board experience at organizations such as Tricon Capital Group, REALPAC, Toronto CREW and Women's Habitat of Etobicoke and her executive leadership at the Canadian Diabetes Association.
Kennedy will draw on this experience as she prepares for her role overseeing governance at the university. "U of T is a huge contributor to the economic growth and development of the City of Toronto," Kennedy says. "It is personally very rewarding for me to be able to contribute to this city building through my work on the Governing Council."
Appointed to Governing Council in 2019, Kennedy began her term as chair of U of T's governance body on July 1. She takes over from Janet Ecker, with whom she served as vice-chair during the 2022-2023 academic year.
Sandra Hanington, former president of the Royal Canadian Mint who has previous experience in the financial services sector and co-founded a youth mental health charity, was elected to serve as vice-chair. She was first appointed to Governing Council in 2020.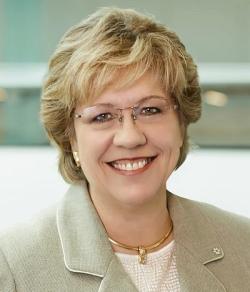 Ecker says it's been an honour to be part of an institution that "values the old and the new." She notes that her term coincided with the 50th anniversary of U of T's unicameral governance model – a model that ensures financial decisions support the university's academic mission and vice versa.
Ecker says she's confident that Kennedy and Hanington will continue U of T's track record of sound financial stewardship as Ontario universities face a challenging economic landscape.
"Despite the fact that U of T is in very strong financial shape, the challenges that are coming at the university sector are going to be significant," Ecker says.
"I think having Anna's business background and financial acumen – and Sandra's as well – is going to be very helpful in working … to make sure that U of T can continue to provide the incredible quality of education that is routinely recognized in international rankings."
Kennedy, for her part, says she's grateful to have worked alongside and learned from Ecker as she readies herself for serving as Chair of the Governing Council – a role that involves presiding over council and other meetings and providing executive oversight.
"It's a pleasure to contribute to an institution with such a strong culture of achieving excellence through collegiality and collaboration while focused on broad inclusive excellence, fairness and respect," she says.
"The university's success in its equity, diversity and inclusion initiatives is truly inspiring. Diversity of thought and opinions lead to richer discussions, stronger decisions and better outcomes."
Kennedy adds that she's impressed by U of T's "student-focused emphasis" on achieving excellence through innovative course delivery, experiential learning, mental health supports, robust financial aid and the ongoing support provided by the university's extensive network of alumni around the globe.
She also commends U of T President Meric Gertler's "exemplary" leadership of a 196-year-old institution – including his work shepherding U of T's Defy Gravity campaign, which she says will help ensure U of T can continue to invest in the student experience, leading research and other bold initiatives.
"It is an honour and a privilege to contribute to, and lead governance oversight, at the University of Toronto," she says. "It is a first-rate university focused on excellence in teaching, research, and innovation in partnership with so many leading international institutions, advancing the reputation of Toronto and Canada globally."
UTC