U of T highlights its contribution to prosperity in Ontario in submission to provincial panel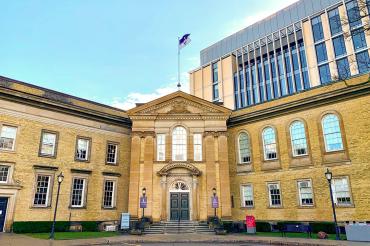 The University of Toronto – Canada's top-ranked university and an engine of prosperity and social mobility for Ontario – has told a provincial panel examining post-secondary education that U of T needs new financial tools to advance its academic and research missions.
The assessment is part of the university's submission to Ontario's blue ribbon panel on financial sustainability in the post-secondary sector.
"This review provides an opportunity to develop a principle-based approach to supporting universities and colleges in meeting the diverse needs of Ontario's population, which is undergoing rapid demographic, social and economic changes," said U of T President Meric Gertler.
"Our submission to the panel emphasizes the need to recognize the autonomy of publicly assisted universities and their ability to drive social mobility and provide the best student experience possible."
The panel's review of the sector – the first in nearly 20 years – comes as Ontario lags the rest of the country in investment in higher education, with the lowest levels of funding per student among the provinces.
In U of T's case, the province currently provides approximately 20 per cent of the university's operating budget – a rate of funding on a per student basis that is among the lowest in Canada. 
U of T is proposing that provincial funding increase to a level comparable to that of other large provinces. It also proposes allowing institutions to set their own tuition fees to recognize university autonomy and enhance U of T's ability to respond to student demand for quality programs.
The submission states that the province should mandate that tuition fee increases be accompanied by higher student aid levels delivered by institutions, further expanding access.     
U of T's submission emphasizes that it leads Ontario in providing student financial assistance. In 2022-23, U of T allocated $320 million to financial aid – more than is required by the province's financial assistance program – in order to deliver on the university's long-standing commitment to access. The 1998 Policy on Student Financial Support states "no student offered admission to the University of Toronto should be unable to enter or complete the program due to lack of financial means."
Students and families recognize the value of a university degree and a U of T education, with applications for first-year programs growing three per cent in 2022, the submissions notes. U of T is the first-choice university for one in four applicants to university in Ontario and its graduates are among the world's most sought-after by employers, with a No. 11 global employability ranking.
Provincial policy, the submission argues, should ensure that Ontario responds to this student demand and equips institutions with the resources to produce enough talented graduates to drive tomorrow's economy.
While the panel is not reviewing provincial research funding levels, U of T's submission notes that university research is a major contributor to private-sector growth. For example, U of T has spun off more than 600 startups over the past decade, attracting more than $2.5 billion in investment, and is an anchor for attracting talent to support the growing artificial intelligence, advanced manufacturing and biomedical sectors. Other provinces provide higher support for university research, placing Ontario universities at a disadvantage when competing for projects.  
The submission also points to U of T's international strategy to expand its global reach, impact and learning opportunities as an example of the benefits international students bring to Ontario. U of T is pursuing geographic and socio-economic diversification and providing services to students including assistance with visa requirements – and the submission calls on government to take measures that meet student expectations and needs.
"The University of Toronto is committed to working with government partners to address the long-term sustainability of the sector," President Gertler said. "With strong provincial support, Ontario's post-secondary institutions can continue to play a critical role in growing the province's economic and social prosperity for decades to come."
The panel has received more than 60 submissions to date.
UTC