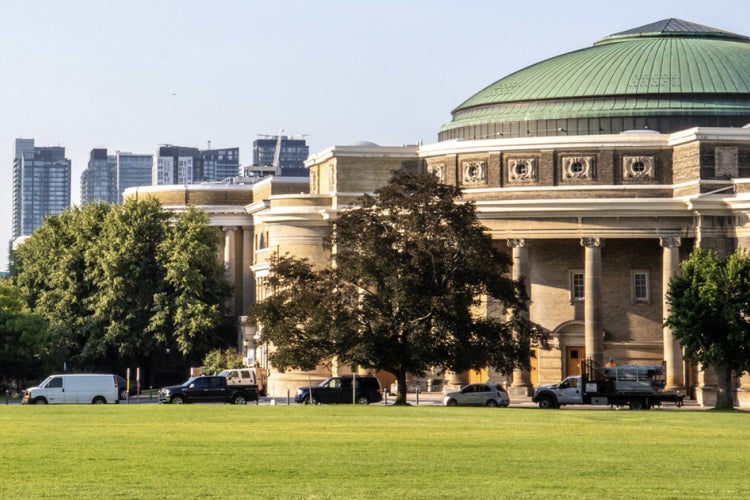 U of T faculty, staff, students recognized with 2023 Awards of Excellence
The University of Toronto has announced the winners of the 2023 Awards of Excellence, a prestigious program presented annually in collaboration with the University of Toronto Alumni Association to recognize outstanding faculty, librarians, staff and students.
"This year's Awards of Excellence showcase the incredible breadth and depth of excellence found across our three campuses. Our recipients stand out for their individual accomplishments, as well as their concern for others and their dedication to our collective success," President Meric Gertler said in his address to the winners.
"To all our award winners, let me say that you make us proud, and you set a wonderful example for all of us."
This year's winners are:
Faculty
Vivek Goel Faculty Citizenship Award
Joseph Desloges, professor, department of physical and environmental sciences, U of T Scarborough
Dickson Eyoh, associate professor, acting principal of New College, Faculty of Arts & Science
Ludwik and Estelle Jus Memorial Human Rights Prize – Influential Leader
Sophia Moreau, professor, Faculty of Law
Cheryl Suzack, associate professor, department of English, Faculty of Arts & Science
Carolyn Tuohy Impact on Public Policy Award
Ito Peng, professor, department of Sociology, Faculty of Arts & Science
Northrop Frye Faculty Award
Ariel Chan, professor, department of chemical engineering and applied chemistry, Faculty of Applied Science & Engineering
Northrop Frye Award (Team)
Curriculum Steering Committee, department of political science, Faculty of Arts & Science
Associate Professor Jonathan Craft, Associate Professor Dickson Eyoh, Professor Lilach Gilady, Professor Antoinette Handley, Associate Professor Ruth Marshall, Associate Professor Kanta Murali, Professor Robert C. Vipond, Professor Melissa Williams
Staff
Jill Matus Excellence in Student Services Award
Nalayini Balasubramaniam, Faculty of Music
Cristina Peter, Academic Success, Division of Student Life, St. George campus
Northrop Frye Award
Timothy Neufeldt, Faculty of Music
Chancellor's Leadership Award – Emerging Leader
Heather Hines, director of office, Office of the Vice-President & Principal, U of T Mississauga
Lachmi Singh, director, equity, diversity and inclusion, and director, education programs and administrative services, Leslie Dan Faculty of Pharmacy
Chancellor's Leadership Award – Distinguished Leader
Peter Hurley, chief administrative officer, department of physics, Faculty of Arts & Science
Chancellor's Leadership Award – Influential Leader
Ron Saporta, chief operating officer, Property Services & Sustainability, Operations & Real Estate Partnerships 
President's Excellence Award - Emerging Excellence
Gloria Zangari Cuneo, director, university family housing, University Operations & Real Estate Partnerships
Nader Boutros, director, human resources, U of T Mississauga
President's Excellence Award – Distinguished Excellence
Caroline Rabbat, director, high risk, faculty support and mental fealth, Faculty of Arts & Science, and director, Centre for Graduate Mentorship & Supervision
Anuar Rodrigues, executive director of strategy, Office of the Vice-President and Principal, U of T Mississauga
President's Excellence Award – Influential Excellence
Alex Brat, senior executive director, labour relations, People Strategy, Equity & Culture
Students
Joan E. Foley Quality of Student Experience Award
Yao Yan Huang, department of physical and environmental Sciences, U of T Scarborough
Adel S. Sedra Distinguished Graduate Award
Sara Ahmed, Institute of Biomedical Engineering, Faculty of Applied Science & Engineering and Temerty Faculty of Medicine
John H. Moss Scholarship
Fabiola Astrid Cruz Li, Victoria College, Faculty of Arts & Science
UTAA Graduate Scholars
Jad Sinno, Social and Behavioural Health Sciences, Dalla Lana School of Public Health
Andrea Bowra, Public Health Sciences, Dalla Lana School of Public Health
Lia Huo, Institute of Medical Sciences, Temerty Faculty of Medicine
UTAA Scholars
Andrea Caceres, Woodsworth College, Faculty of Arts & Science
Iakoiehwahtha Patton, Victoria College, Faculty of Arts and Science
Chan-Min Roh, Victoria College, Faculty of Arts & Science
Li Wan, Victoria College, Faculty of Arts & Science
UTC