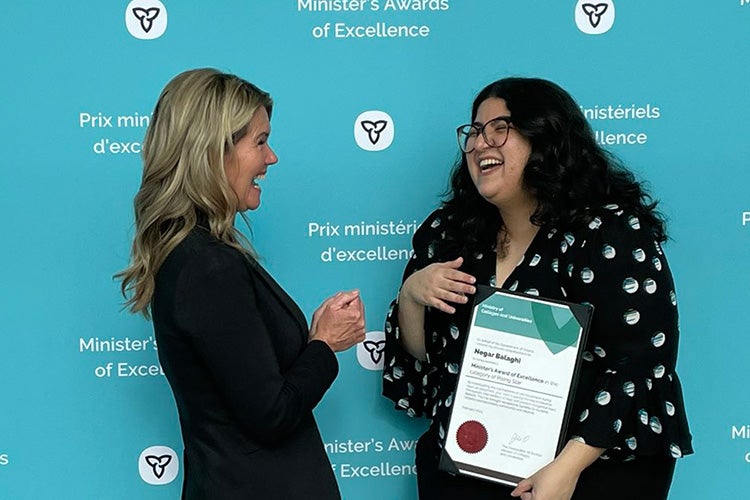 U of T community members recognized with Minister's Awards of Excellence
Professors, researchers and graduate students from the University of Toronto and its hospital partners have won multiple Minister's Awards of Excellence for the 2021-22 academic year, recognizing their significant contribution to postsecondary teaching and research in Ontario. 
The awards celebrate academic leaders and emerging researchers who are making a positive impact in the classroom, in research, and in expanding access to education. The Ministry of Colleges and Universities received 540 nominations from across Ontario in five categories. 
"Congratulations to all of the recipients from the University of Toronto who took home a Minister's Award of Excellence. The incredible achievements of the winners benefit Ontario's students and communities across the province," says Minister of Colleges and Universities Jill Dunlop. "They are not only carrying out ground-breaking research to advance new discoveries and preparing students with the skills that meet the demands of the job market, they are helping to promote new business opportunities across Ontario."   
Launched in 2020 to recognize postsecondary leaders who worked to address and mitigate the impact of the COVID-19 pandemic, the awards now showcase the impact of universities and colleges in five categories.
U of T was the only institution with winners in every category. They are: Negar Balaghi; Jennifer Bethel; Elaine Biddiss; Amanda Binns; Douglas Chung; Jonathan Hood; Anson Lau; Liat Margolis and Chelsea Rochman. 
"Our teaching and research community is inspiring students in the classroom, collaborating with community groups and industry, and solving on-the-ground problems. We are gratified that the minister of colleges and universities has recognized the dedication of our professors and emerging researchers and the contribution they make to Ontario," says Cheryl Regehr, U of T's vice-president and provost.
GRO