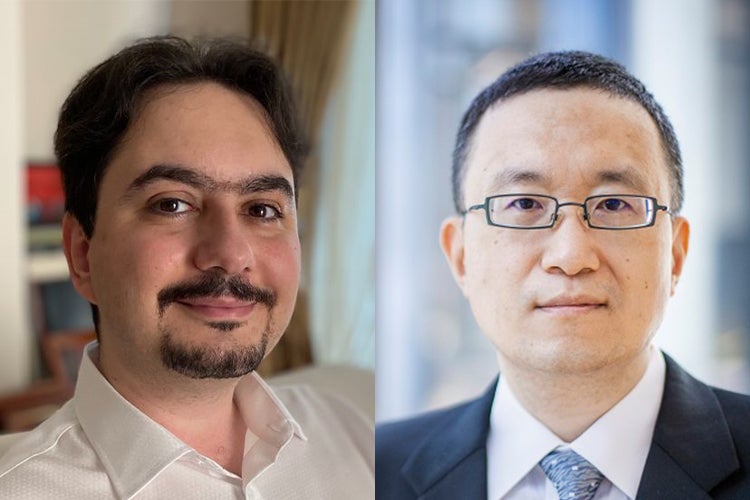 Murat Alp Çelik and Liyan Yang recognized by Bank of Canada
Two University of Toronto faculty members are being recognized with awards from the Bank of Canada for their research and expertise in areas important to the bank's core functions.
Liyan Yang, a professor of finance at the Rotman School of Management, has been honoured with the 2023 Bank of Canada Fellowship Award.
Yang, who holds the Peter L. Mitchelson/SIT Investment Associates Foundation Chair in Investment Strategy at the Rotman School, is an internationally acclaimed scholar with expertise in financial markets, institutions and behavioural finance. His research proposes a coherent framework – both theoretical and empirical – for understanding how investors interact in financial markets and their effect on regulatory policy and the overall welfare of the economy.
Murat Alp Çelik, assistant professor in the department of economics in the Faculty of Arts & Science, has been honoured with a 2023 Bank of Canada Governor's award.
Çelik's wide-ranging research interests include macroeconomics, economic growth, innovation, misallocation, inequality, firm dynamics, finance, mergers and acquisitions, and advertising.
"This award inspires me to work further on the design of optimal dynamic policies that can align private and social incentives in innovation, which can potentially deliver higher growth and welfare for Canadians as well as the rest of the world – while at the same time minimizing negative externalities such as carbon emissions and the impact on climate change," Çelik says.
Ettore Damiano, chair of the department of economics, says the award is an important and well-deserved  recognition. "Murat has established himself as a leading young scholar studying the importance of innovation and firm and industry dynamics on economic growth."
UTC