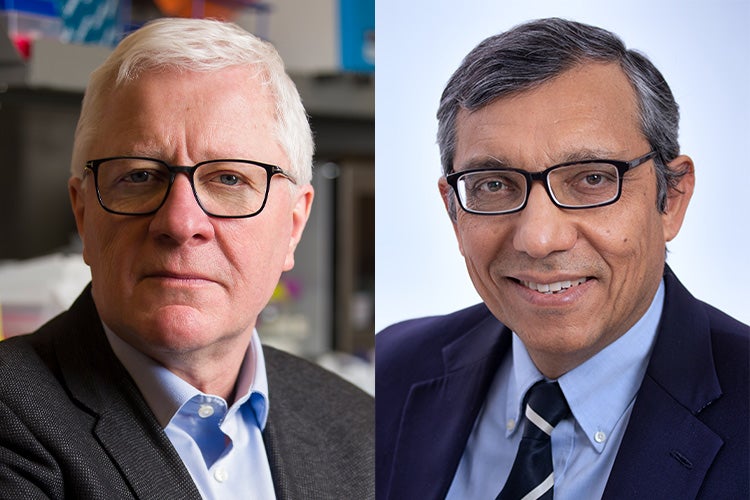 John Dick, Zulfiqar Bhutta receive 2022 Canada Gairdner Awards
John Dick and Zulfiqar Bhutta – both researchers at the University of Toronto and its hospital partners – have been honoured with 2022 Canada Gairdner Awards, the country's most prestigious awards for medical and health science.
A professor of molecular genetics at the Temerty Faculty of Medicine and a senior scientist at Princess Margaret Cancer Centre, University Health Network, Dick was recognized with a Gairdner International Award for the discovery of leukemic stem cells and later work on the diagnosis and treatment of acute myeloid leukemia.
Bhutta, a professor in the departments of nutritional sciences and pediatrics at Temerty Medicine and at the Dalla Lana School of Public Health, and the director of the Centre for Global Child Health and a senior scientist at The Hospital for Sick Children, was recognized with the John Dirks Canada Gairdner Global Health Award for his research on community-based and policy interventions in child and maternal health, especially among vulnerable populations.
Established in 1957, the Gairdner Foundation has given 402 awards to scientists around the world. About a quarter of those researchers later received Nobel Prizes. The foundation gives seven awards annually. Each recipient receives $100,000 and participates in public lectures, research symposia and other outreach events. The foundation is supported by the Government of Canada.
UTC