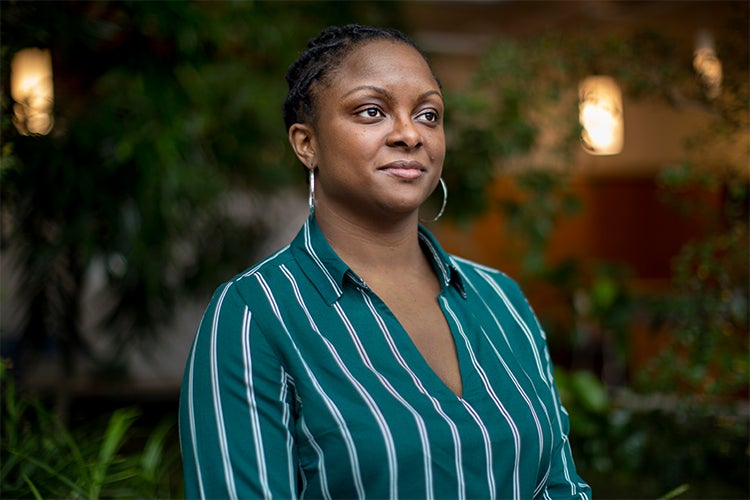 Jodie Glean-Mitchell, champion of anti-racism education, receives Harry Jerome Award
Jodie Glean-Mitchell, the director of U of T's Anti-Racism and Cultural Diversity Office (ARCDO), has received the 2020 Black Business Professional Association (BBPA) Harry Jerome Diversity Award for her outstanding and inspirational work in promoting equity, diversity and inclusion in education.
Among her many accomplishments, last year Glean-Mitchell and her team launched the inaugural Race, Equity & Action Speaker Series, which hosts local and international experts, academics and advocates to advance conversations and understandings of racial equity, diversity and inclusion in postsecondary environments. During the 2019-20 academic year, ARCDO hosted 40 education sessions reaching more than 1,400 participants, including U of T staff, students, faculty, librarians and external community members.
"Glean-Mitchell's experience and knowledge of the complexities of anti-racism and cultural diversity have allowed her to create meaningful and responsive initiatives," said Professor Kelly Hannah-Moffat, U of T's vice-president, human resources and equity. "Her efforts and commitment will continue to play an important role in fostering inclusiveness at the university and in helping us learn how to act on our commitment to anti-racism."
Established in 1983, the annual BBPA Harry Jerome Awards celebrate outstanding and inspirational individuals in the Black community, including businesspeople, professionals, athletes, academics, artists and community leaders. Award recipients are selected from among nominees across Canada.
UTC