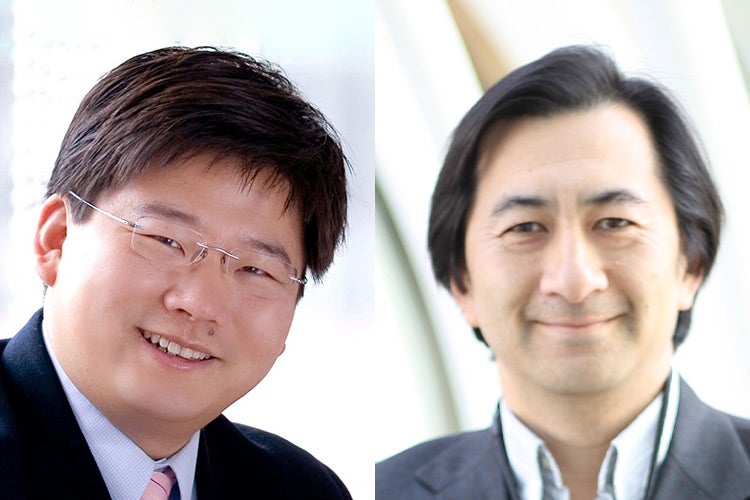 Frank Gu and David Wong receive NSERC's Brockhouse Prize
The University of Toronto's Frank Gu and David Wong are part of a research group that has been awarded the Brockhouse Prize for Interdisciplinary Research in Science and Engineering from the Natural Sciences and Engineering Research Council of Canada (NSERC).
The prize recognizes Canadian teams of researchers who combine their expertise to produce outstanding achievements in the natural sciences and engineering, and is accompanied by a team research grant of $250,000. The C20/20 Innovation Hub – led by scientific director Heather Sheardown, dean of the Faculty of Engineering at McMaster University – was recognized for leading the development of novel treatment methods for eye diseases like glaucoma, retinal neovascular disease and myopia. 
"To say that we are honoured would be an understatement. We are electrified, inspired and immensely grateful for this recognition," said Gu, a professor in the department of chemical engineering in the Faculty of Applied Science & Engineering whose research includes engineering nanomedicines to achieve long-lasting delivery of therapeutic agents used in eye drops to treat glaucoma.
Gu says the funding will enable his lab to deepen their understanding of nanostructured materials that can be customized for drug delivery applications. "The ultimate goal of my contribution to the team research is to lead to the development of novel therapeutics to delay or prevent irreversible blindness caused by glaucoma."  
Wong, ophthalmologist in chief at St. Michael's Hospital at Unity Health Toronto and associate professor in the department of ophthalmology and vision sciences in the Temerty Faculty of Medicine, said it was "a true honour" for the C20/20 Innovation Hub to be recognized by NSERC.
"I am very proud of our team led by Dr. Heather Sheardown," said Wong. "The interdisciplinary approach has been key to building useful ocular biomaterials. It is the art of the possible: a need defined by clinicians with engineers and scientists determining what is possible to make.
"The trans-pollination of information between our disciplines gives us solutions, but also raises new questions and destinies to discover. More collaboration and less silos will further benefit mankind – and the Brockhouse award will help foster this."
NSERC also recognized two U of T researchers with Arthur B. McDonald Fellowships – Associate Professor Karen Maxwell from Temerty's department of biochemistry, and Assistant Professor Chelsea Rochman from the department of ecology & evolutionary biology in the Faculty of Arts & Science.
UTC