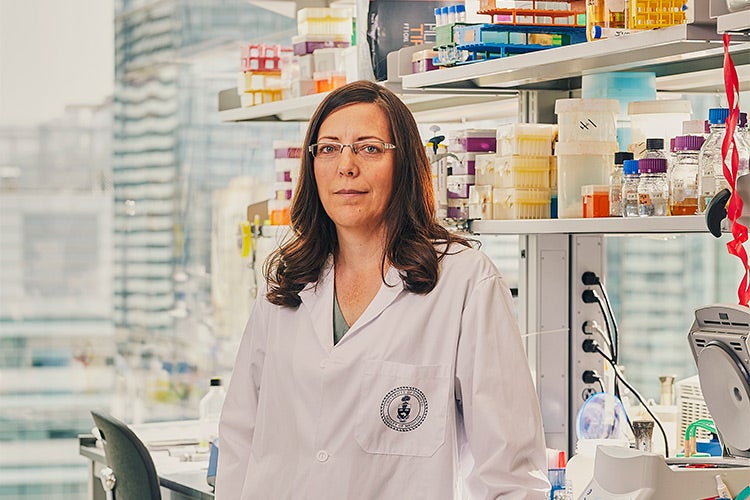 Karen Maxwell recognized with Arthur B. McDonald Fellowship
Karen Maxwell, an associate professor in the department of biochemistry in the Temerty Faculty of Medicine, is one of two University of Toronto researchers to receive the Arthur B. McDonald Fellowship awarded by the Natural Sciences & Engineering Research Council of Canada (NSERC).
The fellowship is awarded to outstanding early-stage researchers in the natural sciences and engineering in order to boost their research capacity and accelerate their path towards becoming leaders in their fields.
"I'm honoured to be named one of this year's Arthur B. McDonald Fellowship recipients," Maxwell said. "It's wonderful to have the outstanding work done by the members of my research group recognized by NSERC and to be provided with generous support to continue our investigations of the microbial world."
A world-renowned expert in phage biology, Maxwell's research explores the interplay between bacteria and phages, the viruses that infect and eliminate them. Her lab uses a multi-disciplinary approach drawing on phage biology, structural biology and bioinformatics – along with in-vitro and in-vivo studies – to contribute to the design of engineered phages to treat bacterial infections in humans, animals and plants.
"We are thrilled that Karen Maxwell has been recognized by this prestigious award," said Lea Harrington, chair of the department of biochemistry. "Karen is not only at the vanguard of research in this area, she is also a fantastic ambassador who actively participates in mentorship and outreach to increase the diversity of opportunities available to all aspiring and established scientists".
U of T's other McDonald Fellowship recipient was Assistant Professor Chelsea Rochman from the department of ecology & evolutionary biology in the Faculty of Arts & Science.
Additionally, two U of T researchers – Professor Frank Gu and Associate Professor David Wong – were recognized by NSERC with the Brockhouse Prize for Interdisciplinary Research in Science and Engineering.
UTC