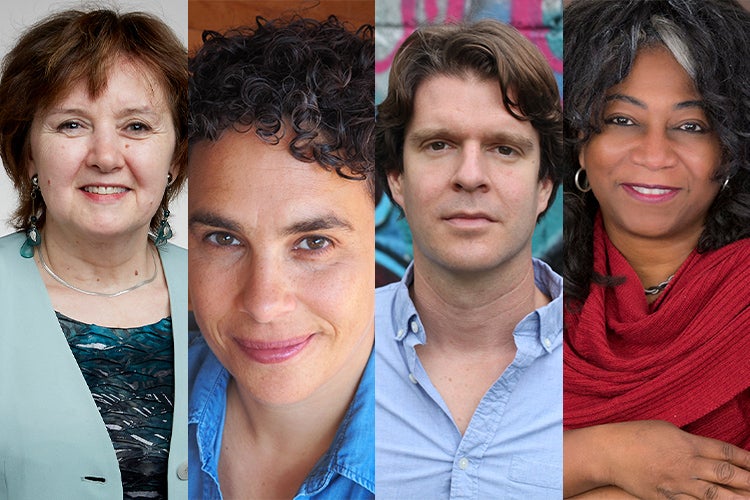 Four University of Toronto professors named 2021 Guggenheim Fellows
Four University of Toronto scholars – Kamari Clarke, Eugenia Kumacheva, Amira Mittermaier and Kevin Lewis O'Neill – have been awarded prestigious Guggenheim Fellowships.
The Faculty of Arts & Science researchers are among 184 artists, writers, scholars and scientists selected through a rigorous peer-review process from almost 3,000 applicants this year.
"Congratulations to Professors Clarke, Kumacheva, Mittermaier and O'Neill on this prestigious honour," said Melanie Woodin, dean of the Faculty of Arts & Science. "We are thrilled that four members of our faculty are receiving a Guggenheim Fellowship. This is an incredible career achievement for a scholar, and it will allow them each to continue their important work in their respective areas of focus."
The 2021 Guggenheim Fellows:
A distinguished professor at the Centre for Criminology & Sociolegal Studies and the Centre for Diaspora & Transnational Studies, Clarke conducts research on issues related to legal institutions, international legal domains, religious nationalism and the politics of globalization and race. Her books include Fictions of Justice: The International Criminal Court and the Challenge of Legal Pluralism in Sub-Saharan Africa.
A University Professor and a distinguished professor in the department of chemistry, Kumacheva is cross-appointed to the Institute of Biomedical Engineering. An expert in polymers and nanoparticles who is renowned for her microfluidics and polymer research, Kumacheva holds a Canada Research Chair in Advanced Polymer Materials and is a fellow of the Royal Society of Canada and an Officer of the Order of Canada.
A professor in the department for the study of religion and the department of anthropology, Mittermaier brings together textual analysis and ethnographic fieldwork with research that focuses on modern Islam in Egypt. She is the author of the books, Giving to God: Islamic Charity in Revolutionary Times and Dreams that Matter: Egyptian Landscapes of the Imagination.
A professor in the department for the study of religion, O'Neill is a cultural anthropologist and director of the Centre for Diaspora & Transnational Studies who works principally in Guatemala City. A member of the Royal Society of Canada, O'Neill is a pioneering scholar on the subject of clerical sexual abuse, particularly as it transcends borders. He explores "questions of religion and politics with a philosophical interest in matters of belonging in exclusion."
The John Simon Guggenheim Memorial Foundation has offered fellowships to artists, scholars and scientists in all fields annually since 1925.
Faculty of Arts & Science