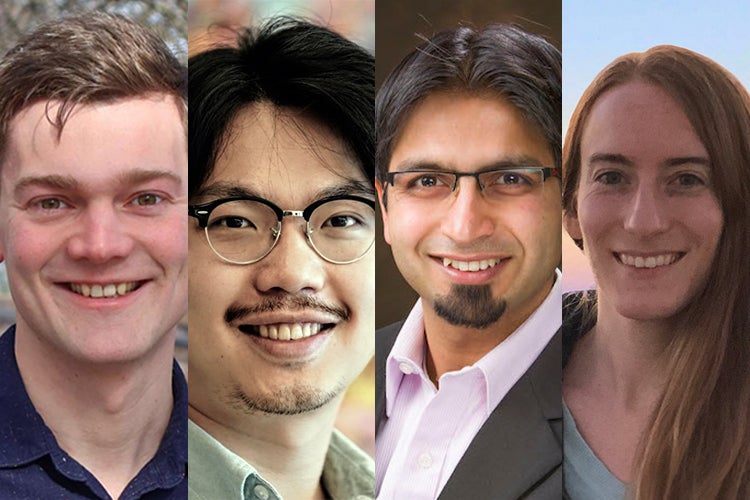 Four U of T researchers awarded Alfred P. Sloan Fellowships  
Jimmy Ba, Duncan Dauvergne, Maria Drout and Sushant Sachdeva have been named 2022 Alfred P. Sloan Research Fellows in recognition of their "creativity, innovation and research accomplishments" in the fields of computer science, mathematics and physics.
Ba is an assistant professor in the department of computer science in the University of Toronto's Faculty of Arts & Science and a member of the Vector Institute for Artificial Intelligence. He addresses some of the biggest challenges in training deep neural networks and his "significant contributions have advanced our field by making deep learning more efficient and reliable," says Professor Eyal de Lara, chair of the department.
Dauvergne, an assistant professor in the department of mathematics at U of T Mississauga, specializes in a broad class of problems that involve randomness and probability. He models phenomena such as the growth of crystals, the expansion of colonies of bacteria and the spread of wildfires. "The physics is interesting, and the mathematics becomes very rich," Dauvergne says.
Drout, an assistant professor in the David A. Dunlap department of astronomy and astrophysics and an associated faculty member at the Dunlap Institute for Astronomy and Astrophysics, is "one of Canadian astronomy's shining stars," says Professor Bryan Gaensler, director of the Dunlap Institute. Drout was awarded a fellowship in physics for her contribution to our understanding of the evolution, influence and fate of massive stars. 
An assistant professor in the department of mathematical and computational sciences at U of T Mississauga, Sachdeva is cross-appointed to the Faculty of Arts & Science's computer science department. "Sushant's breakthroughs on the problem of maximum flow have garnered much-deserved recognition in the field of theoretical computer science and opened the door to new applications and lines of inquiry," de Lara says. 
UTC