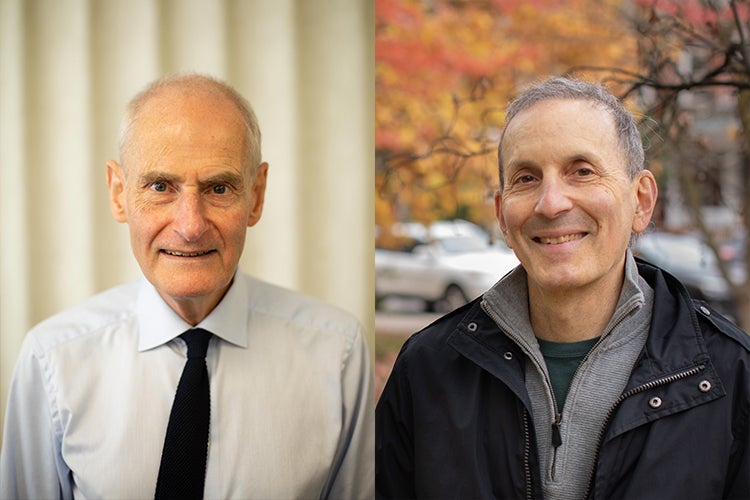 David Jenkins, Daniel Drucker named to Canadian Medical Hall of Fame
Daniel Drucker and David Jenkins of the department of medicine in the Temerty Faculty of Medicine will be inducted into the Canadian Medical Hall of Fame in 2022.
The prestigious honour recognizes individuals who are role models in the field of health sciences and whose leadership and contributions have led to improvements in human health in Canada or abroad.
Drucker, a physician who is also senior investigator at Sinai Health's Lunenfeld-Tanenbaum Research Institute, is recognized for his work revealing the potential for gut hormones to achieve dramatic clinical outcomes in the treatment of life-limiting and life-threatening metabolic and intestinal disorders.
Earlier this year, he received the 2021 Canada Gairdner International Award for research that has helped revolutionize treatments for type 2 diabetes, obesity and intestinal disorders.
University Professor Jenkins is director of the Clinical Nutrition and Risk Factor Modification Centre and scientist at the Li Ka Shing Knowledge Institute at St. Michael's Hospital and a 2021 Fellow of the Canadian Academy of Health Sciences. He is honoured for inventing the glycemic index to classify carbohydrates and their effects on blood glucose levels, associated with the incidence of diabetes, stroke, and cardiovascular disease mortality.
"I am beyond thrilled to see Dr. Drucker and Dr. Jenkins inducted into the Canadian Medical Hall of Fame," said Gillian Hawker, Sir John and Lady Eaton Professor and Chair of Medicine. "This honour reflects a tremendous lifetime achievement. The Department of Medicine congratulates them for this important recognition of their outstanding contributions to health in Canada and around the world."
UTC