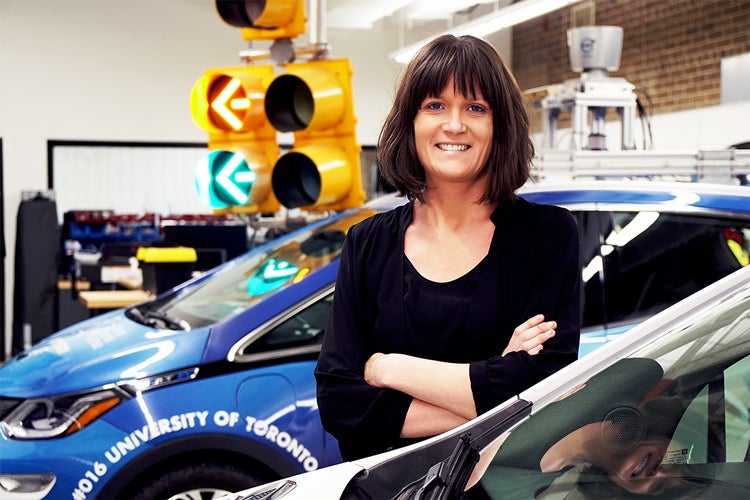 Angela Schoellig recognized with Arthur B. McDonald Fellowship
Professor Angela Schoellig of the University of Toronto Institute for Aerospace Studies (UTIAS) has earned an Arthur B. McDonald Fellowship from the Natural Sciences and Engineering Research Council (NSERC).
The award will further accelerate Schoellig's leading-edge research into autonomous robotics for a variety of applications, from environmental monitoring to visual inspection of construction sites.
"I'm very honoured to be named in this year's cohort of Arthur B. McDonald Fellowship recipients," says Schoellig. "It will of course enhance the important research we are doing in Canada, but I also hope it will help inspire the next generation, especially young women, to see what they can achieve with a career in STEM."
Previously known as the E.W.R. Steacie Memorial Fellowships, the Arthur B. McDonald Fellowships recognize early-stage academic researchers in the natural sciences and engineering and enhance their research capacity so that they can become leaders in their field.
Schoellig, who recently took up an Alexander von Humboldt Professorship at the Technical University of Munich, holds the Canada Research Chair in Machine Learning for Robotics and Control at U of T Engineering, as well as a Canada CIFAR Chair in Artificial Intelligence.
"Professor Schoellig's innovative work is at the leading edge of two fields – AI and robotics – that have tremendous potential to generate new technologies, solutions and businesses over the next couple of decades," says Christopher Yip, dean of U of T's Faculty of Applied Science & Engineering.
"It's wonderful to see her recognized on the national stage, as she engages and advances this research internationally. On behalf of the Faculty, I extend her enormous congratulations."
Engineering