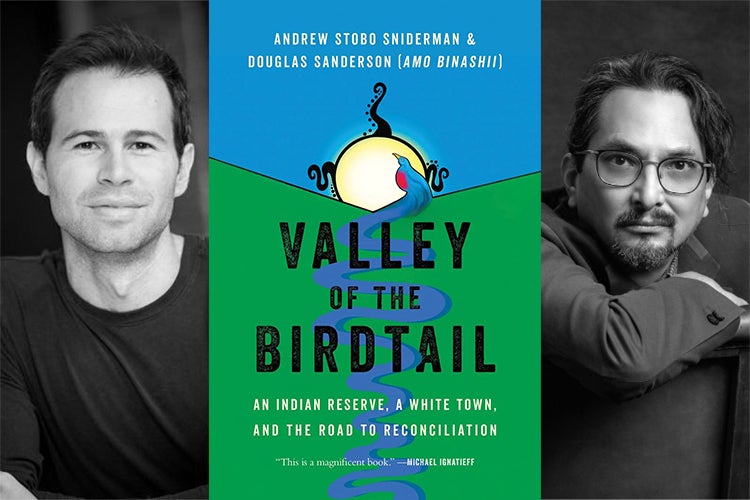 Andrew Stobo Sniderman and Douglas Sanderson (Amo Binashii) awarded J.W. Dafoe Book Prize
Writer Andrew Stobo Sniderman, a graduate of the University of Toronto JD program, and Douglas Sanderson (Amo Binashii), an associate professor and the Prichard Wilson Chair in Law & Public Policy at the Faculty of Law, have been awarded the 2023 J.W. Dafoe Book Prize for their co-authored 2022 book Valley of the Birdtail: An Indian Reserve, a White Town, and the Road to Reconciliation.
Established in 1984, the J.W. Dafoe Book Prize is awarded for excellence in non-fiction writing, with a focus on Canada, the West and Canada's place in the world. It is one of the largest prizes for non-fiction writing in Canada, and is administered by the J.W. Dafoe Foundation, which honours Western Canadian journalist and editor John Wesley Dafoe (1866-1944).
In Valley of the Birdtail, Stobo Sniderman and Sanderson – both U of T alumni – tell the story of two communities in Manitoba "divided by a valley, a river and 150 years of racism."
Jury chair Mary Agnes Welch, former president of the Canadian Association of Journalists, said the jury's decision was unanimous.
"Valley of the Birdtail is the most clear-eyed and compassionate book on the legacy of Indigenous inequality I've read. It's maddening in parts, wryly funny in other parts, and its vivid characters ... bring the complex national issue of white supremacy right down to John Dafoe's backyard," she said.
The writers will be recognized at an award ceremony later this year.
Law