"Knowledge resides in everybody": U of T expands, supports access programming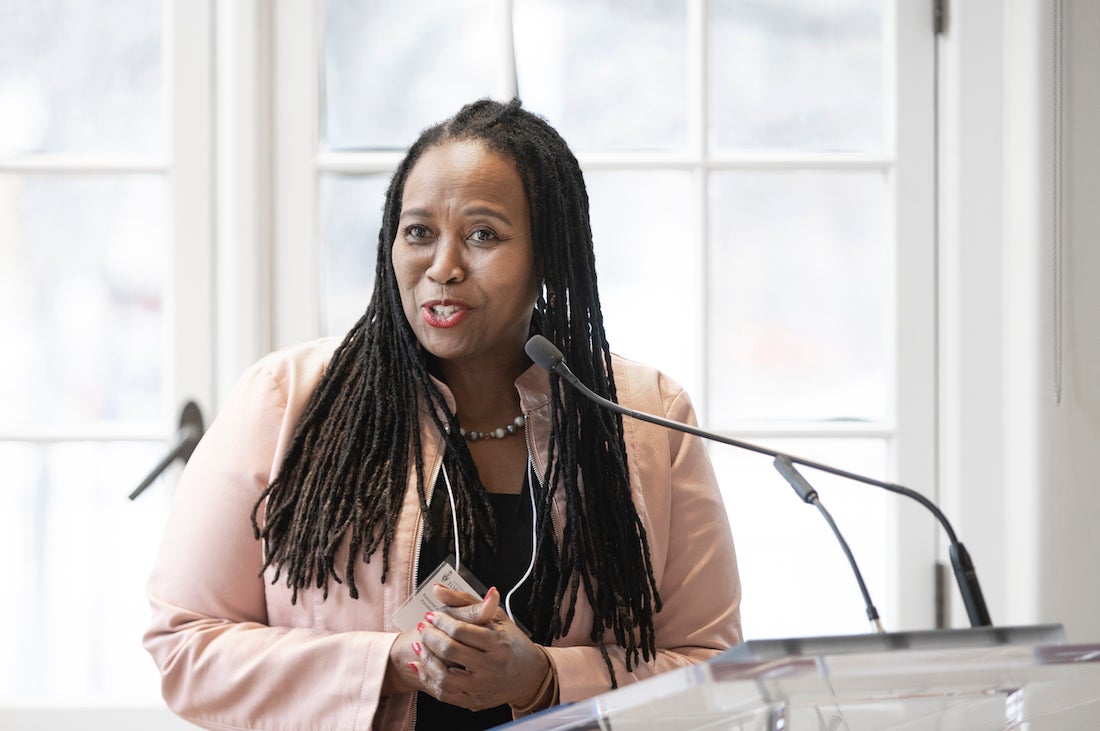 Ann Lopez speaks at the inaugural Access Connections Day conference held earlier this year. Photo by Nick Iwanyshyn
Important work is underway across the three campuses to address systemic barriers that may prevent students from diverse backgrounds from seeing the University of Toronto as a place where they can thrive – and to create pathways and supports to help students succeed.
"Many talk about diversifying the student population at the University of Toronto, but this is not merely an academic exercise – it's something that we truly believe in," says Ann Lopez, the provostial adviser on access. 
Lopez, an associate professor, teaching stream in the department of leadership, higher and adult education at the Ontario Institute for Studies in Education, says improving access isn't just important – it's necessary. Enhancing and promoting access and outreach programming will help underrepresented groups overcome the systemic barriers they face, and ensure all feel welcome, she says.
"It's vital that underrepresented groups – in fact, all students – see U of T as a place where they belong and where they can thrive," Lopez says. "This is a place for everyone."
Earlier this year, Lopez and her team organized the inaugural access programming conference at U of T to boost collaboration among the community. The second annual conference is set to take place virtually in March. Next spring will see the launch of a new website that will act as a resource for those working to create or enhance access programming within their own division or department. 
Lopez points out that a commitment to access is one of U of T's core values and it has been a priority for Cheryl Regehr, vice-president and provost. 
As part of her advisory role to the provost, Lopez conducted an inventory of the access and outreach programs at U of T and found that there are more than 80 active programs or initiatives. The Access Programs University Fund was established to advance these efforts and continues to support the programs that make U of T a place where all students can envision themselves attending.
"We asked ourselves: 'How do we sustain these access programs?'," Lopez says. "We are really examining how to make it so that they become embedded in organizational work – being baked into everything we do from the beginning – rather than being work along the way."
Some of those 80 programs are already seeing positive results. The Temerty Faculty of Medicine's Black Students Application Program, for example, resulted in the Temerty Faculty of Medicine accepting 24 Black students into the class of 2024, the largest cohort of Black medical students in Canadian history. Other access and outreach programs have been implemented U of T, such as the Faculty of Law's Black Student Application Process and Black Future Lawyers, the Imani Academic Mentorship at U of T Scarborough, the Dalla Lana School of Public Health's outreach and access program and the Blueprint program at the Faculty of Applied Science & Engineering. The new access website will glean best practices from these programs and help program administrators exchange ideas and initiatives. 
Lopez hopes the invaluable work being done to break down barriers will continue to thrive at U of T with these new resources to ensure any student interested in conducting their studies at U of T has the opportunity.
"It's important to note that access is not about lowering standards," Lopez says. "We are acknowledging that knowledge resides in everybody but some folks have not had the opportunity to bring that knowledge to the table. 
"We need to create that space and remove barriers for all racialized groups who have not been historically included or perceived as not belonging in a place like U of T."
Subscribe to the Bulletin Brief