New collaboration between U of T and Toronto District School Board to bring more under-represented students to campus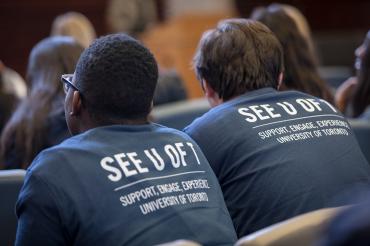 Alexander Olowookeri, a Grade 11 student at Downsview Secondary School, initially found the University of Toronto daunting when he visited the downtown Toronto campus Tuesday – until he learned about a new partnership between U of T and the Toronto District School Board (TDSB).
The program, called Support, Engage, Experience U of T, or SEE U of T, is designed to bring students from two schools in Canada's largest school board – Downsview Secondary School and Runnymede Collegiate Institute – to the university for a semester-long course, co-op placements on campus and other experiential learning activities. The program is an effort to provide a pathway for students who are under-represented on campus, allowing them to see U of T as a place where they belong and can thrive.
The first group of 30 students, expected to arrive in the fall, will have the choice of signing up for one of two interdisciplinary courses offered through Woodsworth College. They will earn a high school (4U) credit, co-op credits and a U of T half-credit to put toward a university degree.
"It reduces barriers in the sense that once you see people that look like you in a certain place, you start to have hope you can be just like them," says Olowookeri, who hopes to study biomedical engineering. 
"It really boosts your morale to know, 'OK, I can actually go to the best school in Canada.'"
Olowookeri was one of a few dozen students from both schools who attended the program announcement at Woodsworth College.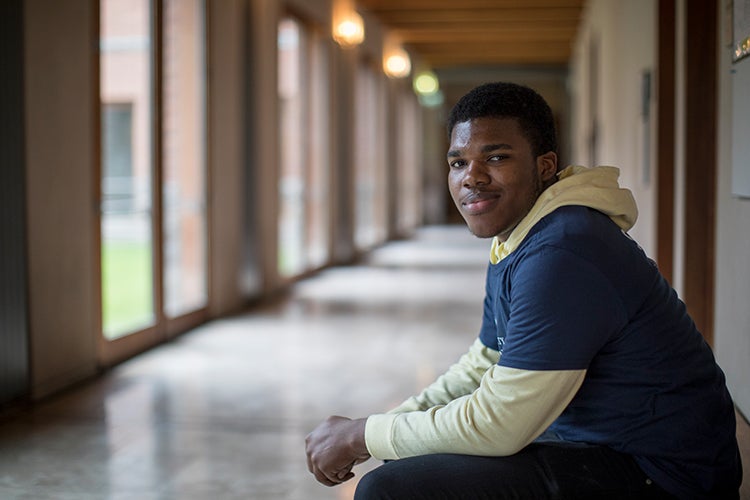 Alexander Olowookeri, a Grade 11 student at Downsview Secondary School, plans to take a sociology course at U of T as part of a new collaboration between U of T and the TDSB (photo by Geoffrey Vendeville)
While U of T is consistently ranked among the best universities in the world, Cheryl Regehr, the university's vice-president and provost, noted in her remarks that "excellence and access" are inextricably linked. 
"We can only be great if we ensure that every single excellent student here in the city of Toronto believes the University of Toronto is a place for them, a place where they belong," Regehr said.
SEE U of T is the latest addition to over 60 access programs the university has designed to lessen barriers for students from under-represented groups, including Indigenous and racialized students.
The two participating high schools were chosen based on their rank on the TDSB's Learning Opportunity Index, a measure of relative need and "external challenges affecting student success." That includes measures like median income and the share of single-parent families in a school's neighbourhood.
At U of T, the high school students will experience the life of an undergraduate in Woodsworth's One program, an array of first-year foundational courses featuring small class sizes and hands-on learning opportunities. They are eligible to sign up for two Faculty of Arts & Science courses, "Order and Disorder"  and "Popular Culture Today." The first course draws on literature in sociology, political science and other disciplines to explore the balance between individual freedoms and society's need for order. The second course focuses on the impact of pop culture as an art movement, agent of social change and universal language of the digital age.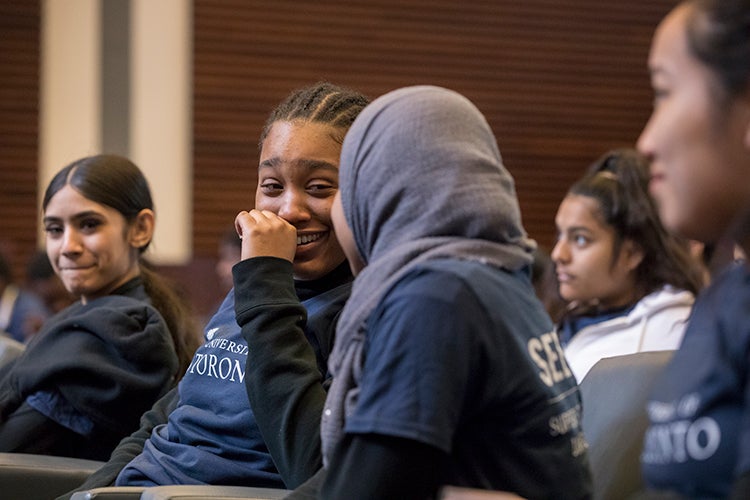 The students from the TDSB will be given supports, including access to academic and writing advisors (photo by Geoffrey Vendeville)
SEE U of T was carefully designed to ensure students have all the necessary supports to succeed while they are here, said Ann Lopez, the provostial advisor on access programs at U of T and an associate professor at the Ontario Institute for Studies in Education.
U of T will provide administrative support, library access, academic advising and cover the cost of textbooks, while the TDSB will assign a monitoring staff member, two co-op teachers, provide transportation and other services that students might need.
"This isn't just about recruiting students," said Lopez. "It's also about giving them support and ensuring that they have a good experience."
The program increases diversity not just among students, she added. It also creates more opportunities for members of under-represented groups to obtain degrees and come work at universities as faculty or staff.
Paul Edwards, the principal of Runnymede Collegiate and a U of T alumnus, said he was happy to "come back home" for the program's launch. 
"This is the beginning of a heck of a journey," he told the students. "I know you'll do us proud, but more importantly you'll do yourselves proud."
At the end of their introduction to U of T, the high school students will be asked to provide feedback that will be used to improve the program.
Armita Ebrahimnejad, a student at Runnymede Collegiate who hopes to study law, says the U of T-TDSB collaboration makes her feel more at home on campus. 
"This makes the university more part of the community and it prepares us more, and it takes some of the stress out of transitioning to university," she said.
UTC