You've got to eat here: Suresh Doss's guide to the best – and most affordable – food near U of T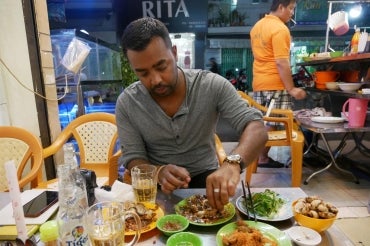 Melt-in-your-mouth Portuguese tarts. Belly-warming pho. Tender kebabs.
Is your stomach rumbling yet? Because you're in for a treat. You can find these tasty dishes near one of the University of Toronto's three campuses – and better yet, they're budget-friendly.
U of T News asked food writer and CBC Metro Morning regular Suresh Doss for his top picks for reasonably priced, delicious food that's a quick walk or drive from the downtown Toronto, U of T Mississauga and U of T Scarborough campuses.
Downtown Toronto campus
"My advice for students who are going to U of T downtown is to pick a street and go for a 10-minute walk on that street – you're going to find a lot of really amazing stuff," says Doss.
Downtown Toronto neighbourhoods around U of T are full of hidden gems and old faithfuls. Doss says he's particularly drawn to Chinatown and Baldwin Village when he's looking for good food near campus. Here's what he recommends:
Hana Restaurant
This Korean restaurant on Baldwin Street does a wicked bibimbap, he says.
"It's a simple, cheap dish where you get everything you need in one place: vegetables, crispy rice, a protein kick and a lot of kimchi and spices," says Doss, who also recommends Hana's Kalbi ribs.
Omai Restaurant
"Hand rolls are all the rage right now in the U.S. and are trickling down here," Doss says. "You can go in here and grab a couple of sushi hand rolls and be content – and they're some of the best hand rolls I've had in downtown Toronto."
Mother's Dumplings
This Spadina Avenue institution is the go-to place for dumplings any way you like them. "It's really good because it's a catch-all," says Doss. "You can be a vegetarian, you can be a meat lover and you can have a variety of different styles of dumplings prepared in a variety of different ways and it won't break the bank."
Phở Hưng
"My favourite place to have pho when I don't want to go uptown," says Doss of the Spadina Avenue restaurant. "The broth is really killer."
Darvish Restaurant
This is a great place for Halal food, says Doss of the Yonge Street restaurant. "They make really good kebabs that are very moist and tender on a wonderful bed of persian rice," he says.
There are plenty of great on-campus options too, from gourmet burgers to pasta, salads and pastries. Last year U of T's Food Services shifted their focus to artisanal cuisine, ethically sourced meats, and healthy, high-protein choices.
Find all of Doss's recommendations on the map: 
U of T Scarborough
"The one thing I want students to know about the Scarborough campus is there are some great mom and pop places – super cultural, very traditional – all within a five- to 10-minute drive from campus," says Doss, who grew up in Scarborough.
"One of the things I love about the area is there's a Filipino hub and there's a Middle Eastern hub," he says.
Here are his go-to places:
Kapit Bahay
There are plenty of noodle and rice dishes to choose from at this Filipino lunch buffet, says Doss. "I love going there and having some fried fish with rice and a bottle of calamansi juice. That really hits the spot for me."
Lola Sally's
This is a more traditional Filipino restaurant with a buffet and a hot counter, says Doss. "You can pick a protein, a rice or noodle, and you get mom's cooking. Nothing you can find downtown."
Kandhar Pizza
This place has a small menu but delicious food, says Doss. Come here for pizza with interesting toppings and delicious Middle Eastern-style soup.
Osmow's
This Middle Eastern restaurant serves up shawarma and vegetarian-friendly food. "They cover all their dishes with this white yogurty sauce and a hot sauce," says Doss. "So when you're scooping through and eating it, it tastes like a wet biryani almost. It's super delicious."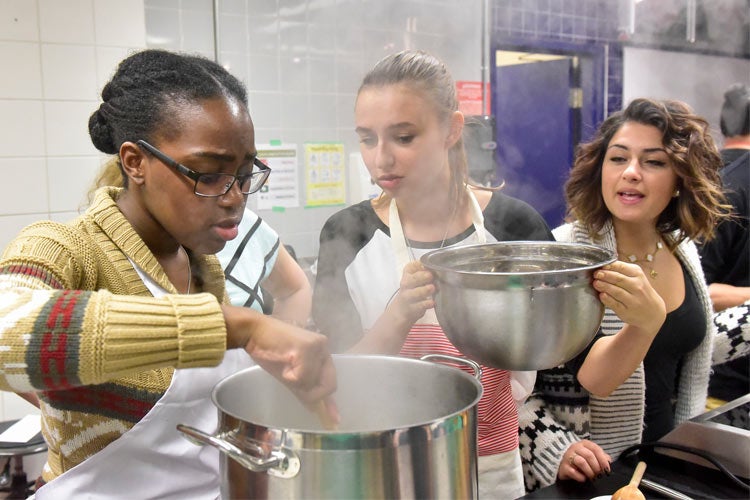 Want to bring your love of food to the classroom? U of T Scarborough's Culinaria Research Centre delves into the history and culture around food – sometimes taking classes into the kitchen (photo by Ken Jones)

U of T Mississauga
From Malaysian to Chinese food – Mississauga has some top-notch Asian restaurants, says Doss. Here's where to go near U of T Mississauga:
Breakfast ING
This Malaysian-Singaporean breakfast place is cheap and tasty, says Doss, who recommends the roti canai. "This Malaysian breakfast is a small roti – super crusty on the outside, super tender on the inside. You tear off pieces of it and you scoop it in the chicken curry."  
Doss also says to try the bak kut teh, which is similar to a pork bone soup. "As you're coming back to school and it's fall – I can't think of anything better that I want to eat to keep me warm," he says.
Chilli Chicken House
"This place has a wicked dish called chilli chicken where they take chunks of deep fried chicken, they throw it into a wok with all the spices and the sauce and it comes out super delicious, served on rice," says Doss, who adds that, despite the name, this restaurant has some great vegetarian dishes. 
Lion City
Doss is crazy about Lion City's laksa. "It's a Malaysian-Singaporean soup that is really hearty, and warms you up on a nice fall winter day," he says. "If you like noodle soups – you probably know pho, you probably know ramen – but meet the spicy cousin, because once you have laksa you will not go back." 
Lazar Bakery
This Portuguese bakery has been around for over 20 years, says Doss. "I find their Portuguese custard tarts are out of this world. The best custard tarts I've had in the GTA," he says.
Explore the many food options on campus as well, ranging from vegetarian and vegan friendly to gourmet pizzas.
UTC