What now? Acclaimed novelist Randy Boyagoda explores a post-lockdown world in new U of T podcast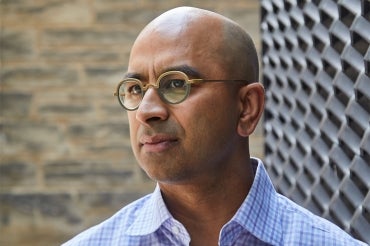 Toward the beginning of the first episode of the What Now? podcast, host Randy Boyagoda asks Maydianne Andrade, "What feels normal to you right now?"
She doesn't hesitate in her response.
"Almost nothing," says Andrade, a professor of evolutionary biology at the University of Toronto Scarborough who hosted her own podcast series through the bitter first year of the COVID-19 pandemic.
"I do feel like things have been shaken to their core."
It's a perfect thematic setup to What Now? – a podcast created by U of T Communications (UTC) – since the series considers how global society might rebuild after the pandemic unraveled so much of how we used to live.
"When I was approached to do this, what came to mind was how hard it had been over the intense part of the pandemic to talk about anything other than the pandemic," says Boyagoda, a noted novelist and essayist, and a professor of English in U of T's Faculty of Arts & Science who also teaches at St. Michael's College.
"I think many people hit a point of total exhaustion with pandemic conversation. And so, what would it mean to have a conversation about life once the pandemic ends? Not that we're pretending that everything's over, but what have we learned? What have we gained? What have we lost?  Those are the kinds of conversations we have in this podcast."
The first season of the series comprises seven episodes. In each one, Boyagoda – who has also served as principal of St Michael's College and vice-dean, undergraduate in the Faculty of Arts & Science – sits down with experts to discuss subjects ranging from equity and class division to statistics and cyberespionage.
Clémentine Van Effenterre, an assistant professor of economics in the Faculty of Arts & Science, spoke to Boyagoda about how COVID-19 made existing inequities that much worse.
"We know that the distribution of household work was far from equal," Van Effenterre says. "Before the pandemic, women did two more hours of household activities daily than men. During the pandemic, women were twice as likely as men to reduce their (professional) working hours to take care of children."
Guests also discuss how COVID-19 has led to a rethink of how children should be educated.
"Schools as we know them … are an invention of the 19th century and unfortunately they haven't changed that much," says Ruben Gaztambide-Fernandez, a professor at the Ontario Institute for Studies in Education.  "We want schools as we imagined them in the 19th century to address 20th- and 21st-century problems that they weren't meant to address."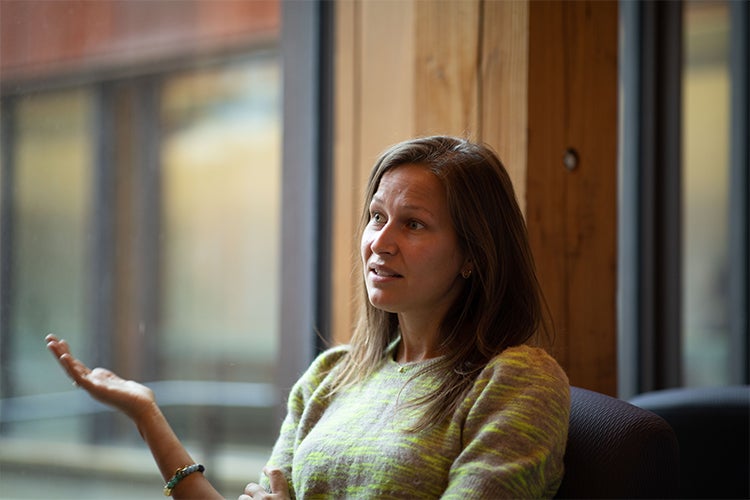 Clémentine Van Effenterre, an assistant professor of economics, says women were twice as likely as men to reduce their professional working hours during the pandemic (photo by Lisa Lightbourn)
Boyagoda, who will serve as acting vice-provost, faculty and academic life in the upcoming academic year, often introduces episodes with commentary as he walks to the interview locations on U of T's St. George campus – an audio cue to remind listeners of the show's post-lockdown focus. 
"The approach to the podcast in having it be on location rather than in studio was intentional," says Lisa Lightbourn, creative producer at UTC who worked with Boyagoda to develop and produce the podcast. "I wanted to give people the sense that we are back together, and these are the sounds and experiences of the campus as it comes back to life – in a brand new way."
Lightbourn adds that Boyagoda is an ideal host – a person of many passions and achievements. 
"He's well known as a personable and entertaining professor. So, I thought he'd be perfect for this new series."
The author of four novels, Boyagoda's fiction has been nominated for numerous awards. Original Prin, his breakout hit, was called "an unputdownable book" by none other than Salman Rushdie. His latest novel, Dante's Indiana, is about an English professor who consults on a Dante-themed amusement park in middle America.
He also regularly contributes essays, reviews, and opinions to publications such as the New York Times, Wall Street Journal and the Guardian in addition to appearing frequently on CBC Radio and podcasting for the Toronto Public Library.
Yet, despite his public profile, Boyagoda says he sees his role behind the microphone for What Now? as curious student, not expert commentator. 
"I'm the listener and learner here," he says. "What was interesting for me was just getting to chat with people who are from different disciplines and who come with these questions in different ways than I would. If, as a writer, I am fundamentally a curious person, then something like this series gives me a chance to cultivate and develop that curiosity and to become more enlightened.
"What I love about podcasts and live radio is when you move from the predictable questions into a genuine conversation that feels alive because you have two people responding to each other.
"And that moment happened with every, single person I spoke with."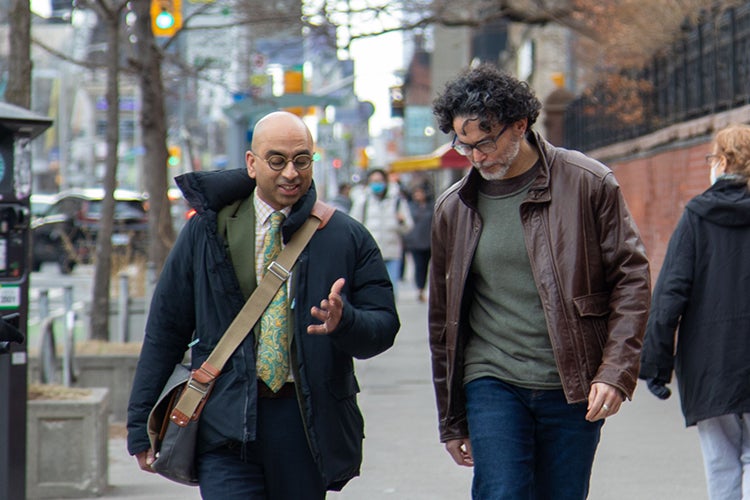 Randy Boyagoda walks down the street with OISE Professor Rubén Gaztambide-Fernandez (photo by Lisa Lightbourn)
Boyagoda's podcast follows in the footsteps of two other successful U of T podcasts created by Lightbourn. Andrade's The New Normal examined how the pandemic was changing daily life and exacerbating inequity, touching on subjects ranging from connecting with family and friends to the scourge of anti-Black and anti-Asian racism. Another podcast – What's Next? – tapped public health leader Vivek Goel, at the time U of T's vice president, research and innovation, and strategic initiatives (he's now president of the University of Waterloo), to explain health and scientific aspects of what was initially dubbed the "novel coronavirus." 
Both series found a ready audience – "What's Next?" nabbed more than two million views and three million impressions – and won Transformative Awards from the Council for Advancement and Support of Education (CASE). 
What does Boyagoda hope listeners take away from What Now?
"My goal is for them to say, 'Just when I thought there was nothing new to learn about pandemic-era living, here are people are exploring it in a way that expands my understanding and challenges some of my preconceptions – leaving me better informed and curious for more."
The series debuts on Aug. 3, with new episodes streamed weekly. What Now? is available on Apple, Spotify and other popular podcast services.
---
Here's the What Now? episode guide:
Episode 1: "The Real New Normal": Andrade talks about her experience of hosting her podcast and offers her thoughts on what the "new, new normal" should be.  And she brings listeners up to speed on her other specialty: the sex lives of spiders. 
Episode 2: "The Evolution of Education" Rubén Gaztambide-Fernandez, professor of curriculum and pedagogy and editor-in-chief of the journal Curriculum Inquiry at the Ontario Institute for Studies in Education, discusses how schools have changed for better – and worse. 
Episode 3: "What is the Cost?" Clémentine Van Effenterre, assistant professor of economics and host of the podcast InequaliTalks, talks about austerity measures and protests, privilege and class divisions and the new shape of work. 
Episode 4 – "Machines and Slow Disasters": Edward Jones-Imhotep, an associate professor and historian specializing in the social and cultural life of machines, who is director of U of T's Institute for the History and Philosophy of Science and Technology, explores a wide range of related topics, including Black androids, slow disasters and social order.
Episode 5 – "Smarter Cities": Beth Coleman, an associate professor of Data and Cities at the Institute of Communication, Culture, Information and Technology and the Faculty of Information where she directs the City as Platform Lab, discusses what a smarter, more human-centred city might look like. 
Episode 6: "What Are the Chances?" Jeffrey Rosenthal, professor of statistics and bestselling author of Struck by Lightning: The Curious World of Probabilities and Knock on Wood: Luck, Chance, and the Meaning of Everything, discusses luck, the pandemic and what it means to be born on Friday the 13th. 
Episode 7 – "Citizen Reset": Ron Deibert, political science professor, director of the Citizen Lab at the Munk School of Global Affairs & Public Policy, and authority on cyber espionage, commercial spyware, internet censorship and human rights, talks about privacy and propaganda.
UTC