We're calling it: Scarborough, food capital of the world
When American author and economist Tyler Cowen came to town, three University of Toronto historians knew exactly where to take him for dinner: Scarborough.
The food was such a hit that it prompted Cowen to give Scarborough top praise in a subsequent blog post.
Scarborough, Cowen wrote, is the best ethnic food suburb he has ever visited. In his life. Ever. Then he wondered if it could even be the "the dining capital of the world." Seriously. The world.
That's a big deal when it comes from the author of An Economist Gets Lunch: New Rules for Everyday Foodies. But Scarborough is more than just a place to get some of the best pho, roti, lamb kabobs, shawarma, veggie curries, lahmajoun and dim sum on the planet. It is home to many thousands of immigrants who have put down new roots and created one of the world's most diverse cultural urban regions.
"A large proportion of the population in Scarborough is newcomers and their children and grandchildren," says Donna Gabaccia, professor of history at U of T Scarborough. "Cultural difference always expresses itself in food. New groups are adapting to new foodways, and they're trying to maintain the foodways of their original culture."
Food isn't just sustenance, then. It's a connector too and a tangible way for first and succeeding generations in Canada to hold on to their cultural identity.
"We learn which food tastes good, even before we speak," says Daniel Bender, professor of history at U of T Scarborough and Canada Research Chair in Cultural History and Analysis. "And we never lose the emotion. Every immigrant group tries to replicate its culture from the homeland."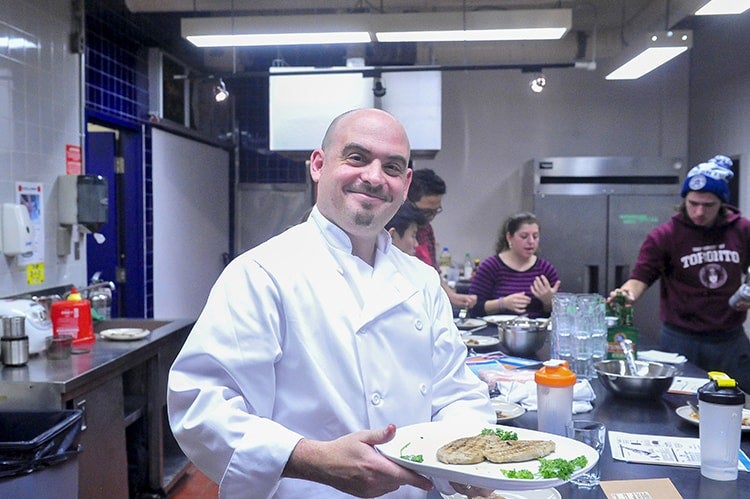 Professor Daniel Bender leads a class at the Culinaria Research Centre at U of T Scarborough (photo by Ken Jones)
Bender, who directs the Culinaria Research Centre, adds that "food is the one activity external to the body that you have to do. You have to eat and you have to drink. Everything else – getting out of bed, finding a job, sex – is optional."
People who don't live in Scarborough may not realize how much the area has been shaped by immigrants in just the past few decades.
"The diversity of the immigrants who have come to Scarborough since the 1950s has made it one of the leading immigrant recipients in North America," says Jeffrey Pilcher, a professor of food history.
"New immigrants set up food businesses," says Pilcher. "It's a source of entrepreneurship for people starting in the economy."
They may not have some of the opportunities they had at home, he adds. So the food business may be all immigrants can do – and it's a step into the economy.
Bender says this is a good thing for immigrants.
"Food is a key source of employment for people who have left behind families and have degrees that may not be recognized here."
He goes further, emphasizing that Ontario is one of the world's largest food hubs with Scarborough as one of the hub's epicentres.
"There are more jobs in the food and food processing centres here than in New York City." He says only Los Angeles has more.
It is no surprise that such a diverse population would create a dynamic and varied food industry.
"It only takes a little drive to see the restaurants and supermarkets," says Bender. "But behind that it is even more expansive." He describes a vast infrastructure of food buyers, processors and vendors supporting independent import markets.

Professor Jeffrey Pilcher teaches food history at U of T Scarborough (photo by Ken Jones)
Gabaccia adds that you can get just about any type of cuisine or the ingredients you need to make it at home. "There are East Asian, South Asian and Pan Asian grocery stores, many started by Asian entrepreneurs with limited capital," she says.
"Think of the packaged sauces you can buy from Indonesia, or canned ackee or saltfish in Guyanese supermarkets," says Bender. "You can probably buy six or seven varieties in Scarborough." And think of the food we take for granted today from beer to German-style hot dogs, which can be traced back to immigrant businesses.
"Those little businesses starting up in Scarborough now are selling things that will be on everybody's shopping list in five to 10 years," Bender adds.
That's already noticeable.
"Large Canadian food chains are competing and adapting. Look at halal and other specialty food aisles," says Gabaccia. "In Toronto, even older Canadians are eating Greek and Italian food now from earlier migrations of the '50s and '60s."
What's more, she adds, is that in the '80s food started to become a cosmopolitan symbol of foodies and the middle class.
"As a result of global travel, this interest in food came about for longtime Canadians interested in experiencing immigrant foods," she says.
People have many reasons for choosing particular foods, not the least of which is location.
"If you live downtown, there is a real problem going to eat in Scarborough. It's a lot of work," says Pilcher. "But if you're already living in the suburbs, it's not a big leap."
And nestled in this unique part of the world is U of T Scarborough with a committed connection to the community. Moreover, part of the university's strategic plan is to focus on the strengths of its location within one of the most culturally diverse communities in the world. Witness the popularity of initiatives such as U of T Scarborough's farmers' market. It is organized by students and faculty with local vendors selling everything from maple syrup and chutneys to fresh produce and baked goods.
Witness also the Culinaria Research Centre, bringing students and faculty together in partnership with community organizations and other institutions.
"In a way, Culinaria was possible at this location for a reason," says Pilcher. "Many times, innovative work gets done in less central locations."
Pilcher's current research project, City Food, is a collaboration with partners on six continents including academic institutions, vendor organizations, non-profit groups and museums. The research is comparative, looking at migrant marketplaces, gendered labour, culinary infrastructure, regulation and sensory studies.
"City Food starts with the premise that we can learn from migrant people by documenting immigrant foodways, and [by] looking at infrastructure that contributes to successful food businesses and at government regulations," says Pilcher.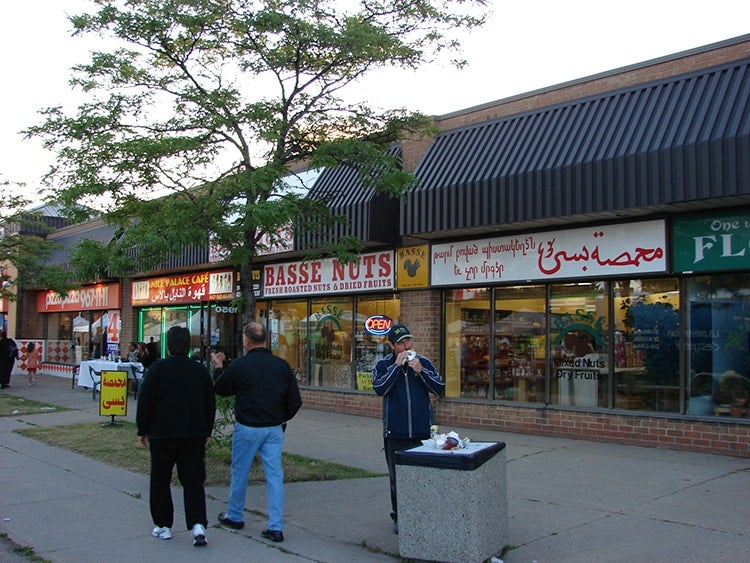 Restaurants in Scarborough offer all kinds of food choices (photo by mikescarboroughtoronto via Flickr)
In June, Culinaria hosted Scarborough Fare: Global Foodways and Local Foods in a Transnational City. It was the joint annual meetings and conference of the Association for the Study of Food and Society, the Canadian Association for Food Studies and the Agriculture, Food, and Human Values Society – the first time these organizations have ever met together. The conference featured international speakers, cultural events, kitchen demos and field trips to rooftop gardens, community food centres and urban beekeeping hives.
Research at Culinaria employs a range of methodologies and approaches – field work, archival work, oral history, GIS mapping, digital humanities and others – to trace the foodways of multi-ethnic neighbourhoods. For example, a project called Scarborough Chinatown collects and maps details about Scarborough restaurants, offering an interactive map. Viewers can investigate the evolution of Scarborough's Chinatown and discover new restaurants and takeout places.
And maybe that's why Tyler Cowen sees Scarborough as the next big thing. As an economist, he champions the suburbs as the place to enjoy ethnic food because that's where it's cheap and innovative.
"And there's a wealth of crossover eating with people who are eager to discover new foods," Pilcher says.
Why? Immigrants are serving other immigrants and prices tend to be on the low side. "So it's easy to feed people's interest in new foods and feed the culinary tourism that seeks to experience the ethnic foods of others."
Pilcher adds that foods also start to migrate between cultures. "In the U.S., one of the trends now is Korean taco trucks serving up Korean barbecued short ribs in a taco. It's a way for them to Americanize their food."
Gabaccia says curiosity about other foods is culturally positive. But it doesn't always transfer to other areas. "We do have crossover multicultural eating, but that doesn't mean the battle is won and that we all accept each other," she explains. "Accepting an immigrant's food is not the same as accepting an immigrant."
However, she adds, "Scarborough is a good start because that willingness to try other foods is there. This is hopefully the first step toward a social and economic acceptance that develops over time."
Donna Paris is a writer with UTSC Commons