Urban studies course gives U of T students a peek at Toronto City Hall's inner workings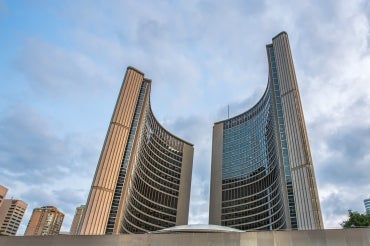 Undergraduate students at the University of Toronto are getting an inside look at how municipal officials are dealing with the pandemic and other issues shaping urban life.
 "City Challenges, City Opportunities in 21st-Century Toronto," a third-year Faculty of Arts & Science course, invites about 200 students from U of T and seven other post-secondary institutions to participate in regular online meetings with City of Toronto staff.
That includes everyone from City Manager Chris Murray to members of Toronto's anti-Black racism unit and transportation planning division.
"There's a lot of stuff going on right now that is having a significant impact on how the city of Toronto functions in the short and long term," says David Roberts, an associate professor, teaching stream, in the department of geography and planning who is director of the urban studies program at Innis College.
Roberts cites the pandemic, income inequality and affordable housing shortages as examples. Others ongoing issues include climate change and police reform.
"One of the dynamic things about studying cities is that there are all these forces shaping urban life."
The course is part of an initiative spearheaded by Joe Mihevc, a longtime York and Toronto city councillor who formerly taught ethics at U of T and is now a visiting professor in urban studies at York University. Branded CivicLabTO, the initiative is a collaboration between the city, universities and colleges that will culminate in an academic summit on Nov. 23 and 24.
Mihevc says universities and the city have developed mutually beneficial relationships in recent years, noting joint projects around affordable housing and regional transportation.
CivicLabTO is the next step, he says.
"You know, we sometimes say that the brains of our society are in our colleges and universities," he says. "The city really needs that brainpower – especially during tough times like we're living now with COVID.
"We want to build towards a long-lasting partnership that serves both the city and, frankly, academic scholarship and research studies."
Students enrolled in the course use a chat function in the online meetings to pose questions directly to city leaders. The course's final project is a white paper about a timely urban issue that makes academic research accessible to a general audience.
Andrew Gongxu Yin, 22, a fourth-year student majoring in economics and urban studies at Innis College, says he signed up for the class to get a better understanding of the mechanics of real-life policy-making. He adds that this will be the first time he hears directly from policy-makers in a class despite the fact that he's studied municipal governance and has completed internships with both the provincial and federal governments.
Yin says he's particularly eager to hear from city leaders about what is being done to address anti-Asian racism in Toronto.
"Being an immigrant, I was particularly concerned when the COVID-19 pandemic led to an increase in anti-Asian hate crimes," he says.
Roberts says he expects learning to be a two-way street during the course since city leaders will also have the opportunity to hear directly from youth.
"City council can feel a bit disconnected from what's happening in the city," he says. "They're all homeowners and have backyards – and they're definitely not in their early 20s.
"There's a lot to be learned if the city's listening."
UTC