U of T PhD student helps black women apply to grad school
Huda Hassan receives outpouring of support for her offer to help black women review personal statements for grad school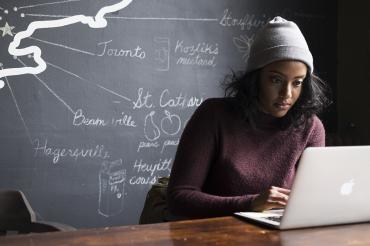 When Huda Hassan was writing her applications to graduate school, she had no mentors in academia to turn to for advice. She asked for help through social media, and three black women offered to lend a hand. 
Nearly two years later, Hassan – now a first-year PhD student in women and gender studies at U of T – is returning the favour.
"If you're a black woman applying for grad school & would like a writer+phd student to revise your statement, email me: hudamina@gmail.com," she tweeted recently.
Little did she expect the outpouring of support that ensued.
Her original message was shared more than 2,600 times on Twitter – and academics around the world volunteered to help edit black women's applications.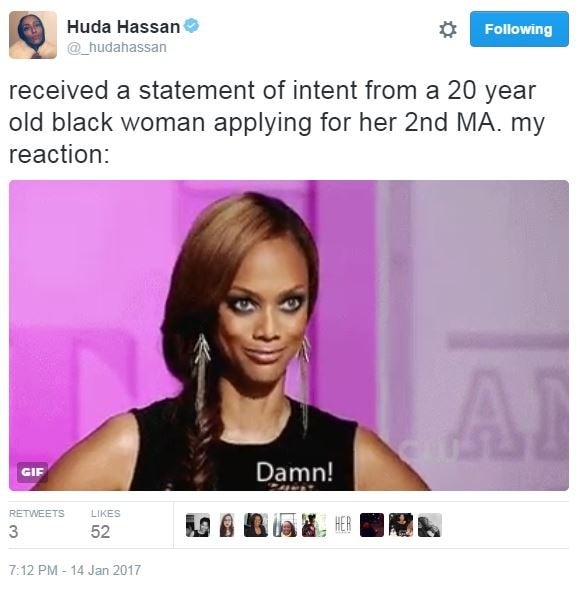 "The reaction was really sweet and nice," she told U of T News. "All sorts of people responded. A lot of young black women reached out with love. A lot of allies who are in academia reached out offering their support as well."
The 22-word message started a much larger conversation about the need for more diversity within universities. In the days that followed, she was interviewed by CBC and Metro News Toronto.
After seeing Hassan's tweet, Nicole Charles, a fourth-year PhD candidate in the same department at U of T, volunteered her time to help polish applicants' personal statements. Being one of the only black women in her program, Charles says she understands the need for such an initiative.
"I thought this is a very simple thing that has the potential be so transformative," she said.
Charles described the effort as a first step toward breaking down barriers for black students and helping them succeed.
"The more black women there are in academia, the more support we can all have," she said.
R. Cassandra Lord, an assistant professor of sexuality studies at U of T's Women and Gender Studies Institute, also responded to Hassan's call. She offered to help in any way she could, whether through providing meals or financial support.
"Many black faculty have been doing this behind the scenes in terms of mentoring and offering support to black graduate students," she told U of T News.
With some of her colleagues, Lord founded a reading group for black students and faculty "to support our students theoretically as they move through their graduate career," she added.
And at the faculty level, she and other professors have been appointed to working groups to discuss with U of T administration such issues as targeted hiring, retention of black faculty and the recruitment of black students. 
By the fall, Hassan hopes to have recruited more volunteers to help her look over personal statements. For now she and her friends have their work cut out for them. More than 120 applications – mainly from the U.S. and Canada but some from East Africa – have found their way to her inbox, she said.
Reviewing each one is a painstaking process. She reads each application at least three times: once for structure and clarity, once for grammar and style, and a third time to jazz up the writing, if need be.
As more people rally behind the effort, it is taking on a life of its own.
"I want it to become a thing that is bigger than me," Hassan said. "I want this to become a collective effort of working towards bringing in those who are, unfortunately, left on the margins."