#UofTGrad17: George Elliott Clarke's message to Black grads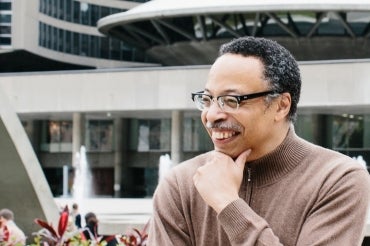 Professor George Elliott Clarke, Canada's Parliamentary Poet Laureate, is out of the country and will not be able to attend Canada's first Black Grad ceremony at U of T on June 22. But he sent a message to U of T's Black grads, via U of T News:
Dear University of Toronto Black Graduands:
As an African-Canadian faculty member from historic Africadia (African-Nova Scotia), a descendant of slaves and those who fled slavery and struggled against it, and as a son of working-class
parents in Halifax, Nova Scotia, I think I may guess at – and not be incorrect – about some of the challenges that some of you have faced, and the obstacles you have overcome, to be where you are at today.  I congratulate you on your historic achievement.
The history of the African odyssey in the so-called New World has focussed on two interlocking struggles:  The right to justice and the right to Equality.  But both of these struggles have also been – and remain – dependent on the struggle for truly life-enhancing, consciousness-raising, and politically liberating education. Our forebears thought we should know about health care and Harriet Tubman, mathematics and Marcus Garvey, Africa and Art, science and Sierra Leone – and they were not wrong. We have always had to have a double-track to education: To learn all we can from, and about the Occident (where we are), but to carry forward and carry back (too) the intellectual gifts of Africa – the elliptical, the algebraic, the respect for geometry (even rhythm is just a geometrical expression of musical 'time'), and all the theologies and progressive sociologies born on African soil.
To be where you are now, as almost graduates of Canada's greatest university and one of the top two-dozen post-secondary institutions on the planet, and to be conscious citizens at this particular testing time in history, is already a testament to your fortitude, your optimism, your enthusiasm, your intellectual convictions, and your dedicated work. You stand on the threshold of great accomplishment.
Don't delay: Go forward and dare and achieve! To amend Garvey, I say, "Up ye mighty graduates; accomplish what you will!"
George Elliott Clarke
E.J. Pratt Professor of Canadian Literature
University of Toronto
UTC