#UofTGrad17: Canada's top university gets ready for country's biggest graduation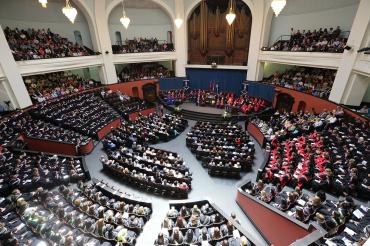 Canada's next generation of leaders − in disciplines ranging from urban design to philosophy, artificial intelligence to medicine − are preparing to graduate from the country's top university.
More than 18,000 students are part of the Class of 2017 at U of T — with almost 14,000 graduating in 27 ceremonies running from June 6 to June 22. 
They will be joined by 15 honorary degree recipients who have made notable achievements in their fields. Among them: celebrated Inuk singer and songwriter Susan Aglukark; CBC's Peter Mansbridge, who retires as anchor of The National on July 1; renowned Canadian photographer Edward Burtynsky; and Catherine Lacavera, a globally recognized leader in the field of intellectual property law.
"We are incredibly proud of the Class of 2017," said U of T President Meric Gertler. "Congratulations to all of our graduates on their accomplishments, and to their families who supported them on their journey to this milestone.
"They stand on the cusp of a new adventure, and we look forward to celebrating their accomplishments in the years ahead."
For more than 100 years, Convocation Hall has hosted graduation ceremonies for students from across U of T.
This year, the hall will host a total of 27 different ceremonies (two more than in 2016) over 13 days for undergraduate and graduate students from the university's three campuses in downtown Toronto, Scarborough and Mississauga.
Almost 30,000 family and friends who have come to Toronto from all corners of the globe to celebrate the accomplishments of U of T grads will also be on hand.
The largest ceremony will be in the afternoon on June 21, when more than 592 attending students will receive their bachelor's degrees in the arts and sciences.
Four ceremonies will be held on June 7 and June 8 for 2,008 students from the U of T Mississauga campus — the first time its ceremonies have spanned two days, a fitting way to mark the campus's 50th anniversary. On June 19, three ceremonies will also be held for 1,731 students graduating from the U of T Scarborough campus.
Quick facts on U of T spring convocation 2017:
First in Canada: the Black Graduation Celebration on June 22
The first "My Campus Snapchat Story" posted for U of T and among the first ever posted in Canada
First graduating classes of Rotman's Master of Financial Risk Management program and the Munk One program at the Munk School of Global Affairs
1 Rhodes scholar: Stephanie Gaglione is a chemical engineering major
8 marshals dressed in scarlet gowns to help students line up properly for ceremony
12 weeks spent preparing the 13,975 parchments (diplomas) for the Class of 2017, from labelling and stuffing envelopes to triple-checking names and degrees are correct
15 honorary degree recipients: André Picard (June 6); B. Rosemary Grant & Peter Grant (June 7); Professor Arthur McDonald (June 8); Larry Phillip (Phil) Fontaine (June 9); Susan Aglukark and Professor Robert A. Hill (June 12); Catherine Lacavera and Reeta Roy (June 13); Sir George Alleyne (June 14); Amal Basha (June 15); John M. Cassaday and Edward Burtynsky (June 20); Margaret O. MacMillan and Peter Mansbridge (June 21). As part of the fall convocation, Murray Sinclair will also receive an honorary degree
27 individual ceremonies held over 13 days
60+ age range between oldest graduate − who is 78 years old − and the youngest − who is 18 − at spring convocation
41 trained volunteer readers reading out the names of more than 11,400 attending graduates
75+  different types of hoods, symbolizing different degrees worn by graduates and academic officials
365 doctoral degrees awarded at spring convocation
858 professional degrees, such as pharmacists, medical doctors, lawyers and dentists
2,888 master's degrees awarded at spring convocation
9,824 bachelor's degrees awarded at spring convocation
13,975 expected graduates, with more than 11,400 people in attendance
14,000+ rental academic gowns worn by students, faculty and staff
31,593 guest tickets
500,000-plus U of T alumni worldwide
Fall convocation for the Class of 2017 will be held from Nov. 6-10.
UTC