(photos by Johnny Guatto and Blake Eligh)
There's a strong sense of community at University of Toronto's Mississauga campus, and it's exemplified by three of the UTM Class of 2016 graduates who received their degrees this week at Convocation Hall.
All three, biology student Laura Krajewski and fraternal twins Joshua and Jordan Forster, gave back to the UTM community, and in so doing, enriched their own university experience.  
Below, meet just a few of U of T's newest alumni and global citizens, already making an impact on the world.
---
Laura Krajewski: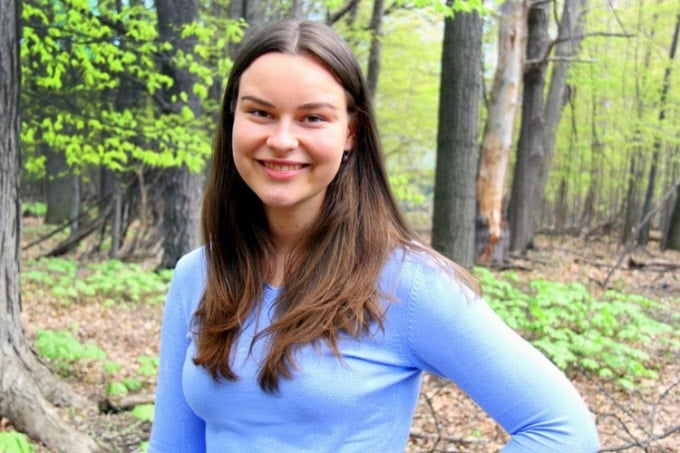 Biologist, musician, teacher, volunteer, published researcher – for someone who says she felt lost in her first year of university, Laura Krajewski has emerged from her undergraduate years with a solid idea of who she is now.
On June 6, Krajewski was awarded a bachelor of science, as well as the Gordon Cressy Student Leadership Award and the Principal's Involvement Award, which recognize her contributions to campus life.
As a high school student, she had great marks and was involved in lots of extracurricular activities. But during her first year at UTM, Krajewski dropped everything to focus on school, but despite her efforts, her marks declined, along with her confidence. "My life got too narrow."
Krajewski knew she had to make a change, so midway through her first year she joined Health & Counselling Centre's Healthy Campus Crew as a volunteer. She also worked with the Let's Talk Science outreach program, going to local schools and Girl Guide groups to lead science workshops for children. She volunteered with the Promoting Academic Skills for Success program, which helps students who are struggling academically, and led peer-facilitated study groups with the Robert Gillespie Academic Skills Centre.
As her confidence grew, so did Krajewski's academic achievements. She won a Research Opportunity Program position with Marc Laflamme's lab, spending the summer of her second year observing 300-million-year-old fern fossils from the Royal Ontario Museum. That led to being named as a secondary researcher on a paper published in PALAIOS, and the chance to present her work at two major conferences.
Krajewski, who sings and plays guitar, has found a way to bring together her talents for science, teaching and music. Her science song, "The Sound of Mitosis", co-written with associate professor of biology Fiona Rawle, was published in Biochemistry and Molecular Biology Education. Another song, "Our Experiment", written for the statistics class taught by associate professor of biology Helene Wagner, took top prize in the 2015 A-μ-Sing (A Mu Sing) songwriting competition for the United States Conference on Teaching Statistics.
Krajewski says she's proud of how far she has come during her time at UTM. "For a while, I lost myself. I was so obsessed with what I supposed to be doing and where it would take me; that I didn't enjoy the process," she says. "My perspectives have changed, and I've rediscovered what is important to me."
Jordan Forster: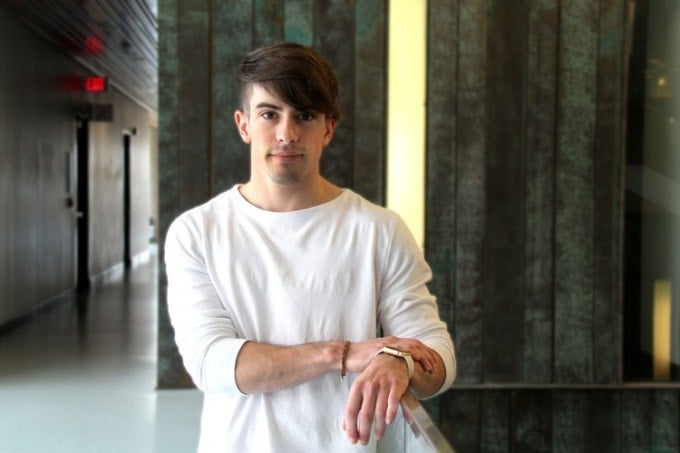 Jordan Foster is a familiar face around campus and it's not just because he is sometimes mistaken for fellow student and fraternal twin brother, Joshua.
Over the last four years, Foster could often be found at the control desk of the Recreation, Athletics and Wellness Centre, leading a sociology tutorial or volunteering his time with Health & Counselling Centre initiatives around campus.
On June 6, Foster graduated from U of T Mississauga's Concurrent Teacher Education program with a major in psychology and double minors in sociology and political science.  But it was through volunteering that Foster found the greatest connection to his campus community. "I really wanted a chance to experience more of campus life, and giving back was important to me," he says. "I wanted to do something for someone else."
He jumped at the opportunity to become a team lead with the HCC's Peer Health Education mental health team where he volunteered at Exam Jam, led mental health workshops around campus and organized events like an autumn flower market.
Foster also worked as a video blogger and team lead with UTMental, a video campaign that uses social media to promote positive change in mental health and remove the stigma associated with mental illness. Through that project, Foster shared his personal experiences living with chronic depression, as well as tips on coping with stress, finding resilience and accessing campus services. "I wanted to be honest about my experience in the hopes that others in need of help might feel less alone and more inclined to seek help," he says.
"Many students feel pressured to perform well all the time, but it's important for students to hear that it's normal to struggle with school or personal life, and that it should be expected." Foster's efforts were recognized with the 2016 Gordon Cressy Student Leadership Award, which recognizes outstanding volunteer contributions by U of T students.
Foster is mulling a graduate program in sociology after he completes his teaching degree. "I have a lot of learning still to do," he says. "I'm excited to look ahead and know that I'll continue to be a student."
Joshua Foster: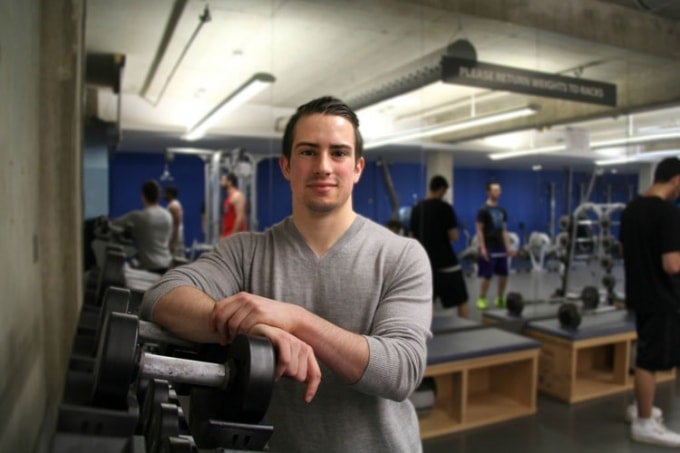 When Joshua Foster thinks back over his four years at U of T Mississauga, the science grad sees a series of important connections that have helped to shape the person he is now.
Those university connections begin at home. Foster along with his twin brother, Jordan, are now the third and fourth members of their family to graduate from U of T (sister Andrea earned a master's degree in industrial relations and human resources in 2013 and sister Lorena earned her honours bachelor of arts in 2012).
Raised in Mississauga, the Foster brothers chose UTM because it offered them the chance to continue to go to school together, although it wasn't long before Joshua forged his own path.
Foster made a point of connecting with professors by taking advantage of office hours and informal "chalk talk" tutorials. His efforts help to land a coveted spot with the Research Opportunity Program where, working with associate professor of biology Fiona Rawle, Foster compiled data for a project that tracks how first-year science students learn. "Students should see these opportunities as a learning resource for professional development, and to learn more about their own academic and career trajectories," he says. "Being connected will help enrich your experience. The university has a lot to offer, and I feel I have only just begun to tap into it."
Another important connection for Foster came at the end of second year when he and fellow student Sean Manezes founded UTMFit, a club that has grown to about 100 students interested in learning about fitness and accessing health and wellness resources at UTM. "Everything came together very nicely from our initial idea," Foster says. "We were able to tie all these campus resources together to help others, and it felt really meaningful to do something outside of our classrooms."
For Foster, the gym also offered employment and a place to make connections. Foster worked at the gym's Control Desk and also as a personal trainer. He ran gym activities for Big Sisters Big Brothers of Peel programs and led weightlifting workshops. "Getting involved in campus life made me more aware of the resources that are out there," he says. "Through working with other students, I learned about programs, resources and other clubs on campus that I hadn't been exposed to, yet. If you're not involved, you might miss out on that."