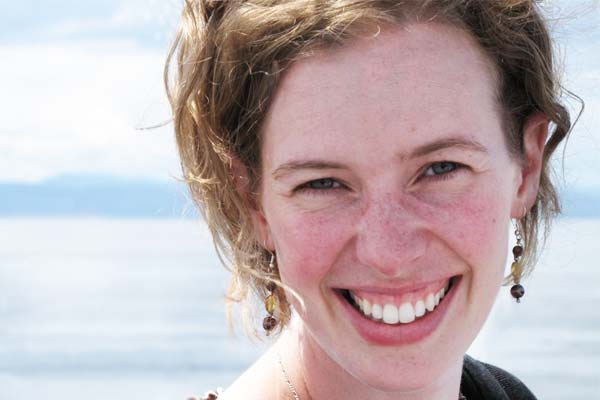 Early Career Teaching Award spotlight: Q & A with biologist Fiona Rawle
"My students are capable of some pretty amazing things"
It's a special kind of professor that can get hundreds of undergrads to twist themselves into a living, breathing model strand of DNA.
"Professor Rawle defies all stereotypes of university professors," said Ashna Khanna, a fourth-year student of biology for health sciences and psychology at U of T's Mississauga campus, who met Rawle in her first-year class.
"I was welcomed with a warm smile – and a seating plan, because she wanted to learn all of our names. This is just one of the ways she went over and above what is expected of a university professor."
Khanna said Rawle engaged students with science in fun an interactive ways, by asking them to write songs about biological concepts, shuffle into a giant DNA string, and more. Khanna later conducted research under Rawle's instruction.
"I was able to see how passionate and dedicated she is about eliminating academic barriers and improving student success," she said. "Over the years, I've gone to Professor Rawle for advice and encouragement. She mentored me and provided me with the confidence to take on challenges in my academic career that I never imagined possible."
Rawle, associate professor, teaching stream is one of four faculty members to receive the first-ever University of Toronto Early Career Teaching Awards:
Fiona Rawle, associate professor, teaching stream, department of biology, UTM
U of T News
 is running features on each of the winners, who are set to receive their certificates at the University of Toronto Excellence in Teaching Reception on Tuesday, November 3rd from 5:00pm - 7:00pm in the Common Room at Massey College. (
Read about astronomer Mike Reid here
.)
In this second instalment of the series, Rawle talks about the building community in the classroom and the importance of "problem-based learning modules, case study explorations, inquiry-based labs and Skype-with-an expert sessions."
---
What drew you to teaching?
So many challenges we face as a society will have an answer grounded in science – challenges such as climate change, species extinctions, antibiotic resistant bacteria, or access to clean water. If I can play a small role in countering these challenges, then it will be through engaging students in science, and teaching them how to ask and answer questions.
I want to engage my students so that they are as awed by science as I am. I want to foster their curiosity and inspire them so that they might join the global effort in finding solutions to some of these challenges.
What do you love most about it?
I have so much respect for the students I teach – they never cease to surprise me and completely blow away my expectations.
In lecture, I love how we, as a class, can approach a difficult scientific concept from different perspectives so that it becomes awe-inspiring instead of overwhelming.
I also love it when students come back to visit after five or more years to tell me what they are up to – they really are doing amazing things across the globe. Now, I'm at the stage where I can teach my current students about research my former students are doing around the world. That is a great teaching moment.
How would you describe your teaching style?
I'm interested in really understanding the best way to teach and learn science. Because of this, I take an evidence-based approach.
This means I incorporate teaching strategies and approaches that have been shown to be effective, engaging, and impactful: from fourth year problem-based learning classes, to second year classes designed around problem-solving case studies, to my introductory biology class where I get the entire lecture hall (500 students) to form a long DNA chain with their bodies. (Those students won't ever forget the structural relationship between the sugars, phosphates, and bases of DNA molecules.)
I also believe in the power of community and I try to cultivate community in my large classes. I do this by holding walking office hours wherein students can join me for hikes on campus to discuss course topics, among other things. We're adding a really fun community-building study strategy into my genetics class in January…but that's a surprise for those students so I can't tell you all about it just yet.
I want my students to know that I genuinely care about them and about their learning. One way I do that is by keeping my courses new and relevant, and putting a lot of effort into designing learning experiences just for them.
Why is integrating research and teaching important?
It is important to remember that science is not just a list of facts that you need to remember. Instead, it is a way of exploring the world around you. In short – science is all about asking questions.
When my students graduate university, I don't want them to regurgitate facts. I want them to be curious about the world, ask intriguing questions, and know something about how to answer those questions scientifically.
This is why it is important to integrate research and teaching, because research is all about asking questions and trying to find answers. We bring research into the classroom through problem-based learning modules, case study explorations, inquiry-based labs and Skype-with-an expert sessions.
What have you learned from your students?
My students have taught me they can rise to challenges and they are capable of some pretty amazing things. They've also taught me a lot about perseverance.
Why do you choose to teach at U of T?
I love the diversity of my students, and I think there is power and opportunity in that diversity. I know each of my students brings their own experience and personal history into the classroom, and I think this makes for a richer learning experience for all involved – instructors and students alike. I tremendously value the colleagues I work with, too. They help me to learn, grow and be a better professor.
The University of Toronto has also made it clear how much it values teaching and the scholarship of learning. Because of this, I've always felt supported in doing what I do, and it's definitely one of the reasons I chose to work here.
And, of course, I love the campus at UTM. It's a great mix of urban campus buildings and forest. Where else can you teach a biology lecture, and then join your students for a walk on campus where you'll see deer, the occasional coyote, and perhaps salmon in the bordering river?