(photo by Jessica Spengler via flickr)
"We have a number of marvellous chefs on campus"
More food services on the St. George campus will soon be operated directly by the University of Toronto using its own staff.   
The change begins this summer – and will mean more food will be prepared from scratch and produced on campus. 
Anne Macdonald, U of T's director of Ancillary Services, spoke with U of T News about the reasons for the switch, what it will mean for diners on campus and for the food service workers who are about join the University as employees.  
---
Can you explain the change?
The University of Toronto is increasing the number of food services on the downtown campus that it runs directly using U of T employees.  We already operate a number of dining areas on the St. George campus, especially those located in student residences. All of the outlets on campus will remain in operation after the switch and the campus catering previously provided by Aramark will transition to operation by the university. Our existing contract with Aramark for food services on the St. George campus expires on July 31 and we decided that this was an appropriate time to make a change.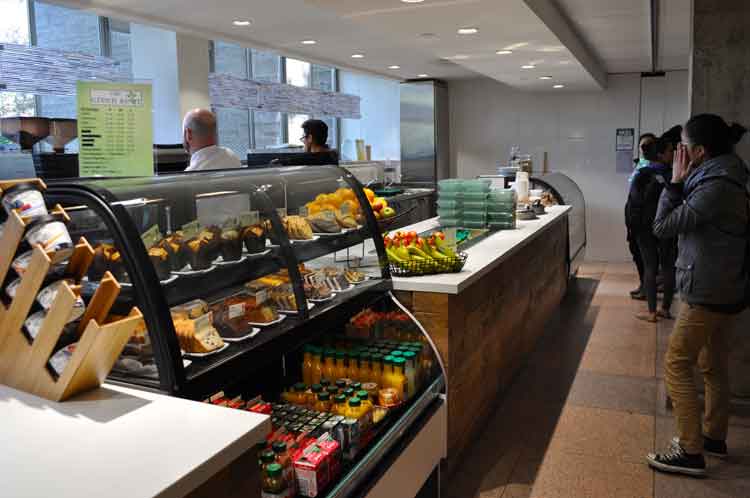 Why are you doing this?
The change will give us more control over the kinds of food available on campus, which we know from our students is an important service for them.  It's going to allow us to ensure that healthy, nutritious food is available in all our food outlets and will give us more opportunity to develop meal plans that meet the needs of students.
[embed_content nid=7611 (class="additional class")/]
What is happening to existing workers? 
The change will affect about 250 people who work for Aramark.  We want them to continue to be part of the campus community and we are making employment offers to them. These employees will continue to be represented by a union and will join the university with all the benefits that brings, including higher wages and improved benefits and will be eligible to enrol in the university's pension plan.  
What about those people who are worried about their jobs?
We know this is an anxious time for employees. We've held town hall meetings for them and individual "meet and greet" sessions to gather information about their current work responsibilities and schedules, and answer their questions. The first wave of offer letters went out the last week of April and the second wave will go out in June, after another round of "meet and greet" sessions at the end of May. We want to make sure Aramark employees are placed in positions that are appropriate for their skills and interests. In many cases, this will be in the locations and roles in which they currently work.  
What about job seniority?
As University of Toronto employees, they'll join the union that represents other existing food service workers on the St. George campus, subject to an existing collective agreement. Our goal is to welcome the workers who were previously employed by Aramark on our St. George campus, but to do this a change of unions is required. They will keep their seniority in relation to other former Aramark employees and the University has agreed to waive the usual waiting periods for benefits. We have no plans to reduce the number of food service workers on the St. George campus. 
What changes will people notice?
We know that people care a lot about the food that is offered on campus and we want to increase the range of options for students that live in our residences and those that commute to campus to study or work. We have a number of marvellous chefs on campus already so managing our food services directly gives us a lot more options. The changes people will notice right away will include fresher offerings in our retail locations, a wider variety of options in the residential dining program at New College, and a new focus on culinary excellence in all locations. Over time, we hope that people will also notice our commitment to creating more comfortable and welcoming dining areas and programs that foster community engagement.  
(Visit flickr to see the original of the photo used above)